Digital nomads, also referred to as remote workers, live their lives moving from one country to another. One of the reasons they do so is because tourist visas are issued for a short period of time, making them have to move to another country once it expires. Digital nomad visas have become more common thanks to countries acknowledging the benefits of such people living and working on their soil. One benefit of having such remote workers is that they generate money for the country's economy at some point.
These visas are for one year, and you can renew them in subsequent years. You can apply for most of these visas online, depending on the country, and they are affordable. In most cases, all that's needed is to meet a minimum monthly income and a few other requirements like health insurance.
Luckily, lots of countries have introduced digital nomad visas. As of July 2021, 24 regions were providing programs for transient distant employees. You can check an article we wrote about the best cities for Digital Nomads a few months ago. The article covered all the basics, but this one will elaborate and generalize about other countries globally.
What Are Digital Nomads in the Look Out for
Before choosing a destination, there are various factors you need to consider as a digital nomad. Some of these factors include:
Good weather – everyone has their preferences when it comes to the type of weather conditions. Some prefer warm areas while others might want cool areas. Therefore, as you look for a new country, you should focus on the type of weather the region experiences.
Strong WiFi – since every digital nomad depends on a stable network, you must ensure the new country has a strong internet connection. Consistent internet connectivity is a must since this is the only way you'll get to work.
Great community – creating social connections is crucial. Living as a nomad can be quite lonely, and you need to connect with other people over time. Many digital nomad hotspots have developed since the nomads have built up there over time.
Cheap prices – as a digital nomad living an affordable lifestyle is paramount. Renting a house for short periods can be quite expensive, so the best option would be to find an affordable country with cheap living standards.
Good work-life balance – sometimes, it can be hard to strike the right balance between work and play as a digital nomad. So base yourself somewhere that helps you balance your work and personal life.
Now, let's look at the ten best countries for Digital Nomads.
1. Italy
Italy has been working on the digital nomad visa after signing into law on 28 March 2022. Not that it's available now, but it'll soon be for highly qualified people and freelancers. However, you have to be a citizen or resident outside the EU. Currently, non-EU citizens can only stay for 90 days in Italy. Thanks to the new law, you'll be able to stay for a year, and renew the residence permit, with a flat tax rate of 5% for any digital nomad. There are also 70-90% tax rebates for remote employees and self-employed digital nomads.
To qualify for this visa, you'll need a Master's degree, health insurance, meet a minimum income threshold, and be tax compliant. You must also have adequate accommodation and other requirements to be rolled out later. Note that Italy is highly bureaucratic, and it'll be good to work with a tax advisor who will help you deal with the necessary paperwork.
When it comes to balancing your work and social life, you'll be pleased to learn that Italy boasts the perfect balance of fun and leisure. They have a variety of cuisines and tasty wines, giving you a perfect Mediterranean experience. As a result, Italy has become a favorite for nomads.

2. Greece
Greece offers nomads a one-year digital visa that you can renew as a residence permit. You can use the permit for two years and renew it after up to 5 years. The digital visa allows you to live and work remotely in Greece. It's a good option if you want a more permanent solution. To apply for this digital visa, you must submit your documents to the nearest Greek embassy via email or in person. Once you've submitted the documents, you'll receive a response within ten days. Greece also has another program that attracts digital nomads. They have an income tax reduction of 50% for seven years for some nationalities. The only requirement is that you'll commit to staying for a minimum of 2 years.
As for social life, Greece's housing is very affordable, so you'll find cheap accommodation up to your standards. Additionally, the costs for shopping, food, and transportation are low, so you can survive cheaply in Greece. If you would also like to have some outdoor activities, the country has something in store for everyone. Whether you prefer hiking, riding bikes, or nightlife, there's something for you in Greece.

3. Thailand
Thailand has been a popular digital nomad destination, especially in areas like Chiang Mai and Bangkok. This is due to the low cost of living and reliable internet speeds. You can apply for a 1 or 3 month-visa, depending on where you come from. Once you have the visa, you can extend it for 30 more days. However, if you want to stay in the country longer, you can apply for a student visa or do a visa run.
There are various reasons why nomads love Thailand. For starters, the country offers so much fun and is affordable simultaneously. There are many co-working spaces within the country and already-established digital nomad communities. Although the country is affordable, where you choose to live will determine how much you'll spend there. So, before making a decision, research well. Also, remember to go through this guide about security in Thailand to get a clear picture of the best areas.

4. Vietnam
Vietnam has been a major destination for backpackers. You'll, however, require a visa to enter the country. The government offers two ways of getting their visa. The first option is to apply before your traveling time in your country. The second option requires you to apply for a visa on arrival before you go to Vietnam. The best option is to apply for the visa on arrival and pick it up once you've landed in Vietnam. Although the first option is possible, it's highly discouraged since it's slower, and you'll keep going to the Vietnamese embassy severally. Apart from the visa mentioned before, the government also offers a tourist visa valid for one to three months. They also have long-stay business visas. You can extend the tourist visa while in Vietnam in case you want to stay longer.
On a social basis, Vietnam is loved by many nomads due to the low cost of living and favorable weather all year round. There are also many travel destinations within the country, so you'll never run out of fun activities to do.

5. Spain
Getting a Spain visa is straightforward. All non-EU citizens have to apply for this visa. Luckily, you don't need a permit if you are an EU citizen or from the Schengen area. There's also an exception for US citizens who can enter Spain without a visa but can only stay for three months every 180 days. In case you're from the US, and you need to stay longer, you need to apply for a long-term visa that lasts for up to a year. You can then renew it for six months.
Spain also offers an official digital nomad visa for people looking to work remotely in the country. However, this will take longer to be implemented. The government is working on a draft bill called the Startups Law. This bill states that anyone working remotely as a digital nomad can get a visa allowing them to stay for 12 months. After that, they can extend this visa for 24 months. There will be a 24% tax for the first £600,000 you earn in Spain.
What makes nomads love Spain is that it's not an expensive country, especially by Western European standards. The only cost that might exceed normal standards is rent, but it's manageable. As for groceries, gas prices, and general shopping, the prices are fair across the country.

6. Costa Rica
Costa Rica offers you a tax-free living visa if you work remotely. They have a freelancer visa known as Rentista, which allows foreigners to stay for two years. Just like any other visa, you can extend it. This visa is mostly used by retired persons with a fixed income, but some entrepreneurs apply for it. But, you can't work for another company while using Rentista. To get this visa, you'll have to prove you have £2,500 monthly to prove steady income. However, obtaining a visa isn't difficult. The visa is valid for one year; you can extend it for another year if you prove you've lived in the country for at least 180 days.
Many nomads choose to stay in Costa Rica because of the relaxed lifestyle, numerous surfing areas, and beaches. All these aspects give the country a vacation-like vibe, which is ideal for anyone. What's more, while in Costa Rica, you'll enjoy the sandy shores and warm weather that lasts all year.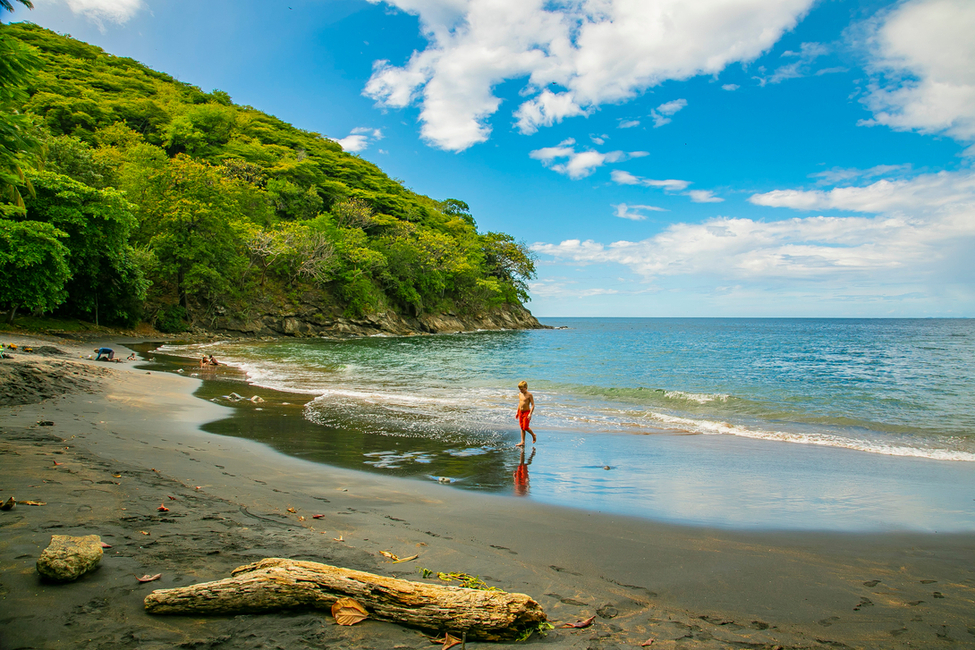 7. Indonesia
A common visa that most nomads use is the tourist visa, which is subject to renewal for up to 60 days. On arrival, the visa is only valid for a month. You can also get a business visa which is valid for 180 days. Indonesia has become another favorite Southeast Asia country for nomads. It's especially loved by those that enjoy yoga and such related activities. This beautiful island has many co-working spaces and cafes where you can meet other people doing remote work. At some point, the government reported a total of 5,000 remote workers at the beach area of Canggu. After the pandemic, Indonesia closed all tourist activities, but they now seem to encourage remote workers to visit the country. Recently, the Indonesian government has been considering introducing a 5-year digital nomad visa.
Some advantages of staying in Indonesia include enjoying trendy beach bars, fancy rice paddies, and favorable surfing conditions.

8. Portugal
Any US citizen can apply for a Visa online and attend an appointment at the local Portuguese consulate. Since the visa has become popular, the processing time has become longer (lasting up to 4 months). As for citizens from other countries intending to work remotely in Portugal, there's an option of applying for the D7 visa. This visa is perfect for any digital nomad, and it has a validity of 1 year. Once it has expired, you can renew it for up to 5 years. After the five years are up, you can apply for permanent residency.
Portugal is perfect if you don't make much money but would still want to live in Europe. There are friendly people here, gorgeous architecture and beautiful beaches. These aspects attract more nomads to the country. Note that the D7 visa isn't meant for nomads alone; it allows remote workers to live in the country. Take advantage of this visa, and enjoy living in Portugal as you visit beaches and islands.

9. Croatia
Croatia doesn't have a specific visa for nomads, but they're still welcoming. If you are a US citizen, you can apply for a visa. It's more of a residence visa that allows you to stay in the country for one year. After expiration, you will have to wait for half a year before applying again. The country also allows a temporary stay for individuals and their close family members. However, there's no possibility of an extension once the period is over. You must submit several documents with your application and prove an income of £2,377.47. The amount increases by 10% per family member.
Croatia has offered a dedicated village outside Zadar to promote digital nomad activities. There's affordable housing, and you also get a chance to meet other nomads from different countries. Croatia is an affordable country to your benefit, and the cost of living is standard. Hopefully, they'll introduce a digital nomad visa in the future.

10. Germany
EU citizens don't need a visa or residence permit to visit Germany. However, you'll have to register if you intend to stay for more than three months. If you stay for a shorter period, you can apply for a business visa, which allows you to stay for 90 days. Germany also has a Freelance Visa (Aufenthaltserlaubnis für selbständige Tätigkeit), which you can extend for up to 3 years. The visa works like a residence permit for foreign self-employed people or freelancers. The only disadvantage is that you will need to work with the German bureaucracy for up to 4 months before it's processed. The visa is quite popular among nomads because it enables any foreigner to work with various startups or businesses.
Germany is a great option for nomads since it offers a high-quality life and proper healthcare. Moreover, there are many beautiful cities for you to explore. As a digital nomad, you should consider living and working in Berlin since many co-working spaces are growing fast. You can also check this list of Germany's best cities for digital nomads.

Why is travel insurance recommended for Digital Nomads?
Traveling with travel insurance is important, especially if you're a digital nomad. It's especially recommended if you're planning a long-stay trip and will be carrying expensive equipment. You should also have medical insurance to cater to your medical needs. Recently, after the Covid-19 pandemic, it's almost a requirement to have such insurance. Heymondo provides travel insurance that covers trip cancellations and delays. Therefore, they'll cover the costs if you can't make it to your trip due to unavoidable circumstances. Heymondo will refund your prepaid and non-refundable costs. Their policy helps cover the total costs up to your departure time. It also covers treatment, travel disruption, and other activities such as adventure sports. If you want a new policy, check if it covers all these issues. But, getting travel insurance from Heymondo will save you a lot in emergencies, including medical treatments. For more information about travel insurance, read this guide, "10 Reasons Why You Should Get Travel Insurance".