As countries are steadily opening up for tourism, travel enthusiasts are all excited to explore the outdoors and visit new places. This May is an excellent month to travel as there aren't too many tourists on vacation at this time of the year. This, of course, means you will enjoy hassle-free sightseeing, travelling and plenty of accommodation options. The temperatures in May are quite friendly as various places are warming up for spring.
If you love exploring nature, this month is a great time for you to vacation somewhere with a rich bounty of natural beauty. Moreover, it's always beach season in some countries, so you won't miss a great beach destination to enjoy.
Remember to stay informed on government directives and safety measures when travelling to a new country. Most countries will now require a COVID-19 certificate and health insurance to pass through their borders. Instead of taking chances, take care of this before making any plans or commitments. Also, ensure you purchase top-notch travel insurance with COVID-19 coverage like Heymondo insurance.
Where to travel in May? 10 destinations you should consider
Your most memorable vacation yet awaits you. There are some destinations that are worth visiting as the spring season sets in. Here are some 10 destinations that are a must-visit during the month of May:
Northern Vietnam
If you enjoy trekking in a vast, mountainous terrain filled with breathtaking views, you will enjoy Northern Vietnam. Explore the country's tallest mountain range, Mount Fa Si Pan, or its smaller twin, Mount Sa Pa. Prepare your camera for the breathtaking Ban Gioc waterfalls and Ba Be lake. The region also has a rich culture that you can enjoy during the famous Bac Ha Sunday market or a visit to the iconic Hoang A Tuong Palace – a majestic French palace decked with magnificent decorations. In May, the weather is warm, with occasional showers of rain. Most foreign tourists visiting the city of Hanoi spend roughly $600 per month.

Mauritius
Mauritius is a country that sits on a small island off the East African coast. This is the perfect destination if you want to relax on the world's best beaches, lagoons, and reefs like Flic en Flac, Grand Baie and Le Morne. At the Black River Gorges National Park, you can hike on the magnificent rainforests, visit beautiful waterfalls and spot some unique tropical wildlife. This ever warm destination is excellent for romantic and luxury vacations. This destination is fun, relaxing and will give great photos for your social media. Prepare to spend about $500 for a flight plus one night in a hotel.
Madagascar
This is the fourth largest island in the world. It is one of the richest countries in terms of interesting wildlife, exotic botany and endangered species. Tsingy de Bemaraha Strict Nature Reserve is home to breathtaking geological phenomena and a variety of endangered species. Why travel in May? The weather is convenient around that time of the year and Madagascar offers plenty of beautiful beaches and coral reefs. Also, the capital city of Antananarivo boasts some beautiful wooden architecture and historical tombs. It will cost you roughly $90 a night for 4-star accommodation in the city.
Mexico
Mexico tends to attract all kinds of tourists because of its variety of attractions. The coasts of Tulum and Cancun have beautiful, sandy beaches overlooking a vast blue sea; a perfect reason why Mexico should top your list of where to travel in May. The famous Guanajuato town has colourful buildings and busy malls you can explore on foot. You can also find architectural masterpieces in Zacatecas and Merida. The cultural scene in Mexico is rich – the Museo Frida Khalo is a gem, housing the works and history of the famous Mexican painter. Oaxaca is a must-visit destination if you love culture, art and festivals. The baseline cost of living in Mexico is $750 per month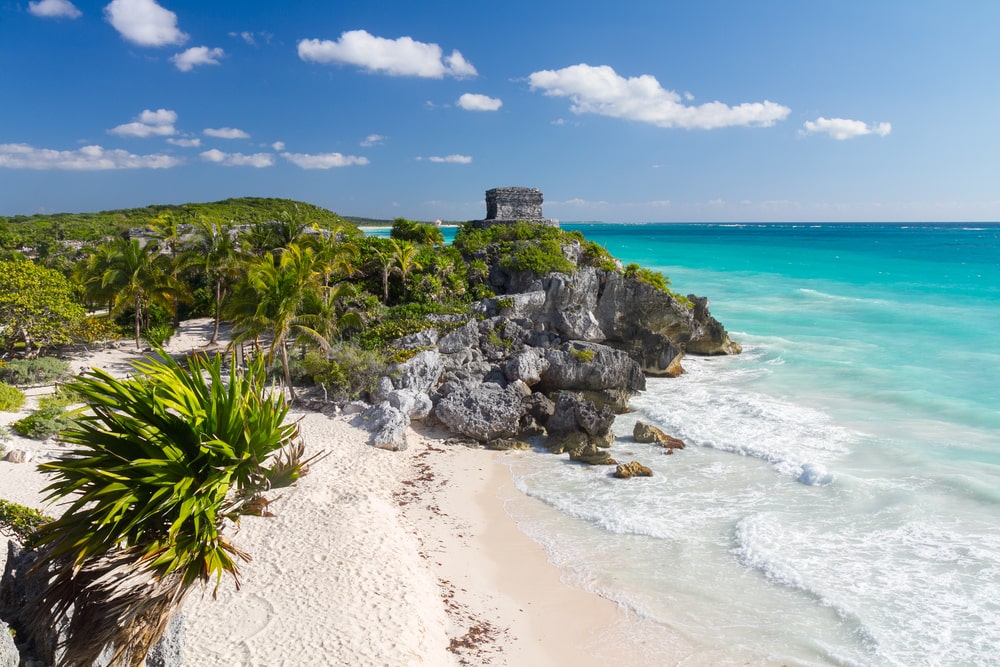 Mykonos, Greece
This glamorous, mostly sunny Greek island is probably one of the most picture-worthy top places to visit in May. The whitewashed houses, turquoise roofs and clear waters are simply stunning. Besides photography, you can visit Delos, the home to Greek archaeological treasures. The phenomenal Hellenistic mosaics at the House of Dionysos and the House of Masks are some examples of great spots to visit when in Mykonos. You can also check out old sculptures of greek gods, antique jewellery and everyday items dating back 3,500 years ago. A 7-day trip to Mykonos is roughly $3,000 for a solo traveller.
Malaga
The coastal city of Malaga in Spain should top your list of where to travel in May. The city is a well-known and loved destination by many tourists. What stands out for many tourists in this place is the beaches and exotic cuisine. There is a lot of tolerable sunshine during the month of May. The landscape is carpeted by rich grass and colourful spring flowers. The Malaga Gastronomy Festival, the Malaga Film Festival, and the Marbella Fair are some events you wouldn't want to miss. The country is relatively cheap; a full lunch at the El Palo beach can cost you not more than $35.
New York
The greatest city in the world should be on the list of the top places to visit in May. New York has a lot to offer to tourists. Besides soaring skyscrapers and world-famous monuments, this destination is ideal for people who enjoy art, fashion, food and nightlife. The Museum of Modern Art, Met and Guggenheim galleries have iconic pieces of art you would love to see. Moreover, the city is packed with Michelin-start restaurants and delicious street food. The Brooklyn Botanical Garden is a must-visit for someone who enjoys nature. If you book a mid-tier hotel and plan to visit mostly free destinations, $1,500 is sufficient for a 5-day stay in NYC.
Ibiza
Still not sure where to travel in May? Consider Ibiza. Besides being Europe's capital of music, clubbing and nightlife, Ibiza has some rich cultural heritage and magnificent lagoons for exploring. The Ibiza Cathedral and the Dalt Vila UNESCO site are historical places you can visit to learn about the city's culture. Plan a cruise trip or a sea exploration at San Antonio or Talamanca. Santa Eulalia is a quieter, family-friendly destination in Ibiza that offers the best of sunny beaches, snorkelling and yacht trips. Most vacation rentals in Ibiza charge around $350 per night.
Nepal
The vast mountains, tropical jungles, ancient cities and spiritual sites are the most significant appeals of Nepal. The world-famous Himalayan mountains offer the best hiking experience you will ever have. In Pokhara, you can go paragliding, hike to the famous Peace Pagoda and even watch a movie under the stars in their Movie Garden. Lumbini is a pilgrimage spot for Buddhists and hosts a ton of monasteries, temples and the sacred Bodhi tree where Buddha attained enlightenment. Nepal isn't that expensive, and a 7-day trip can cost you roughly $2,000.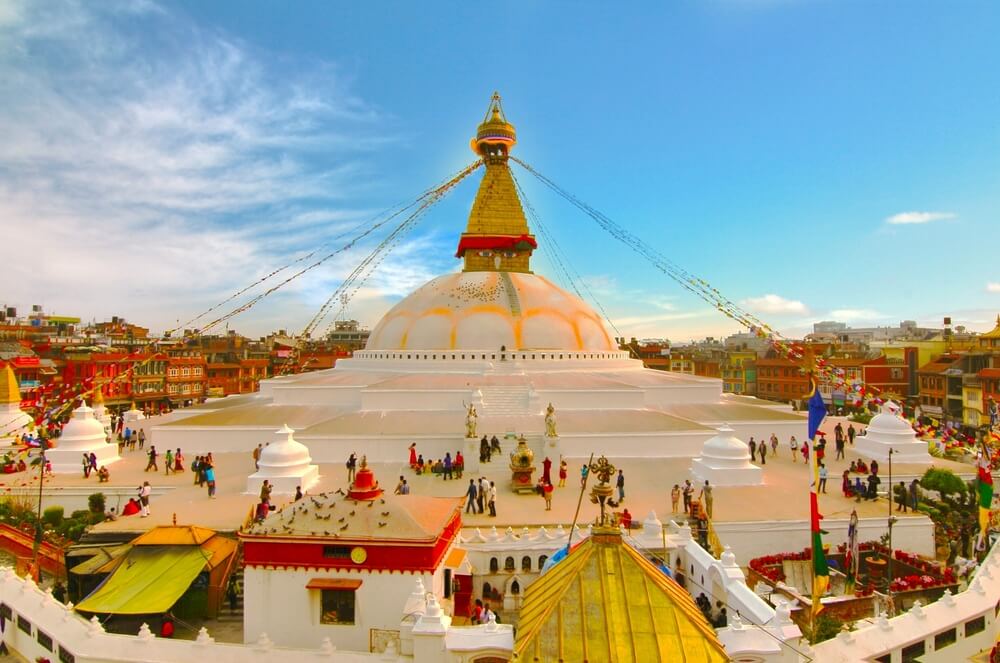 Norwegian Fjords
The Fjord Norwegian landscape that was formed by a series of ice ages is a phenomenal sight to see. The rugged mountains, magnificent waterfalls and spectacular fjords are sure to make your vacation unforgettable. Priekestolen and Trolltunga have some of the most popular hiking trails. You should visit the BARE restaurant, Bergen's only Michelin-star restaurant. A standard 7-day fjord cruise may cost you an average of $1,500.
Travel in May safely with Heymondo
Before travelling to any country, ensure you check the government guidelines and safety measures of the country you will visit. You have to be aware of the environment so you can prepare accordingly. It is highly advisable to purchase reliable travel insurance like Heymondo. They cover up to 10 million euros of medical expenses in emergencies. Additionally, they offer 24-hour medical assistance, 365 days a year. This includes in case of COVID-19 infection. You will also get medically prescribed PCR tests and a COVID certificate for your trip.
Heymondo will cover any extra accommodation expenses due to medical quarantine when tested positive or when recommended by a doctor. Cancellation is also covered when you test positive for COVID-19 before starting your trip or in case of an illness or death of a family member due to COVID-19. Besides that, with Heymondo's Assistance App, you get 24-hour medical chat, free emergency assistance calls and incident management in the palm of your hand. Travel insurance doesn't have to be a complicated and expensive process. Just sit back, relax and enjoy your trip.