The Maldives are a destination for adventure, water sports, and romance. Its crystal clear waters, white beaches, spectacular bungalows, and the most iconic sunsets in the world. The Maldive Islands are pure paradise and the perfect place to experience a luxury holiday.
The Maldives is a year-round location, so there is always a good time to visit. If you want to be sure of getting some sunshine, visit between December and March. During those months, there will be plenty of sunlight but expect some rain and clouds. Whatever time you choose, you will get the best things to do in Maldives.
Here's a list of fun things to do in the Maldives on your next trip.
Activities to do in Maldives
While the Maldives is a global beach destination famous for honeymoons, family vacations or adventure tours with friends, it never disappoints. However, these activities are not the only reasons to travel to these paradise islands. Here are some of the unique things to do in Maldives.
Diving
The Maldives is a perfect destination for divers. Water covers 99% of the Maldivian Republic, meaning land accounts for less than 1% of the country's territory. The Maldives comprises 26 atolls and over 1,000 islands, each part of an atoll.
Due to these geological anomalies, there are many possibilities to explore the undersea environment. Diving here is suitable for everyone: whether you are a pro or a novice, you can safely make an exciting dive into snow-white beaches and clear seas. The dozens of species of marine life, coral gardens, breathtaking underwater canyons, and sunken ships combine to make the Maldives one of the top diving destinations in the world.
However, the Maldives government prohibits touching anything underwater. Tourists in the Maldives should not break corals or collect remnants or fish (even with bare hands). Thirty-one areas within the Maldives are protected, and the diversified ecosystems throughout the waters that surround the islands make them a prime location for unforgettable scuba diving trips. The Maldives has a lot to offer to every diver. Even if you haven't practiced diving before, it's an excellent opportunity to try it.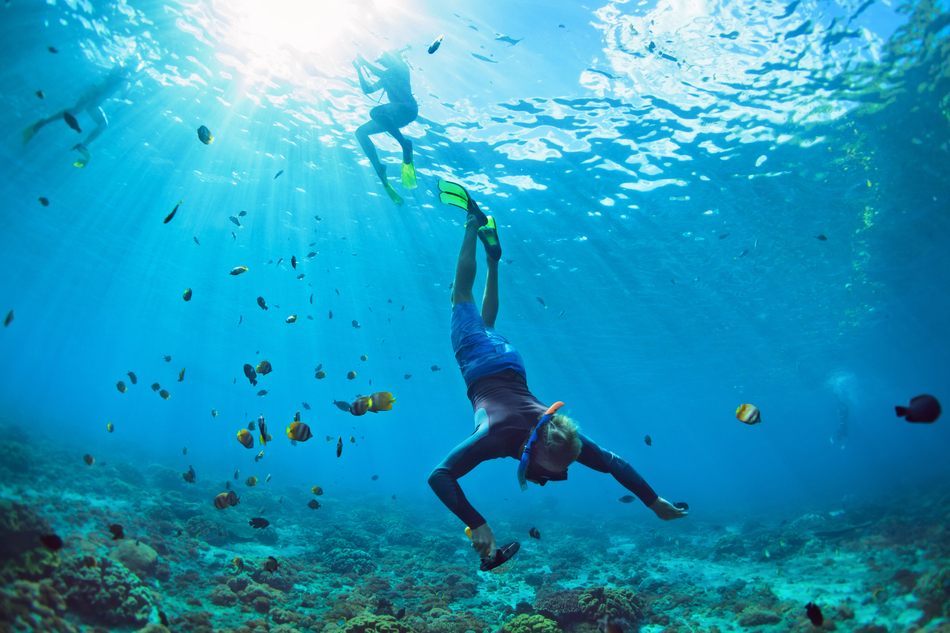 Stand Up Paddle Boarding
Stand-up paddling, often known as stand-up paddle boarding or simply 'SUP,' is a contemporary water-based recreation that has grown in popularity in recent years. The Maldives has some of the best waves and spots in the world, such as Lohifushi, Aka Cokes, Chickens, Ninjas, Thanburudhoo Island, and many more. This country has endless surf breaks and offers big chances of barrels and long fun waves. Over recent years, the Maldives has become more popular among professional surfers and has established itself as a global surfing destination by playing home to several international surfing contests.
Stand-up paddle boarding is an excellent alternative to surfing for those who dislike the sport. You can paddle in protected bays with transparent water, allowing you to explore the magnificent landscape and marine life beneath you, and even get a workout! The seas around the majority of the islands in the Maldives are quite calm and shallow, and the tides are the only factors that generate significant movement in the water.
Luckily, guided trip experiences enable tourists to reach uninhabited desolate islands and explore crystal clear lagoons and wide seas to spot marine life.
Island Hopping
Most people who go to the Maldives want to spend their time at a resort, enjoying the dazzlingly clear ocean and an occasional beverage. But, with over 1,000 islands to explore, why limit yourself to just one? There is a lot to do that will keep you interested, from brilliantly illuminated structures to opulent resorts and bioluminescent areas.
Visit as many islands as you can in the Maldives! Wherever you stay, you'll have no problem organizing an island-hopping trip around the local atoll. This way, you can get immersed in Maldivian life, learning all about this country's culture, history, and traditions.
If you want to get away from the busy metropolises of the West and immerse yourself in natural beauty, then you can hop on a Malé island. Malé island, Maldives, is located in the Kaafu Atoll and serves as the archipelago's sprawling capital. This island should be a must-visit on your list of island hopping. Malé boasts several attractions worth exploring, including the National Art Gallery, the local Fish Market, Sultan's Park, and the National Museum. The island is a bustle of activity but also lovely and eccentric. The numerous alcohol-free pubs, restaurants with mouth-watering food, and busy marketplaces determine the rhythm of life here.
Snorkeling off the coast of Malé and submarine cruises are also popular activities, with guests even bringing authorized food inside the submarine to attract aquatic creatures and get a closer look. On a visit here, a stroll down the pier is a must, and the bustling ports will always provide something fascinating to see.
This island also has a variety of activities that might make a trip to this unusual location worthwhile. To learn more about the history of Male Island, visit the Old Friday Mosque, also known as Hukuru Miskiy. The Old Friday Mosque is the Maldives' oldest mosque and is well-known for its architecture and design. Swimming is also possible at the Artificial Beach, which resembles a natural beach. It's difficult to tell the difference. This crescent-shaped beach's shallow water makes it ideal for a refreshing swim. You may also check out the local fish market at Male Island to experience the local feel and mood.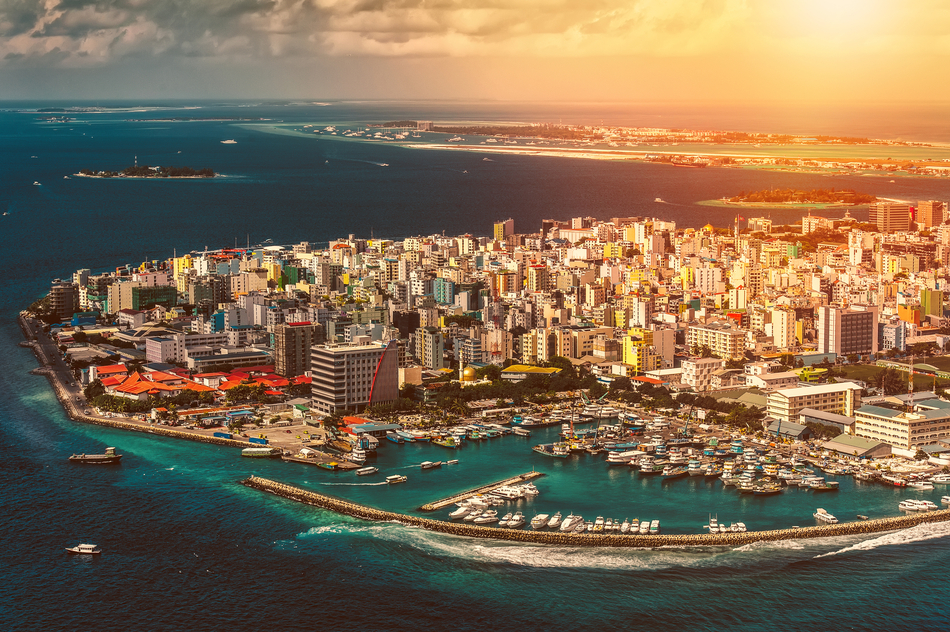 White Sand Beaches
The Maldives is home to some of the world's most gorgeous beaches, which is why tourists visit the destination. Since Maldives islands are of coralline origins, their fantastic sand is white and extremely fine. Coralline beaches are rare and represent less than 5% of the world's beaches. The rest of them are mostly made of quartz. The temperature hardly varies from around 25 to 32 degrees all year round. These beaches comprise fun activities, private time, and great food.
If you want to explore some of the best beaches in the Maldives, try "Sea of Stars beach," between June and October. Tourists on this beach during this period can see a natural phenomenon called "the sea of stars," in which nighttime water looks like a field of brilliant blue stars.
Also, if beaches are what you're interested in, you should check out our post on The best beaches in the world.
Get Pampered
The Maldives are well known as a place to escape reality and enjoy a much-needed vacation. In the Maldives, visitors may choose from a wide range of spa treatments, including traditional Maldivian massages, all of which use carefully crafted local materials. A massage should be at the top of your to-do list if you need some relaxation time while in the Maldives.
But spas and massages aren't the only ways to relax. Staying at one of the various resorts on the various islands is a perfect way to forget about the world beyond the beautiful sky and clear water. All of the beaches include sun loungers and bars. There are also several uninhabited areas if you want a little more austere.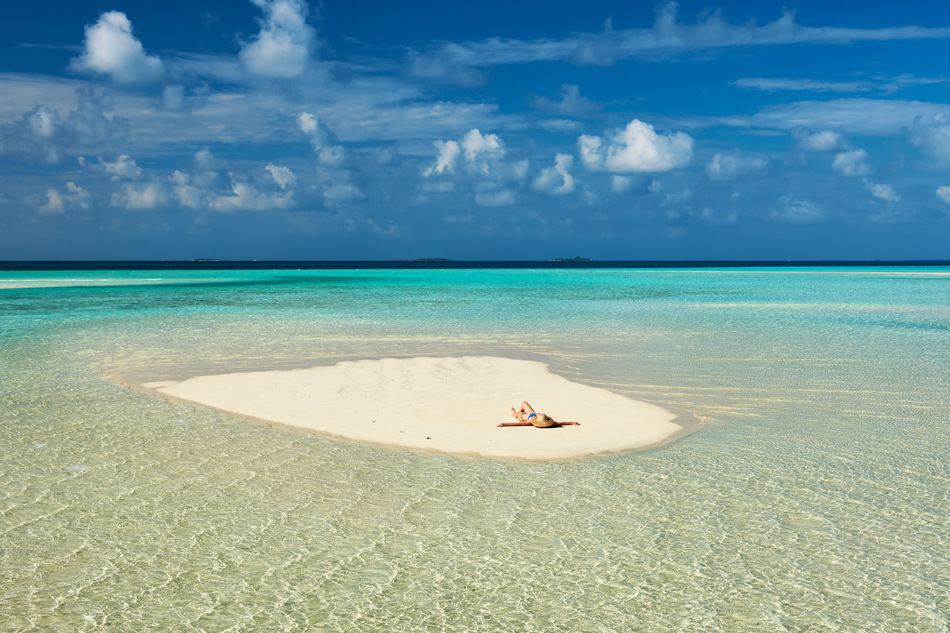 Scenic Flight over Islands
Seaplane transfer, also known as an Air taxi, is a spectacular mode of transportation. A seaplane tour of the Maldives provides the greatest bird's-eye perspective of this beautiful archipelago in the Indian Ocean. The Maldives is one of the world's least visited sets of islands. A seaplane trip in the Maldives combines adrenaline and breathtaking views of the Maldivian islands and beaches. Tourists on a seaplane may see the Maldives' biggest attractions, such as Hulhumale Island and Male Island.
The two primary companies providing this exhilarating experience in the Maldives are Trans Maldivian Airways (TMA) and Maldivian Air Taxi (MAT). Flights last around 20 minutes, but you can arrange longer flights. In one trip, a maximum of 18 individuals may experience the Maldives seaplane ride. All flights take place throughout the day. Charter flights are best for sightseeing, whale shark watching, and honeymooners.
Enjoy your seaplane's throttle as the pilot powers up the engine to start the twin propellers with a thud, and sit back and relax while the pilot pedals the most magnificent trip of your life in style. The experience of flying into the magnificent blue sky is unquestionably worthwhile.
The low-level flight over the Maldives archipelago allows you to observe the contours of the reefs and the gorgeous pastel blues and greens of the shallow sea around the islands. The immaculate white sand places studded with thick mangroves make the vista lovelier than ever.
To give you a taste of the splendor, the sand bars and magnificent streaks of turquoise are two enticing features that will make you want to take this trip. This water plane journey also provides you with brief vistas of the whole area since it allows you to observe deserted islands such as Kihavah Huravalhi Island. Book a seaplane flight to get a birds-eye perspective of the Maldivian atolls and islands.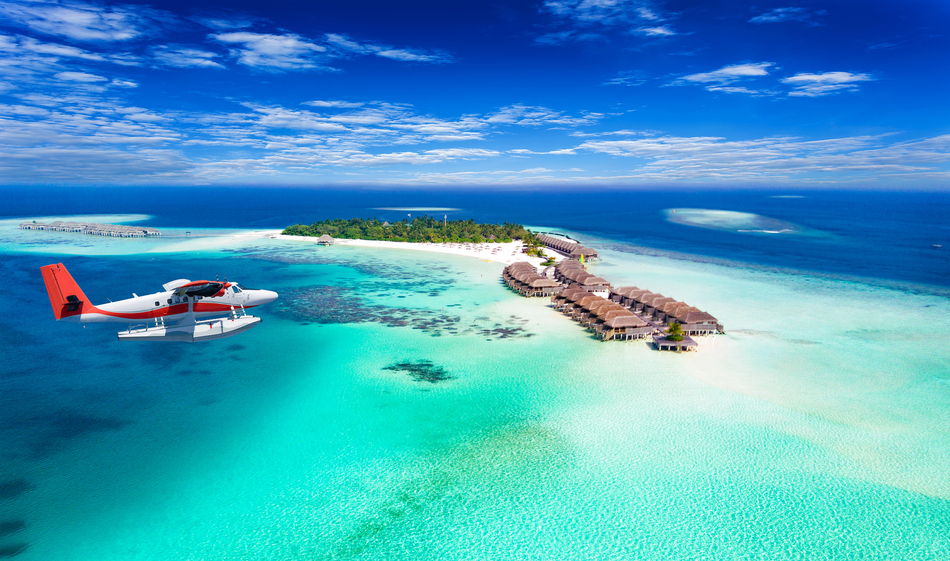 Enjoy local cuisine
The exquisite Maldives archipelago is home to many stunning tropical islands flanked by white sandy beaches, swinging tropical palms, and surrounded by gin-clear seas teaming with marine life. It also boasts some of the region's most delectable food.
Traditional Maldivian cuisine, also known as Dhivehi cuisine, offers a wide range of tastes and sensations, from crisp nibbles and street delicacies served with wood-fired chapati bread to complex and delectably hot curries. Although many travelers tend to stay in their resorts, we believe this is a mistake.
The Maldives' dishes are a complex fusion of traditional cuisines with major influences from nearby nations such as India and Sri Lanka, but you will also have an incredible variety of international food. Maldivians used to rely on fundamental products like fish, coconuts, breadfruit, millet, and tubers, and through time, with the impact of foreigners from old commerce and travel, Maldivian cuisine created a unique mix with its distinct tastes, signifying a distinct culinary identity.
If you have a sweet craving, the Maldives offers some unique delicacies for you. Also, don't miss a visit to a local cafe or teashop to sample hedhikaa ('short eats') such as kuli boakiba (spicy fish cakes), gulha (fried fish dumplings) or bis keemiya (tuna- and egg-filled pastry). So, if you are a foodie who enjoys sampling new foods, this island location is ideal.
Recommendations before traveling to Maldives
Going to the Maldives is certainly every sea lover's dream. Especially if you live in a city where winters are very cold and the only thing you want to do is spend the whole day curled up in bed with a blanket over your head.
The Maldives is made up of 1,192 different coral islands spread throughout an archipelago. Selecting the option that best meets your tastes and requirements is not a simple task. Also, keep in mind that when visiting the Maldives, the fauna and flora of the islands are very important. The occupants guard them and are concerned about the preservation of their ecology.
However, before you leave, you should familiarise yourself with the following essential travel advice for the Maldives.
Be eco-conscious
The government does not have to do everything to keep the Maldives beautiful. The Maldives and its people have increased their sustainability and eco-friendly activities. For example, through a waste-to-wealth method, Gan International Airport can become the Maldives' first solar-powered green airport, and waste management would change from a linear "use and dispose of" system to a circular economy.
Even though some of the activities below may seem few, they all add up to help the tourists tour eco-friendly and give the Maldives a fighting chance of surviving in the coming decades.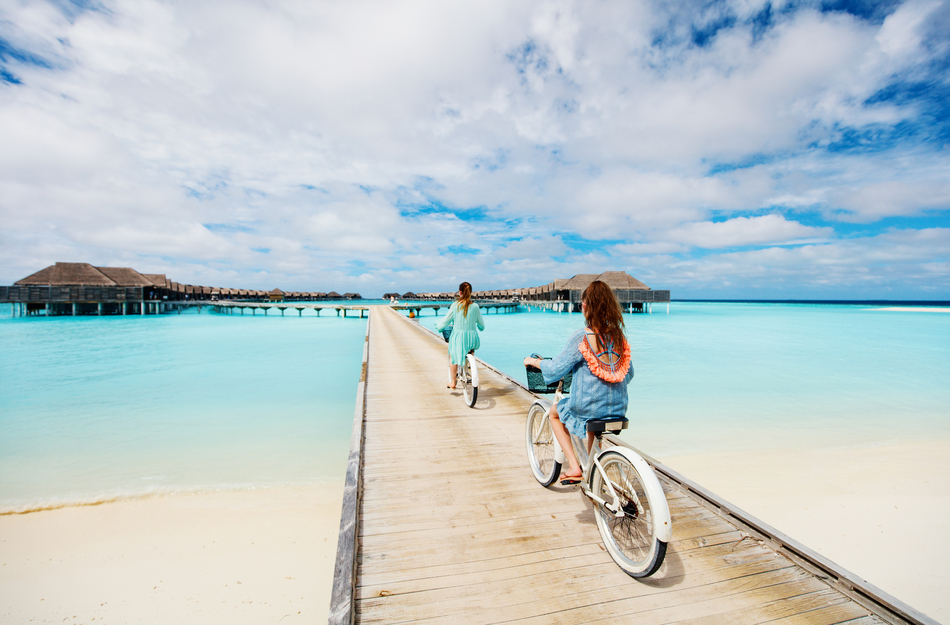 Encourage Local Artisans
Eco-tourism in the Maldives involves more than simply protecting the maritime environment. Contributing to the expansion of the regional economy is equally important. Travelers should incorporate stays and excursions led by locals in their schedule to achieve this.
About a decade ago, the Maldives approved the construction of guesthouses on populated islands. The ideal opportunity to experience Maldivian culture and help its people is to stay with locals. If you're staying at a resort, consider scheduling excursions that involve meeting local artists on adjacent inhabited islands. After that, you may immediately purchase genuine goods from them.
Respect Aquatic Life
A Maldives holiday is all about being in the water and viewing the colorful marine life. However, tourists cannot touch or feed marine creatures when snorkeling, diving, or taking boat trips. It is more crucial to see the corals up close, whether diving or snorkeling, without touching or stomping on them.
Do Some Resort Research
Amazingly, sustainable travel in the Maldives starts before you make your airline reservations. As a responsible traveler, you must research thoroughly and select the best resort for eco-friendly practices.
The Maldives is the lowest-lying country in the world, making it particularly vulnerable to the effects of climate change. Given the environmental impact of flying to these far-flung isles, choosing a hotel that prioritizes sustainability is important. Some of the most luxurious resorts are leading the pack regarding green initiatives.
Make sure the hotel utilizes solar power before reserving a beachfront home or an over-the-water house and whether the hotel provides electric golf carts or bicycles for mobility on the island. Check to see whether rainwater collecting is in place and if the island's eateries provide organically cultivated vegetables and herbs. Some resorts even employ biodegradable coffee cups to minimize the use of plastic.
Lastly, find out how closely the resorts are to the nearby inhabited islands. Ensuring travelers support island getaways to boost the island economy is an aspect of sustainable tourism in the Maldives. Many resorts hire Maldivians and assist in establishing schools on neighboring islands. Additionally, they persuade locals to participate in activities with visitors, creating an additional revenue source.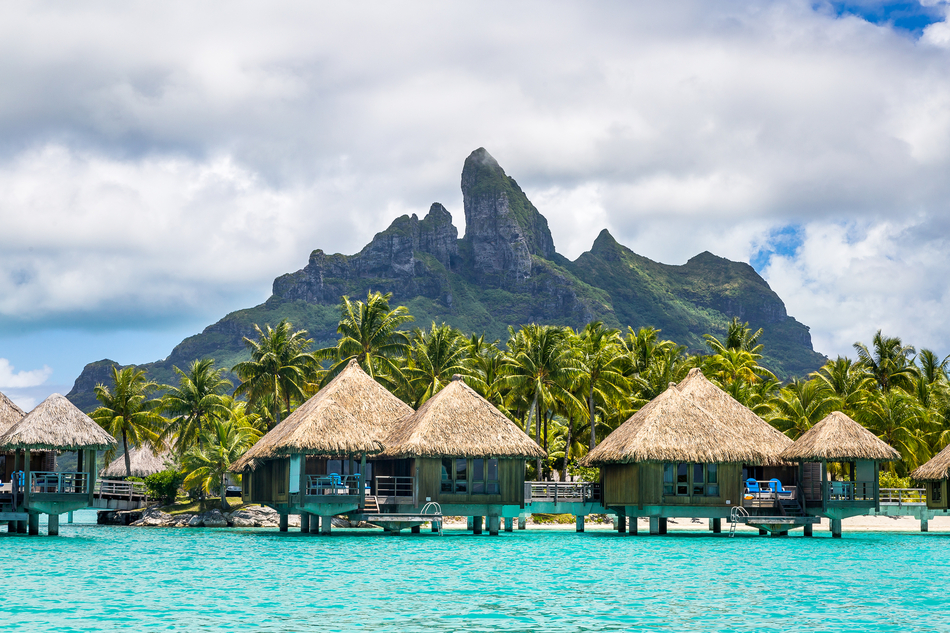 Use Eco-Friendly Items
Society is gradually becoming more environmentally concerned. As a result, many eco-friendly items are on the market now that travelers have no reason not to use them. Sunscreen is one of the essential items to bring to the Maldives. When purchasing sun protection lotion, choose a brand that is reef-friendly. Regular sunscreen contains several chemicals that enter the water when we swim. An eco-friendly sunscreen has no ingredients that are hazardous to marine life.
In the Maldives, sustainable travel also means decreasing your use of plastic in any way. Reusable straws are an ingenious solution for reducing single-use plastic. Ask the resort whether they offer eco-friendly straws or bring your own. These straws are lightweight and simple to transport and clean.
Finally, tourists must preserve the islands' pure ecology. Thus, this includes not leaving trash on beaches or in the ocean.
Travel Insured by Heymondo
Travelers shouldn't have any problem selecting a plan that meets their requirements since Heymondo specializes in offering unmatched travel insurance. Never ignore travel insurance if you're planning a lengthy trip. Long-distance travel involves risk, and the healthcare system is typically pricey and only available in private hospitals and clinics. Therefore, it's crucial to make sure you have travel insurance that covers medical expenses.
Heymondo travel insurance covers emergency medical and dental expenditures when traveling abroad. Heymondo's insurance coverage will pay for any medical expenditures resulting from COVID-19, medically necessary PCR testing, transportation and repatriation, quarantine lodging costs, and cancellation due to COVID-19 sickness. This cover APP offers several benefits, including 24/7 doctor chat, free support calls, and claims management.
Therefore, if you plan to purchase convenient travel insurance, why not go for Heymondo travel insurance?