Are you planning to have a great summer vacation in the sun-kissed landscapes of Italy? 
Just close your eyes and picture yourself soaking up the sun on the Amalfi Coast while enjoying a glass of Limoncello and taking in the breathtaking views of the blue Mediterranean. Or get lost in Rome's ageless magnificence, where the city's storied past is echoed in every majestic ruin. Treat yourself to authentic pasta at a quaint trattoria and finish the meal with delicious gelato that makes you think you are eating poetry.
Italy's magic strengthens as you explore, keeping you captivated and wanting more. Take advantage and create lifelong memories in this fascinating nation. Obtaining trustworthy travel insurance is a great way to relax before setting out on a trip. Your summer adventure in Italy is waiting!
What are the summer months in Italy?
Tourists worldwide go to Italy to experience its world-famous history, fascinating culture, and delicious food. During the lively Summer, Italy reveals its charm as the sun shines brilliantly on this lovely nation. This time of year, which normally lasts from May through September, is characterized by hot, sunny days and gentle breezes from the Mediterranean Sea. Summer in Italy is a joyous celebration when residents and tourists can fully appreciate the country's many natural wonders.
With the entrance of Summer, Italy comes alive, becoming a playground for travelers in search of unique adventures. Italy is home to several popular tourist spots, including some of the world's most recognizable cities, like Rome, Florence, and Venice, charming seaside villages such as the Amalfi Coast, and sandy shores of Sardinia or Sicily. Explore the ancient ruins of Rome, take a leisurely walk through Tuscany's vineyards, and treat yourself to a delicious gelato while admiring Venice's picturesque canals.
However, remember that Italy's busiest travel time is also during the Summer. This means that tourists may overrun famous destinations and towns, so it's best to book lodgings and make travel plans in advance. Italy's compelling appeal, gorgeous scenery, and lively atmosphere make it a must-visit destination throughout the Summer, even with the crowds.
Is it worth going to Italy in the summer?
There is no denying that Italy is a charming vacation spot and summer is a lovely season to see the country's sights. Italy has a balmy summertime environment with its varied topography and picturesque towns. There is a little probability of rain, especially in the south, but it should not prevent you from going on vacation.
However, before you book your summer vacation in Italy, there are a few things to consider. Beautiful weather attracts visitors worldwide, leading to crowded attractions that might sometimes detract from the overall experience. As a result, avoid visiting Italy during the summer months if you want to see the country more relaxed and see fewer other tourists.
The summer months bring higher rates for travel and accommodation, as well as lengthier wait times at popular sites may result from an increase in visitor numbers. You may avoid most of these problems by planning your vacation to Italy for June or early July before the tourist influx begins and costs rise.
We have compiled a detailed guide to assist you in organizing your next trip to Italy. This guide provides helpful information on how to travel about Italy, how much money you will need to spend, and what attractions you should not miss in places like Rome and the Cinque Terre. If you are planning a backpacking trip, check out this blog post on backpacking in Italy for more details and travel ideas. Despite the greater prices and larger crowds of tourists, touring Italy can be a rewarding and fun experience if you time your trip well.
What to see in Italy in summer?
Italy has plenty of interesting places to visit in the summer. Every kind of tourist may find something of interest, from quaint seaside villages to ancient capitals teeming with priceless works of art. Italy's varied landscapes and rich legacy will please any traveler searching for sand, culture, or delicious food. Here are some suggestions for your Italian summer vacation schedule in Italy.
1. Sardinia
The island of Sardinia, the second biggest in the Mediterranean, is fascinating, with many activities and sights to see. Located off the coast of Italy's westernmost region, this enticing island lures visitors with its picture-perfect beaches, steep mountains, thriving culture, delicious food, and fascinating history. The destination has several beautiful stretches of coastline, perfect for a relaxing vacation. Paradise for sunbathers, swimmers, and water sports lovers. 
However, travelers are drawn to Sardinia for more than just its beaches. So, all outdoor enthusiasts will find paradise in the island's inner mountains, home to stunning scenery and mysterious ruins. Hiking up the island's highest peak at Gennargentu National Park is an exciting and demanding adventure.
Festivals, lively folk dances, and unique buildings all attest to Sardinia's long history of cultural significance. So, Nuragic villages, strange stone buildings that have stood on the island for thousands of years, dot the landscape. Similarly, archaeological monuments like Su Nuraxi di Barumini, on the UNESCO World Heritage List, provide fascinating insights into ancient Sardinia.
On the other hand, a trip to Sardinia would be incomplete without sampling some of the local cuisine. The island has a long Italian culinary history emphasizes using fresh fish, regional produce, and time-honored techniques. Dine on delectable seafood pasta, roast suckling pig, and world-famous Pecorino cheese while sipping a bottle of the region's top wine.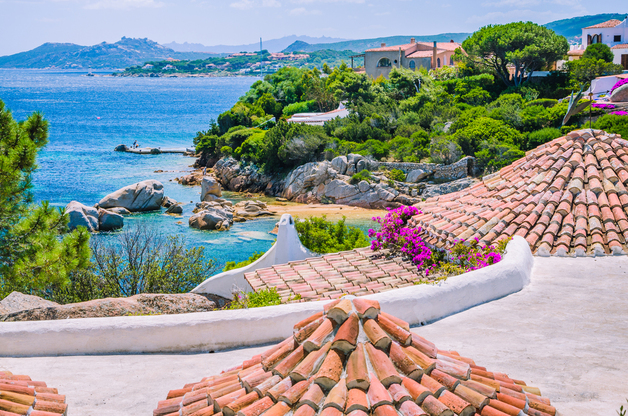 2. Trentino
Trentino, a beautiful area in northern Italy, has much to offer tourists of all tastes and interests. Beautiful natural scenery and fascinating history make this an unforgettable vacation spot. The Dolomites are a sight to see and provide some of Europe's best hiking and outdoor recreation options. Likewise, Lake Garda and Lake Molveno are just two of the region's many beautiful lakes. Both include pristine beaches where tourists can relax or enjoy various water sports.
Are you ready for a walk? If so, Trento and Rovereto, two of Trentino's most important cities, provide many cultural experiences for visitors looking to immerse themselves in the region's rich cultural history. Museums and archaeological sites provide intriguing glimpses into the past, adding to the area's reputation for historical significance.
On the other hand, the culinary pleasures of Trentino are enough to please all foodies. From rustic mountain fare showcasing regional cheeses and preserved meats to elegant Italian fare employing farm-fresh ingredients, the region's food is as varied as it is delicious.
3. Sicily
The island of Sicily, off the coast of southern Italy, is a magical destination for vacationers looking for something out of the ordinary. To begin with, there are the island's beautiful beaches to enjoy. Relax and soak up some sun in style on Sicily's beautiful coastline, surrounded by unspoiled, blue seas. Moreover, the stunning Mount Etna, Europe's highest active volcano, is only one of the natural beauties that may be discovered by trekking the island's many routes.
In addition to its natural beauty, Sicily has a rich cultural past that inspires tourists to immerse themselves in history and culture. The island provides a remarkable voyage through time, from the ancient Greek remains of Agrigento to the beautifully maintained Roman mosaics of Villa Romana del Casale. The vibrant towns of Palermo, Catania, and Syracuse provide a mix of architectural wonders, busy markets, and rich street life, providing views of Sicilian culture at its best.
The culinary highlights of Sicily should not be missed on any visit. Cannoli, a sweet ricotta-filled pastry tube, is one of the island's most famous specialties. Visit the local markets, indulge in some fresh seafood, and learn about the island's fascinating culinary history if you want a foodie summer.
Furthermore, cities along the coast, such as Taormina and Cefalù, have exciting nightlife. Travelers may party the night away at exciting pubs, nightclubs, and beach parties, with opportunities to meet new people and have lasting experiences.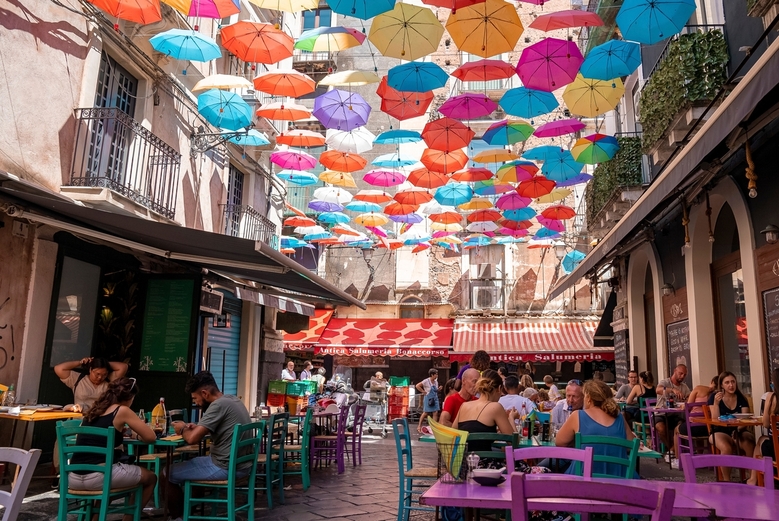 4. Lake Como
Lake Como, located in Italy's stunning Lombardy region, is a haven known for its spectacular scenery, rich cultural heritage, and tranquil atmosphere. This destination goes above and beyond the call of duty to provide its guests an experience, unlike any other vacation spot.
First and foremost, the beautiful scenery around Lake Como will surely be the main attraction for any outdoor enthusiasts. The lake provides a breathtaking setting for many outdoor pursuits, with its pure waters reflecting the towering Alps in the distance. Also, exciting hiking paths allow explorers to discover quaint towns, wander through verdant woods and take in breathtaking panoramas from mountain peaks.
The peaceful shores of the lake and its picturesque strolls are a welcome retreat. The timeless beauty of the landscape invites guests to relax in the sun and swim in the clear waters. In addition, Lake Como is home to a significant cultural legacy. Its cities and villages are graced with stately mansions, ancient churches, and lavish palaces that attest to a bygone period. As a result, culture lovers can learn more by touring Bellagio's picturesque streets or the renowned Villa del Balbianello.
Of course, a trip to Lake Como is incomplete without sampling some local cuisine. The area is a foodie's dream, with delectable cuisine prepared using seasonal, locally sourced ingredients. Visitors may enjoy real Italian cuisine in a relaxing lakeside setting, from exquisite fish to flavorful pasta.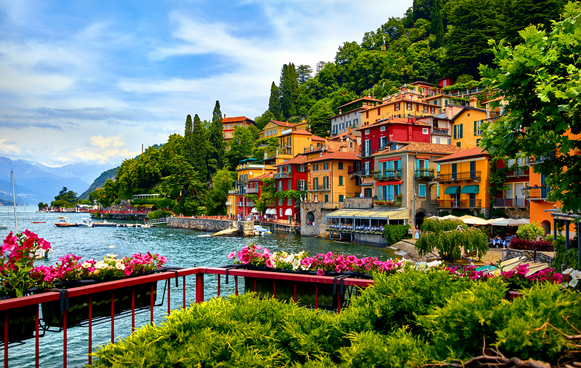 5. Tuscany
Tuscany, in the heart of Italy, is a beautiful region that offers a unique and memorable vacation experience. There is a wide variety of activities and sights for tourists to enjoy. This region is world-famous for its stunning scenery, with rolling hills, gorgeous vineyards, and lovely olive groves. Hiking and cycling are only two of many available outdoor activities in the area.
The beautiful coastline of Tuscany, which runs along the Tyrrhenian Sea, is another one of the region's claims to fame. Golden Italian beaches and exciting water activities await visitors, making for a rejuvenating beach vacation. In addition, Siena and San Gimignano, two quaint medieval cities, are just waiting to be discovered as part of Tuscany's rich cultural heritage. The area has a wealth of art and architecture, including the Leaning Tower of Pisa and other notable structures.
Indulging in some of Tuscany's world-famous cuisine is a must for anybody visiting the region. This area is a foodie's dream with meals like ribollita, bistecca alla fiorentina, handmade pasta, and wines like Chianti and Brunello di Montalcino.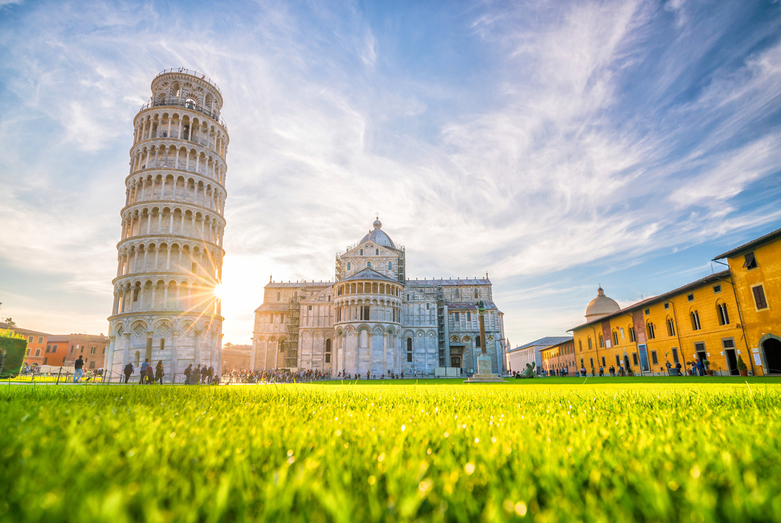 6. Puglia
Puglia is an exciting area in southern Italy that provides many opportunities for a varied vacation. The destination is a place that seamlessly mixes natural beauty, history, and food, thanks to its gorgeous coastline and rich cultural legacy.
Puglia's long coastline makes it a fantastic destination for those who like spending time at the beach. Its crystal-clear seas and white sands of the region's beaches, including Polignano a Mare and the magnificent Gargano Peninsula, make for the ideal spot to kick back and enjoy the sunshine. Moreover, Ostuni and Alberobello, give a beautiful look into the region's coastal culture.
Puglia's cultural attractions, like its many ancient monuments and lively customs, are another reason to come. Alberobello's trulli dwellings, a UNESCO World Heritage site, captivate tourists with its unusual cone-shaped architecture, while Lecce, known as the "Florence of the South", has beautiful Baroque buildings.
Finally, Puglia is a culinary heaven known for its simple yet delicious dishes. Enjoy the orecchiette pasta, luscious fish, fine local olive oil, and wines that the area is famous for. Puglia is also home to several bustling food markets where visitors may sample delicious fresh products and regional delicacies.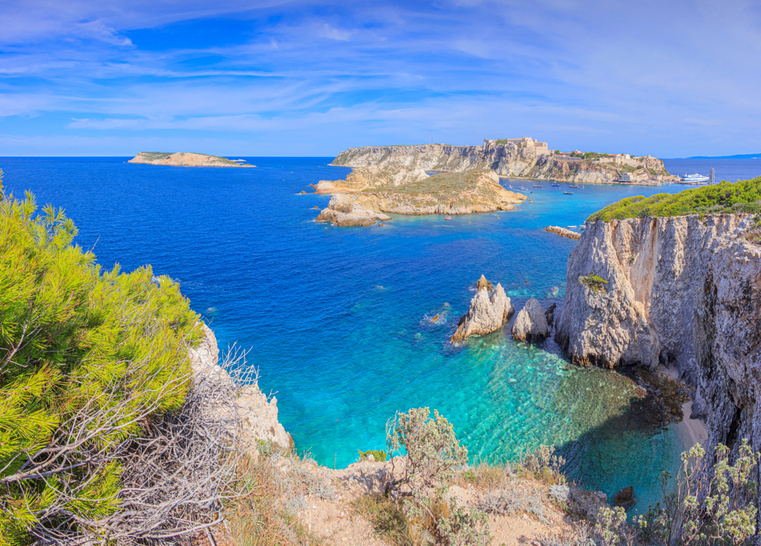 7. Florence
The cultural and culinary riches of Tuscany's capital, Florence, are overflowing. Some visitors have fainted or had hallucinations because the area is so stunning and complete with historically important artwork and artifacts. 
You can see the red roof of Santa Maria del Fore Cathedral through the entrance to one alley or you can notice the Uffizi Gallery, which holds many famous pieces of art. Florence's prominence on our recommended itineraries for Italy will be immediately apparent.
Everything seems like a wonderful accident when you are lost in Florence. If you follow your nose, you could even stumble onto a trattoria offering some of the finest Tuscan food. Fans of history and photography will enjoy the "Town of Fine Towers," named for its original architecture. It would be best to try some of the best Tuscan wines while you're here.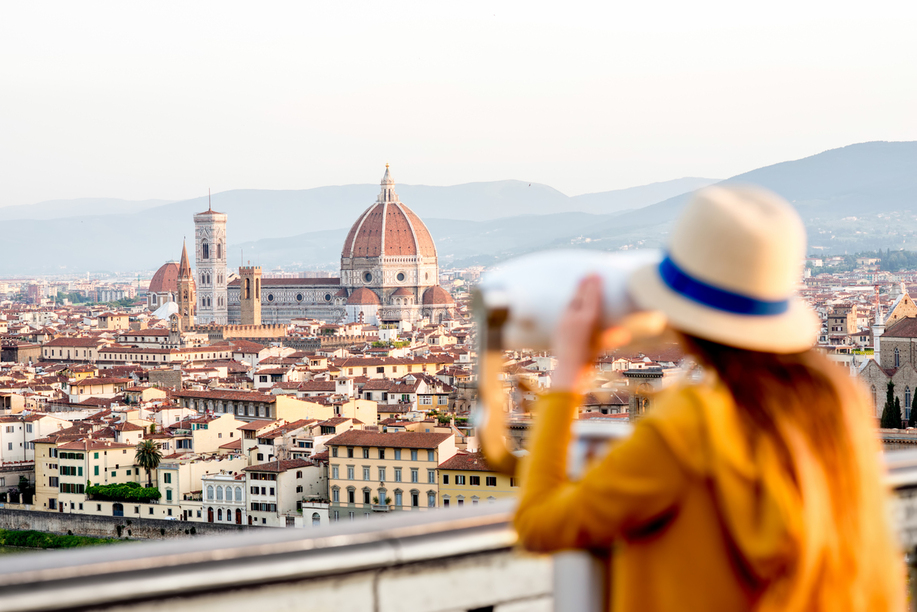 8. The Amalfi Coast
If you want to experience the true Italian "dolce vita", a summer vacation on the Amalfi Coast is necessary. This famed coastline is dotted with beach villages and hilltop cities, including the picture-perfect Positano and the opulent Capri. This was considered a playground for the wealthy and famous since Roman times.
Those with access to a vehicle will have a fantastic time driving down this coastline, stopping at quaint fishing communities, and discovering secret cafes. What more could you want from a summer vacation in Italy than its beautiful beaches, breathtaking scenery, and intriguing history?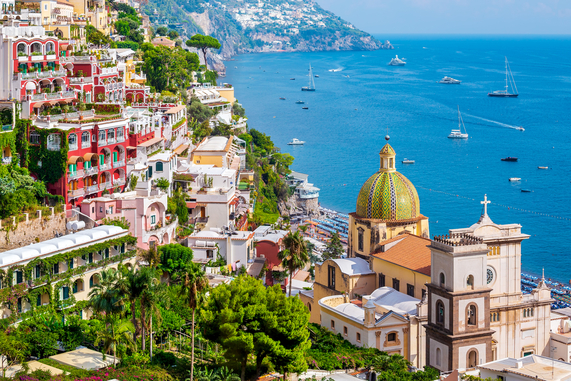 9. Manarola, Cinque Terre
Manarola is a picture-perfect town in Italy's Cinque Terre region that provides a magical vacation experience. With its brightly painted homes spilling over the edge of the cliffs, this beautiful town catches the spirit of the Mediterranean. It welcomes visitors into a world of natural beauty and authentic Italian culture.
Manarola is a hiker's paradise and a must-visit for any environmentalist. The five towns of Cinque Terre are linked by the famed Sentiero Azzurro or Blue Trail, which provides access to the area's rough landscape and stunning coastline views. You may learn about the region's illustrious agricultural history.
The destination provides a window into the genuine Italian way of life and its stunning natural setting. Visit the flower-lined alleyways and stop at the modest stores showcasing regional artwork, handicrafts, and cuisines. The villagers' genuine friendliness and pride in their culture make for an unforgettable visit.
Manarola may not be well-known for its exciting nightlife, but it is an ideal destination for people searching for peace, scenic beauty, and a genuine taste of Italy. Whether you are a nature lover, beach bum, history buff, or foodie, Manarola is the perfect for an unforgettable experiences.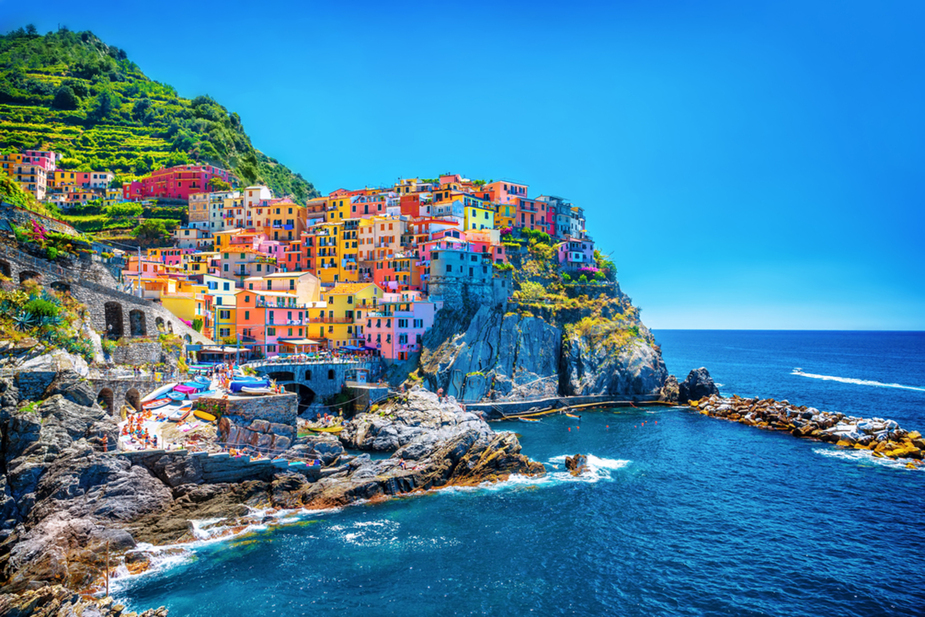 10. Verona
Verona is an intriguing location because of how its history, romance, and culture come together. This destination is beautiful because of its rich history and association with Shakespeare's tragic love tragedy, Romeo and Juliet.
The city's rich history is on full display in the many historic buildings you will see as you wander its cobblestone streets. Verona's Roman amphitheater, the Arena, dates back to the 1st century. A stunning tribute to the city's history and splendor. Today, tourists may enjoy opera performances of the highest caliber in this building, which has been meticulously conserved.
Additionally, beautiful gardens abound in the city, with popular spots like the Giardino Giusti. The views from Castel San Pietro, located high above the city and the river Adige, are spectacular and well worth the effort required to reach them.
Verona also has a fantastic restaurant scene. You may enjoy regional specialties like risotto all'Amarone and horse-meat stew at every restaurant in the area, from a little trattoria to a fancy Michelin-starred establishment. Enjoy your dinner even more with a bottle of Valpolicella wine made in the nearby vineyards.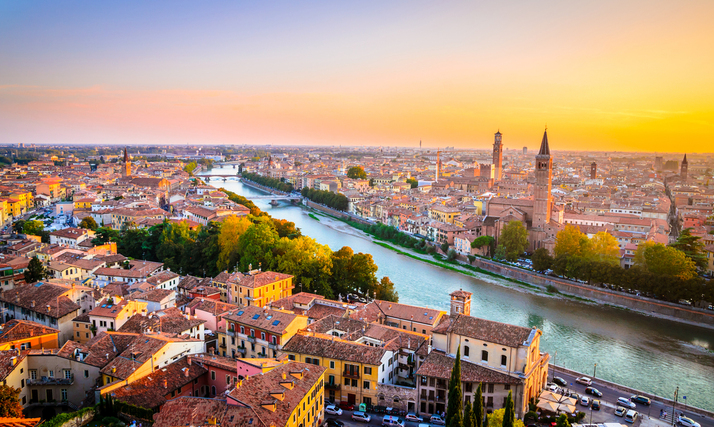 11. Naples
Naples is a beautiful city combining rich history, vibrant culture, and stunning scenery. Visitors worldwide are drawn to this captivating destination by its storied past and buzzing present. Exploring the city's historic core, a designated UNESCO global cultural platform, is a great way to learn about its rich history.
While the canals of Venice and the Renaissance of Florence are the main draws, the sheer luxury of Naples will have you in a daze. It's a lively town, with plenty of noise and people bustling about the little streets. Naples has a wealth of visitor attractions, including a top archaeological museum.
Take a walk with the locals along the water's edge to take in Mt. Vesuvius across the bay, take a ferry to Capri or enchanted Sorrento and, of course, eat pizza since the Neapolitans are the ones who claim they created it.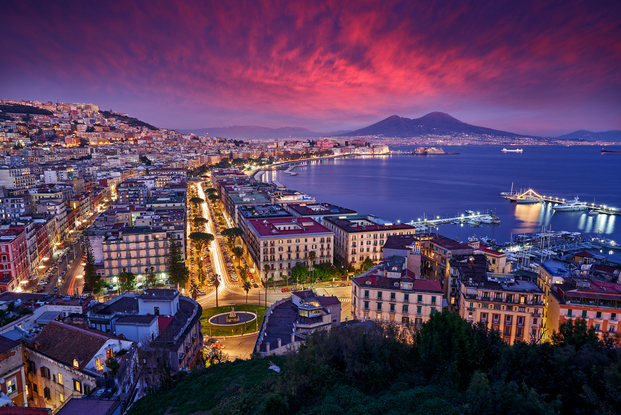 12. Taormina
Located on Sicily's eastern coast, Taormina is a popular tourist attraction because of its stunning natural scenery and historical significance. This gorgeous town is the perfect vacation place year-round because of its natural attractions, historical landmarks, exciting nightlife, delicious food, and mild Mediterranean summer climate.
The beautiful scenery around Taormina will surely wow any nature lovers. Exciting pathways lead to the peak of Mount Etna, where hikers are rewarded with breathtaking vistas of the surrounding volcanic landscape. Exploring the adjacent Alcantara Gorges produced by lava flows and cooling down in their crystal-clear waters is an unforgettable experience.
Taormina is a city rich in historical sites and architectural masterpieces that will delight culture lovers. The town's main draw is its 3rd-century B.C. Greek amphitheater, which has been painstakingly conserved. Visitors to this spectacular facility's concerts, operas, and theatre productions are in for a treat.
When it comes to dining, Taormina is a dream come true. The Greek, Arab, and Norman influence on Sicilian cuisine create a compelling fusion of tastes. Delicious arancini, shellfish, and desserts like cannoli and granita are just around the corner. Travelers may enjoy these treats at any number of establishments. From rustic trattorias to upscale restaurants to carts along the streets.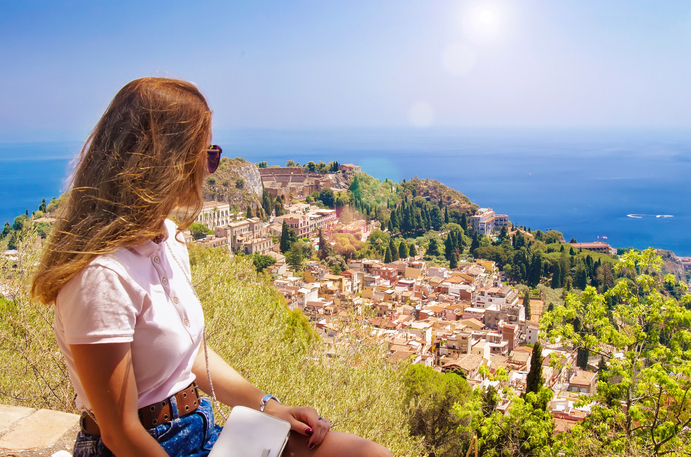 How hot is it in Italy in summer?
Variations in summertime temperatures occur in Italy. The whole nation enjoys warm temperatures and beautiful weather in June. Wonderfully warm and bright weather characterizes the month of July, with rare showers in the south. Italy's Mediterranean climate is most favorable in August, with high average temperatures and plenty of sunlight.
Summer hikers will appreciate the lower temperatures in the Alps and other mountain regions. No matter how hot or cool you like it, Italy's summers provide something for everyone.
Don't travel without your travel insurance
Having travel insurance is a must if you plan on visiting Italy. For the sake of your health and safety, we strongly suggest that you obtain our travel insurance. The cost of medical care and the security of your belongings are both covered by our insurance policy. In a medical emergency, the Heymondo Assistance App is always available.