Does your vacation involve beaches, poolside activities or warm weather? Here are some vacation ideas to look into as we approach the month of August. Lake bed and Transylvania offer relaxation poolside and sunshine, but if you are up for sandy beaches, Devon and Isla Holbox are among the places you can find refuge. Do you still don't know where to travel in August? A lot is going on in St. Tropez for outdoor enthusiasts. August is the best time to soak up some sunlight without too much scorching heat. Meanwhile, outdoor festivals catch the attention of crowds from Riau Island to Isla Holbox. Regardless of where to travel in august or how busy the destination is, you can always find a more sustainable way to visit.
August offers a great opportunity to participate in different outdoor activities, from small-town retreats to mountain reprieve. The late summer months, August, are generally considered the hottest days, hence the need to add one more vacation with more indulging activities. Therefore, if you are planning to visit a long-haul destination in your August vacation, getting Heymondo's travel insurance is highly recommended. With them, you are sure of protection before and after your trip. So, whether you fall ill, need medical assistance, get hurt or lose your luggage, you are covered.
If flipping the calendar page to August Jog your memory that summer is fleeting, consider the below destinations for a perfect "where to visit in August" list.
1. Isla Holbox, Mexico
Holbox is a northern island in the Yucatan Peninsula, long touted as "the new Tulum". As good as Isla Holbox is, it is not easy to reach. You will have to wait for a passenger ferry from Chiquila to reach this amazing island: a three-hour drive from Playa del Carmen. If you visit Holbox in August, you will enjoy a wonderful quiet scene with large pods of whale sharks gathering offshore. Other than Holbox, Mexico has many areas to visit and August is the best time to visit them.
Isla Holbox island is set apart from the mainland by a beautiful lagoon full of pelicans and flamingos. From all the places on your list of where to travel in August, don't forget to check puta coco beach and laid-back Holbox village. Holbox is the best place to escape the mainland crowd. This doesn't mean you will be bored; the beauty of this island is in nature, its slow, steady rhythm and simplicity. August offers fantastic warm water and plenty of sunshine suitable for diving and snorkelling.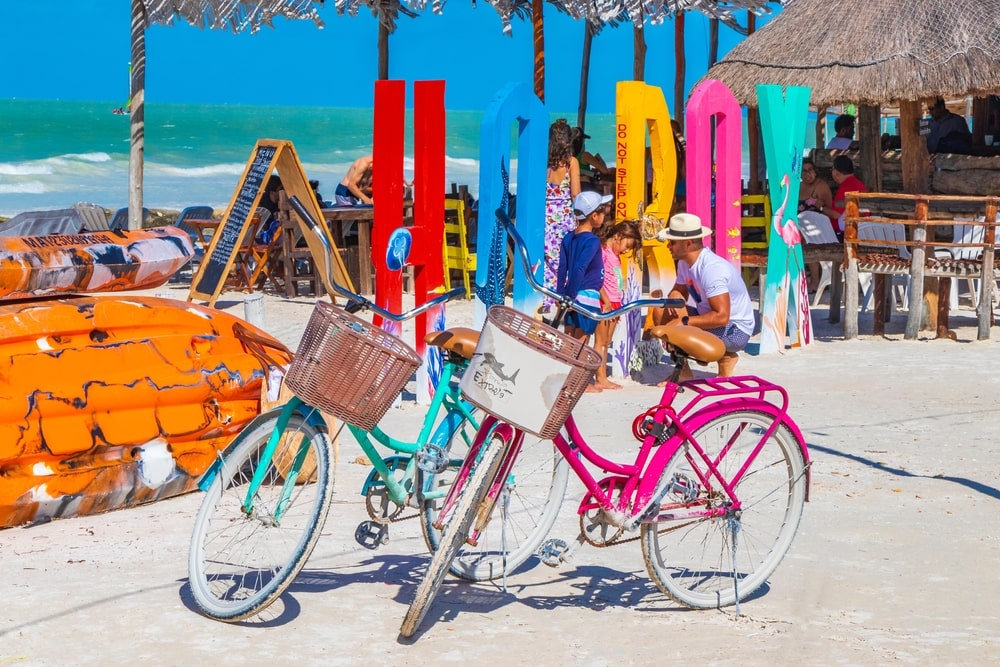 2. Split, Croatia
Croatia is among summer's best and most desired destinations. You can enjoy a private or adventurous small-group 5-island tour by speedboat: a visit to a beautiful and charming Komiza village, snorkelling in pristine blue waters and sightseeing in Hvar. Take a day trip to the famous Krka National Park to enjoy Croatia's beautiful natural spots. Glide along the calm waters of river Krka River on a boat cruise.
Diocletian palace offers great activities and tours. Explore 1700+ years of history on tour in the historical old town of Diocletian Palace. Learn the history of the former residence of marvel and the Roman emperor at the city centre's Baroque monuments. See the famous Saint Domnius Cathedral, the house of the 12th-century bell tower. Take part in different activities in the impressive Peristyle courtyard, including climbing the bell tower.
3. Lake Bled, Slovenia
Lake Bled is located in the upper Carniolan region (Julian Alps) of Slovenia; specifically, the place it adjoins the town of Bled. It is among the best tourist destinations and on top of the list of where to travel in August. The lake is 55 km from Ljubljana (the capital city), 4.2 km from Lecce-Bled train station and 35 km from the city's international airport.
Slovenia is the first green country worldwide: 96% compliance with sustainable standards. Despite Lake Bled being the top tourist attraction, it has remained unspoiled for years. This resulted in clean water, a still, peaceful and quiet atmosphere with perfect weather for most water activities and a day in the alps.
Lake Bled is among the most famous places in Slovenia for its dramatic location. Other than that, its wine-tasting experience straight in the castle cellars is something you will not want to miss. One of the most interesting things about Lake Bled is the clear, warm, turquoise water. This calls for a perfect day in the water, either on a boat or swimming (the water reaches 26 degree Celsius in August). The western and northern banks of the lake are designated for swimming with options for stand-up paddle boarding, kayaking and canoeing.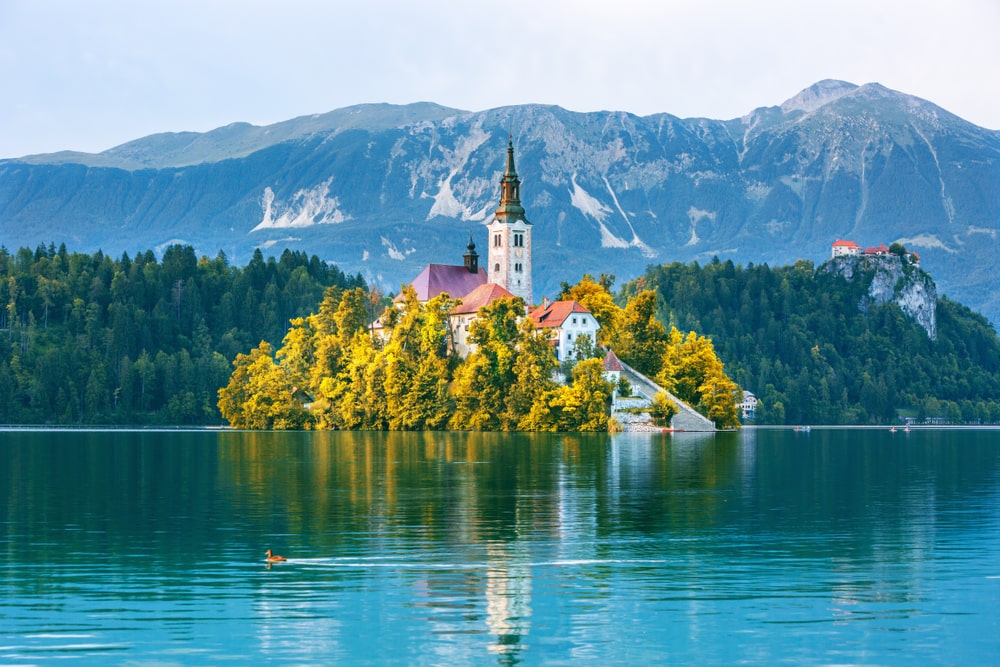 4. Bergen, Norway
Bergen is a city located in the southwestern part of Norway. It is surrounded by fjords and mountains, including the country's deepest and longest fjord: Sognefjord. The city is well-known for its museum collection in the university. Spending a day at the University Museum of Bergen is what you need to complete your tour to Norway, including the cultural history collection, maritime Museum and the Natural History Collection.
However, the city, being surrounded by mountains and fjords, has something to offer great outdoor fans and nature lovers. Bergen offers scenic hiking highlights and stunning panoramic views to ensure the day is complete with something to take home. The number of fjords in Norway (1200) has made Bergen designated as a UNESCO World Heritage Area considering its outstanding natural beauty.
The city is the second-largest in the Scandinavian state, but it has a lot to offer tourists, especially in the summer. It is a perfect "where to travel in August" destination for different summer ideas, from culture and city walks to mountain hikes and water activities.
5. Transylvania, Romania
Transylvania is a historic area in central Romania. The region is well-known for its mountain borders, medieval towns that make it feel like you have gone 100 years back and castles like a Gothic fortress and Bran Castle linked with vampires. Brasov city has an expensive Council Square, bastions, Cafes, Gothic Black Church and Saxon walls. They are must-see spots and are all considered UNESCO World Heritage Sites.
This part of Romania's border is associated with Dracula or blood-thirsty vampires and howling wolves due to the influence of the 1897 novel Dracula written by Bram Stoker, and the following books together with many films simpered by the Transylvania tale. Most people may think the place is fictional, but it is a real place and pretty special too.
The locals didn't believe in howling wolves or the blood-thirsty vampires until Bram Stoker's novel. Visiting this place in August will allow you to learn the region's charming history and experience the quiet atmosphere and welcoming locals. Transylvania has several resort towns known for their therapeutic waters (the salty water and mineral mud from Bear Lake are believed to cure infertility and balmy water from the Dead Sea is good for people suffering from arthritis). A "sauna", moffete made of post-volcanic gasses, eggy sulfur and carbon dioxide helps in cardiovascular conditions.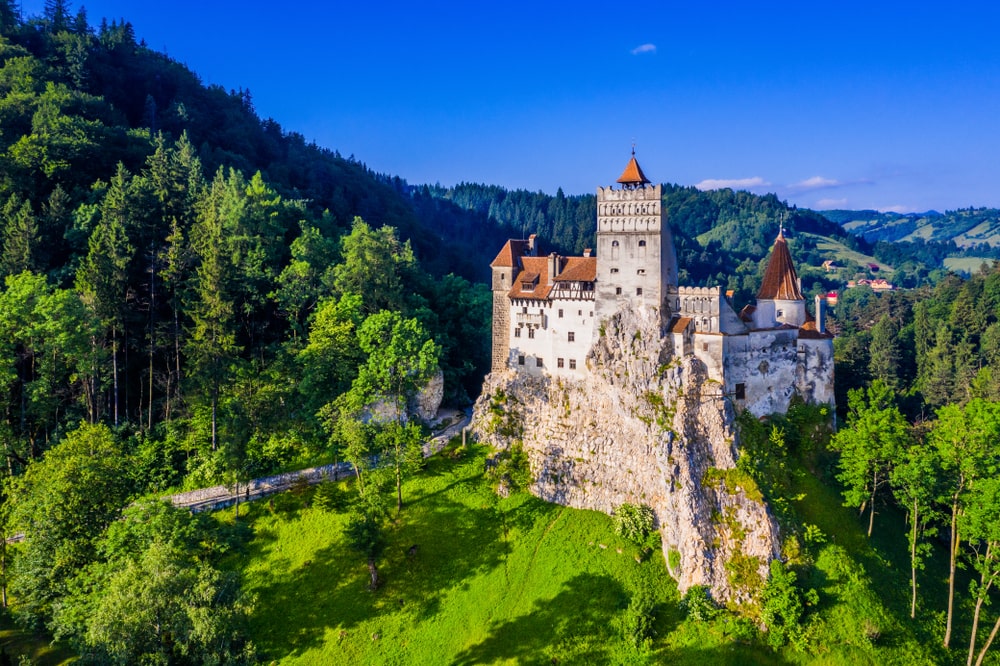 6. Devon, United Kingdom
Devon is a country found in the southwest part of England, comprised of moorland national parks, fossil cliffs, beaches and medieval towns. It is part of Devonshire's English countryside, perfect to visit in August. Devon is a rural country with many sandy shores, coastal cliffs and hilly landscapes. It is well-known for Devonshire cream tea and beautiful beaches, making it a famous holiday destination in the UK.
Talking of National parks, Devon is the only England country with 2 and the only UK country with non-continuous on the south and north side. More than 60% of Devon's coastline is termed Heritage Coasts, offering a selection of amazing walks in August beside the sea while enjoying the sunshine. Enjoy the August treat with a wide range of wildlife from bottlenose Dolphins to Dartmoor ponies.
The country has two main cities; Plymouth and Exeter, referred to as the ocean city. Both cities are wealthy in terms of activities to do and see and have a rich heritage. Among the most amazing places to visit in Devon, you wouldn't want to miss Plymouth Barbican, Plymouth Hoe and Exeter Cathedral.
7. Riau Islands, Indonesia
Riau Islands is a chain of over 1796 islands located in the western part of Indonesia, bordered by Singapore and Malaysia. These Islands offer great world wonders for you to experience and explore, from the exciting sea exploration to fresh and tasty seafood. Your summer vacation will pay off, thanks to fast-growing leisure facilities and world-class accommodation in Bintan and Batam.
One of these Islands could be in your next "where to travel in August" list to find tranquility and serenity. Remember to visit the natural wonder scenery at the Natuna Geopark and explore Penyengat Island's colourful cultural heritage.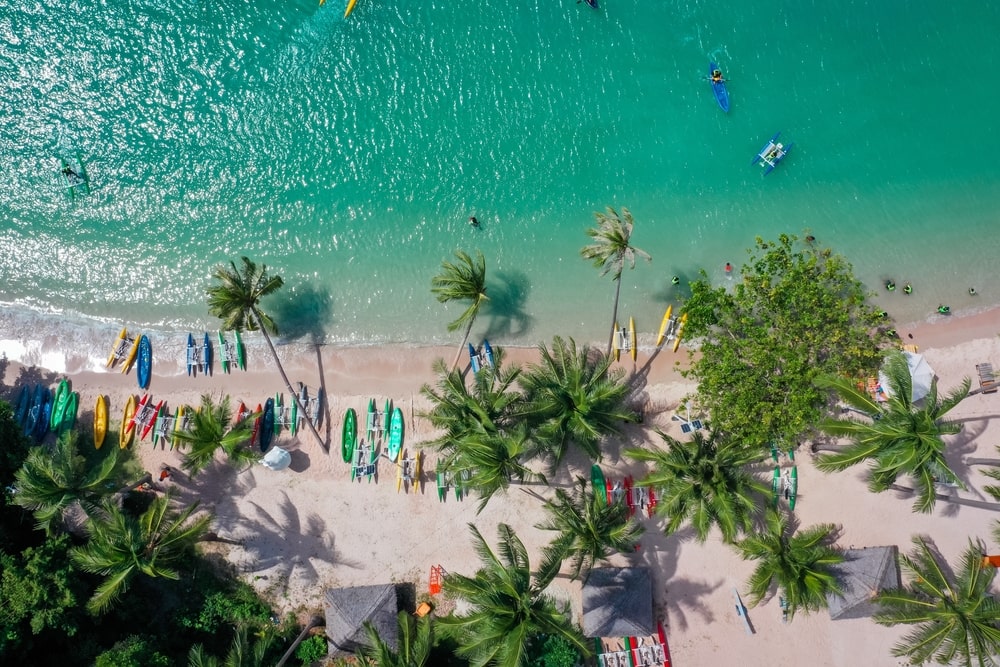 8. Riga, Latvia
If you are looking for an affordable European break in August, Riga is the best option you can get. Riga is the capital city of Latvia, set on the Baltic Sea. It is a cultural center with many museums and concert halls. This amazing city is characterised by art nouveau architecture, medieval Old Town and wooden buildings. Therefore, you can benefit from many restaurants and shops with nightclubs and bars.
Enjoy the historic center termed as UNESCO World Heritage Site, including the 13th century Ring dom (Cathedral), warehouses and homes. The New Town can be explored easily and efficiently by a modern tram and bus network. While in Riga, you can do many things, from walking tours, cultural tours and city tours to specialty Museums and port of call tours. The central market offers different experiences, trying new flavours and meeting new people.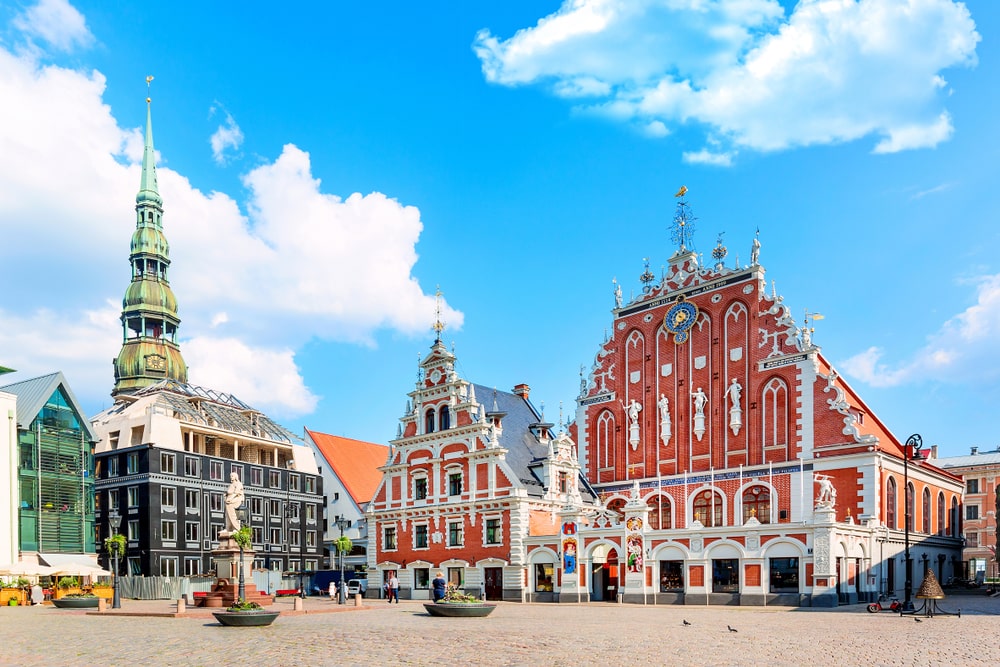 9. St. Tropez, France
St. Tropez offers Mediterranean summer glamour and glitz, where famous, beautiful and rich come to flaunt on the golden French Riviera's Sandy beaches. The town also offers luxurious shops, nightlife scenes and an enduringly rich cultural heritage. In August, when the sun is shining at its best, you can enjoy the exclusive beach clubs in Pampelonne. Also, you can rent a deckchair and enjoy the beach. If Pampelonne is not as good as you want it to be, you can visit other public beaches in St. Tropez.
Explore the exhibitions in the museum of artefacts relating to French coast voyages and far beyond. You can take in the 17th-century citadel that comes with lookout points over the entire mountains and sea. Visit the Gendarmerie and Cinema Museum to pay homage to the past events of the venue by selecting different films produced in St. Tropez. After spending your day on the glamourous beaches and still wanting somewhere to fill up on culture, Carre Sainte Maxime is the place to be. Participate in an electric and diverse programme of events offered throughout the season, from live music and theatre performance to circus-style spectacles.
Why is travel policy insurance recommended to travel in August?
During the COVID-19 pandemic, it is more important than ever to get travel policy insurance. Therefore, when planning for the next vacation in August, get Heymondo's travel insurance. Heymondo offers great, most comprehensive insurance cover for trips. You have the freedom to customise the insurance plan to fit your needs and budget, from adjusting limits to adding coverages. If you cannot take a trip due to an unforeseeable event, a trip cancellation policy will reimburse you for your prepaid, forfeited and non-refundable costs.
Heymondo Travel Insurance has many other benefits. These include:
Up to 10 million euros in medical expenses coverage.
Round the clock medical assistance in case of Covid-19 infection and PCR tests prescriptions during your trip.
In case of Covid-19 infection, Heymondo covers the extra lodging expenses due to quarantine.
Cancellation coverage whereby Heymondo refunds your trip expenditure if you fail to travel due to testing positive for coronavirus, being ill, or in case of the death of a family member before the start of your trip.
Round the clock medical chat from the Heymondo Assistance App, incident management and free emergency calls at the palm of your hand.
You get a Covid-19 certificate which outlines the medical assistance that Heymondo covers. The covid-19 certificate is one of the main requirements to travel to several other countries.