Described as one of the most romantic tourist destinations, Paris, exudes culture, sophistication, style, and class. Like others before you, you are bound to fall in love with the city the first time you visit. Paris is truly one of the most iconic cities worldwide, with thousands of years of history and endless activities to do. It is famous worldwide for the Eiffel Tower, the Notre Dame cathedral, and the Louvre museum.
Journalists, poets, writers, artists, and playwrights have all described the city of Paris in big and beautiful words. When many express their love for Paris, they describe it as the world's most romantic destination and everything for fashion lovers and foodies.
The best season to travel to Paris includes spring (April to June) and autumn (September to November) because the weather is about perfect. Many tourists plan their visit around the summer because of the long days and sunny weather, a good time for sight viewing.
You don't need a tourist visa to Paris for stays under 90 days, but your passport must be valid for 90 days or more after your planned date of leaving the Schengen area. No vaccinations are mandatory, but it is advisable to inquire about covid 19 restrictions and requirements during this pandemic season.
Now that you are eager to travel to one of the most glamorous cities in Europe, find out more in this travel to Paris guide.
Requirements to travel to Paris
Passport requirements
Whether you are visiting Paris for a vacation, studying, working, or residing permanently, you need a passport. The passport should be applicable for at least 90 days beyond your planned departure date from the Schengen area and have at least one blank page for stamps. Ideally, your passport should have a six-month validity to be on the safest side.
Remember that Paris is in France, a party to the Schengen agreement. Therefore, a France airline may bar you from boarding at the point of origin or changing planes if your passport doesn't meet Schengen requirements. The government of France does not acknowledge the 12-page U.S. emergency passport that the US embassies and consulates overseas issue as a valid document for a visa-free entry to the country. With this, you can only get a direct transit through France to a destination in the United States.
Otherwise, you may not board a France airline with an emergency passport, and you are likely to get into trouble with immigration officials. It is best to check your country of destination entry requirements to ensure you can use your emergency passport.
As earlier mentioned, a visa to Paris is not necessary for stays under 90 days. That means you can enter France for business or tourists purposes for up to three months without a visa. However, the immigration officials may request that you show proof of adequate funds for your planned stay in the country and a return flight ticket.
Visa requirements
If you are visiting France for an extended stay, you need a visa and should make an appointment with your French consulate to give you the required documents. The type of visa you require to visit France depends on your nationality and how long you intend to stay there.
If your country is among the European Union states, you don't need a tourist visa regardless of your length of stay. The Schengen visa works under the agreement among 25 European countries that permits tourists to travel between the Schengen countries without showing their passport. On the other hand, you need to apply for a three month Schengen visa to visit France if your country is not a member of the Schengen agreement.
Suppose you intend to visit Paris or France for other reasons than tourism or business, such as study, employment, internship or diplomatic travel. In that case, you must obtain the required French visa before leaving your country.
A long-term stay visa is necessary for any nationality outside the European Union (EU) and European Economic Area (EEA). In most cases, applicants for a long term stay visa to France visit for studies, work or family reunions. It is almost impossible to modify your visa status or obtain one while in France.
Vaccination requirements 
You don't need any special vaccinations to visit Paris. However, check the entry requirements before travelling, especially during this COVID-19 19pandemic season. The good news is that the French border eased the COVID-19 restrictions on 12th February 2022 for fully vaccinated tourists. On 14th March 2022, the government of France also lifted the covid 19 vaccine pass in all areas it was previously necessary, including professional trade shows, leisure venues, commercial catering etc.
Do I need travel insurance?
This is probably one of the critical questions lingering in your mind as you read through this travel to Paris guide. Whether you plan a short or more extended stay in Paris, do not travel to France without comprehensive travel insurance for Paris.
As you may already know, travel insurance covers different categories of risk during your trip:
Emergency medical and dental expenses
Medical coverage caters to all your financial expenses if you get sick, injured or die while travelling. Depending on your policy, it can also cover emergency medical, transport to the nearest medical facility, emergency dental care, medical evacuation and medical repatriation if things get worse. Some travel insurance policies even cover COVID-19, but you should check the terms and conditions to find out more.
Cancellation and interruption
Trip coverage caters to all your trip expenses should anything go wrong before and during your trip. For instance, if you have paid a non-refundable reservation and need to cancel at the last minute for unavoidable reasons, travel insurance caters to that. Other forms of coverage a travel insurance offers include trip cancellations, interruptions or delays, lost, damaged or delayed luggage or rental car damage or loss etc.
Personal liability
In the simplest words, travel insurance covers the financial liability if anything goes wrong during your trip, and it assures you of assistance when you are in an unfamiliar destination.
The domestic insurance policies of the US government do not provide health insurance for citizens outside the country's borders. However, it encourages US citizens to buy travel insurance when travelling and ensure it covers medical evacuation.
You should buy the insurance before travelling and even consider purchasing a short term supplemental cover if your health insurance policy is not adequate. It is best to look for international travel insurance that can directly make payments to the hospital. If you are moving to Paris on a long term basis, it is best to get expatriate health insurance.
Recommended coverages for Paris
It is best to buy travel insurance covering the following when travelling to France:
Medical coverage for your treatment and drugs costs if you get ill or injured during your travel.
Medical evacuation costs to a nearby medical facility if you get sick or injured during your journey.
Coverage for missed departures or delays in unavoidable circumstances (I.e. natural disasters).
Cover for lost or stolen luggage when travelling to Paris.
Cover for the theft or loss of your passport. This coverage is essential because obtaining a new passport in a foreign country can be costly and stressful.
Cover for travel abandonment due to unavoidable circumstances. For instance, some issues arise during your journey, making it hard to reach your destination.
Trip cancellation and curtailment cover (I.e. If you need head home earlier due to unavoidable reasons).
Cover for repatriation if anything goes wrong during your travel.
Cover for personal liability. If you cause someone else an injury, possession damage or loss, the insurance covers everything.
Understanding the exclusions 
Note that all travel insurance policies have exclusions, and it is good to understand some of the things you may not claim for. They are:
Preexisting medical conditions: the travel insurance may not cover any health condition you discussed with your doctor before travelling. You may have to take a specialist cover or cough out an additional premium to extend your coverage.
Alcohol-related accidents, illnesses and injuries- no coverage if you hurt yourself or someone else while under the influence.
Unprecedented situations like war, civil unrest, or effects of natural disasters affect your visit to France.
Accidents that happen during adventure and leisure sports like skiing or snowboarding. Ensure that your travel insurance can provide coverage before indulging in such activities while in France.
Travel insurance policies vary from one vendor to the next, so performing your due diligence beforehand is crucial. It is advisable to start your travel insurance from the date you have booked your holiday and not the date you plan to travel.
That way, you are covered if anything happens and prevents your trip to France as planned. Lastly, ensure you read the insurance policy's fine print to make an informed choice before signing.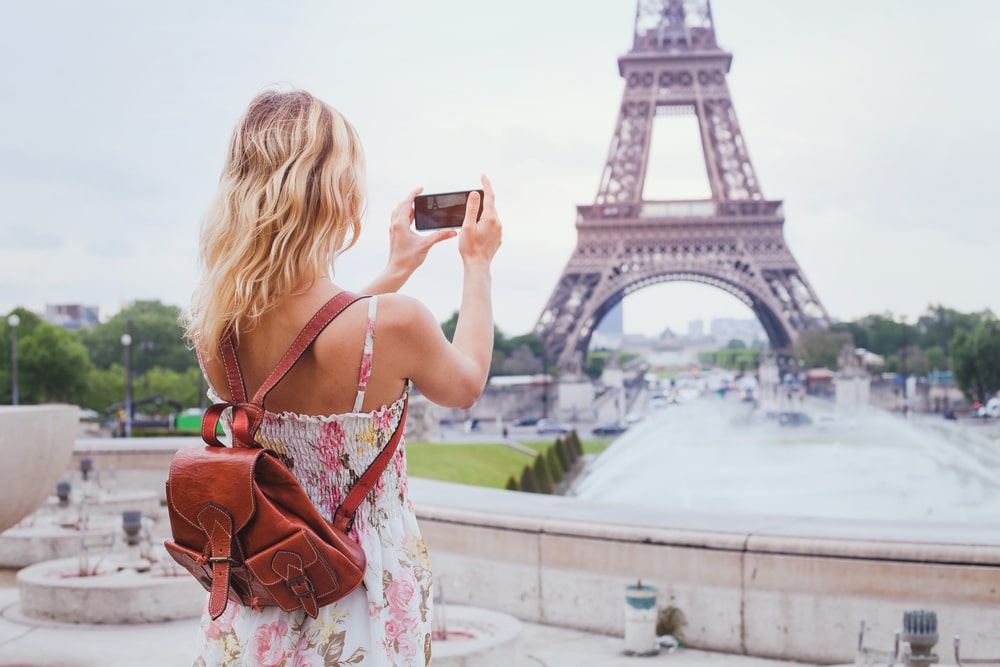 Top 5 neighbourhoods to visit in Paris
Are you planning your trip to France and wondering what to visit in Paris? Well, the good thing is that there are a lot of neighbourhoods to experience in Paris. Whether you want to see the trendier area of town or the most peaceful suburbs in the city, Paris has charming neighbourhoods with unique features that make them stand out.
This travel guide to Paris explains more about the top neighbourhoods, including Les Halles, Ile St-Louis, Bastille, Belleville-Menilmontant and Montmartre.
Les Halles (1st arrondissement)
Les Halles is a chic, vibrant neighbourhood popularly known as Paris' former central marketplace. An underground shopping mall, designer stores, artisanal food shops and cafes have since replaced the once famous "stomach of Paris." For hundreds of years, this renowned neighbourhood was the source of all food distribution in Paris and was also the central meeting point for citizens.
According to history, the markets were most exciting when the meat and fish markets went into full steam. Although the neighbourhood has evolved architecturally since earlier times, its pulsating energy has remained the same.
With over 150,000 people visiting the mall daily, visiting or staying in Les Halles during your visit to Paris allows you to experience all the action. The underground shopping mall contains every modern shop imaginable with vibrant lights, music and colours emanating from different shops. As one of France's most popular shopping malls, everyone likes it.
Les Halles also hosts numerous shops and outdoor stalls selling everything you can imagine, from leather jackets to CDs. During the summer, street performers occupy the space in front of the museum, from musicians to skateboarders, protest groups to mimes.
Centre Pompidou, the famous museum of modern art, is within the neighbourhood. Another site people overlook in the area is the controversial fountains known as Homage to Stravinsky. Overall there are endless activities in Les Halle, and you can get there via train, subway, taxi or foot.
Ile St-Louis
Located in the heart of Paris, Ille St Louis is one of the most charming and peaceful neighbourhoods. The island is adjacent to the Île de la Cité, but it is smaller and cosier making it explorable on foot to discover its unique atmosphere, facades and porches.
According to history, Illest Louis was uninhabited until the 17th century. When the government of France planned and mapped out the plan of the neighbouring island of Île de la Cité, the wealthiest residents of Paris took advantage of its peace and tranquillity and built their mansions.
Saint-Louis en Ille is another must-see attraction in the neighbourhood, a beautiful 17th-century church with luxurious decorations. Ille st Louis hosts breathtaking monuments and statues, beautiful architecture, the famous point Louis Phillipe bridge and art galleries for vintage art lovers.
Although most of the neighbourhood is residential, several restaurants offer french cuisines and several shops with window displays worth exploring. It is also filled with well maintained prehistoric architecture and streets. Ille st Louis is also not short of fancy hotels where you can stay if you want luxury and tranquillity in the city of Paris.
Bastille
Bastille was a fortress in Paris that played a critical role in the internal battles of France. Previously used as a French state prison, the medieval fortress carries a lot of history. Although the prison is gone, you can still see the remnants in the square's cobblestone.
Today Bastille is an energetic neighbourhood that has grown in popularity for its clubs and bars that the Parisian youth frequent. Therefore it is the neighbourhood to visit if you are looking for a fun arrondissement in Paris. Luckily it is centrally situated with the small cobblestone streets giving it a Parisian feel.
Your visit to Bastille would not be complete without seeing the historic place de bastille, where the french prison once stood and iconic scenes, including at Le Musée du Fumeur, a famous museum. The museum store is a smoker's paradise with gifts like pipes, grinders and humidors.
You can also get yourself a souvenir at Merci, and you can find plenty of designer clothing and furniture. Rue Crémieux is an iconic architectural landmark where you can take an Instagram worthy picture in Bastille, thanks to the brightly coloured facades of the building.
From iconic landmarks to thrilling clubs and cinema centres, there is a lot to explore in the famous neighbourhood of Bastille.
Belleville-Menilmontant
Standing in the northeast part of Paris, Belleville is home to a thriving artist community. It hosts the hectic Chinatown, which many people describe as a melting pot of different cultures. Most notably, youngsters quickly popularise the neighbourhood because it is more affordable.
On your visit to Belleville, you can climb the Parc des Buttes Chaumont for a breathtaking view of the Eiffel tower. You can also walk through the Rue Denoyez and admire the public art murals as you explore the neighbourhood.
Next to the le Marais is an exciting street market where you can also find some of the best ethnic food. If you wonder what to visit in Paris on a small budget, Belleville is that affordable neighbourhood to explore.
Montmartre
Last but not least, we must mention a thing or two about Montmartre in this travel to Paris guide. The neighbourhood hosts arty cafes, bars and cobblestone streets, the only winery in the city limits. It provides a scenic view overlooking Paris city, and it is still one of the hipper parts of the town despite losing some of its old grandeur.
One of the most notable things about Montmartre is that it is one of the most affordable neighbourhoods in Paris, which explains why it is home to many students. Many students and tourists are out and about, so it can be loud at night. However, you can look for accommodation on the beautiful side streets for a more peaceful stay.
Many tourists who tour the neighbourhood remain struck in awe of the Sacré-Coeur Basilica on the highest point of Montmartre, where the remains of martyr Saint Denis lie. It has a sombre mood on the inside, but the outside bustles with the celebration of life. In the vicinity is Place du Tertre, an open-air gallery for art lovers.
A stroll in the narrow stone-paved walkways of Montmartre might lead you to discover old architecture, inspirational ateliers, little bakeries and hidden squares. Overall the charming neighbourhood has a lot for tourists to explore.
Top 5 Paris attractions
With the most iconic tourists attractions, it is easy to see why Paris is every traveller's dream destination. Notre Dame, The Eiffel Tower, Musée du Louvre, Sacré-Coeur and The Champs-Elysées are some of the must-see Paris attractions whether you are in the city for a short or long stay.
One thing about the city is that it has an emotional gravity. Most visitors find themselves yearning to return, while most Parisians rarely leave the city thanks to its celebrated romanticism, style and rare beauty.
The Eiffel tower is genuinely a sight to behold as it ranks high on the list of the most famous sights of Paris. Much of history centred on the royal palace and museum of Louvre confines the city. In the middle of the River Seine stands the Gothic cathedral of Notre Dame, which defines the island of Ile de la Cité.
On the north of Seine is the sophisticated avenue of Champs-Elysées. After the cathedral Notre Dame, Sacré-Cœur is the most visited church thanks to its stunning architecture. Here is a look at these top Paris attractions in detail.
Notre Dame
Standing in the heart of Paris, many people describe Notre Dame as the historical and geographic centre of the city. King Louis IX and Bishop Maurice de Sully founded the cathedral in 1163. It is notable for its gothic architecture, with an ornately decorated facade creating a stunning impression.
Intricate flying buttresses give the enormous building unique structural integrity with its profusion of sculptures and gargoyles. Magnificent coloured glass windows illuminate the interiors, and you should take a closer look at the gallery of kings in the doorway to explore a bit of French history. Notre Dame is truly a triumph of Gothic architecture, an impressive medieval monument that is a must-see on your trip to Paris.
On a sad note, a large fire caused significant damage to the cathedral in April 2019, and the long-standing medieval roof collapsed. Reconstruction work is ongoing to restore the cathedral, and it is on track to reopen to the public in 2024.
The Eiffel tower
Paris is on the most romantic destinations, and your visit is not complete without experiencing the Eiffel tower first-hand. As the most visited tourist attraction globally, the Eiffel tower features a masterful architectural feat, and many describe it as a lovers' paradise. The iconic tower designed by Alexandre-Gustave Eiffel for the Paris Exhibition of 1889 reaches 324meters in height and is the most symbolic sight in Paris.
For first time visitors, the Eiffel tower provides an unforgettable experience and the sight of four gigantic pillars that support the monument leave many in awe. Reaching the top level of the monument requires a dizzying elevator ride from the second level, one of the exhilarating things to do in Paris.
Eiffel tower gardens offer a romantic escape with leafy shade pedestrian pathways leading to ponds and belvederes with scenic viewpoints of the iron lady. You can walk up the 360steps or ride an elevator to reach the first tower level, which features public restrooms, a gift shop, a restaurant and a cafe.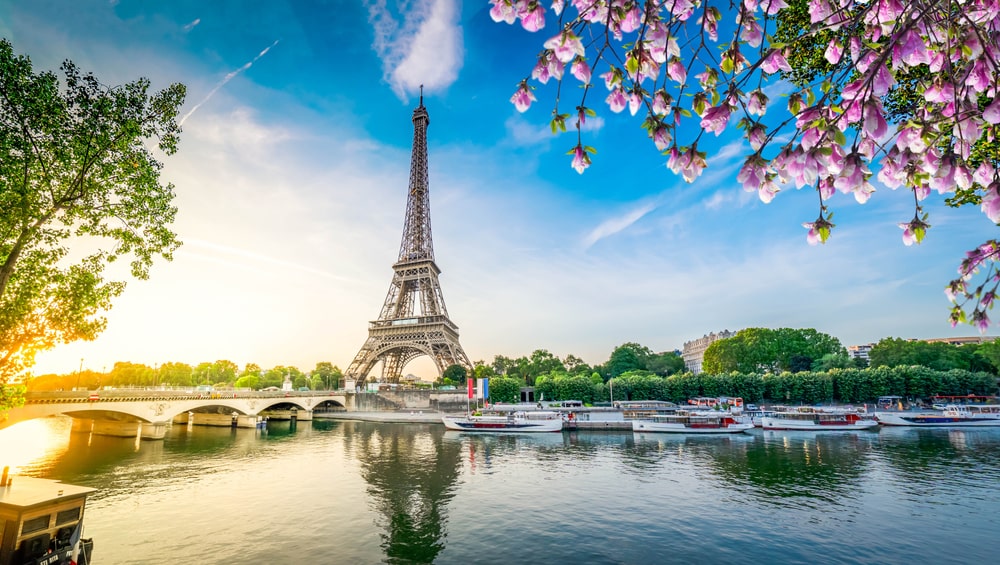 Musée du Louvre
Once the sumptuous palace of French kings, the Louvre is one of the most notable Paris museums. From European paintings to antiques of the 15-19th centuries, the museum displays thousands of breathtaking artworks, most of which are masterpieces.
You have to enter this iconic museum through the palace's courtyard at the Pyramid du Louvre. It is so vast that it is almost impossible to see everything in one visit. However, you can focus on galleries such as Italian Renaissance art, classical sculpture, and 17th-century French paintings or cover the museum's highlights in a self-guided tour.
Many tourists come to the museum to glance at the most famous art, Mona Lisa by Leonardo da Vinci, but there is more artwork to admire. Some of the most awesome masterpieces in the Louvre include the Venus de Milo sculpture, Eugène Delacroix's Liberty Leading the People (1831), depicting the Parisian uprising of July 1830, Victoire de Samothrace of the Hellenistic period and the stunning Young Lady with Venus and the Graces fresco by Botticelli. If you want to enjoy the museum, a guided tour is best.
Sacré-Coeur
The Basilique du Sacré-Coeur has a unique aura thanks to its alabaster facade combining Romanesque and byzantine designs. It appears like a wedding cake sitting at the highest point like a decorative accessory from afar. The church came to be as a symbol of hope after the Franco Prussian war, and many candles illuminate it contrasting the dark, sombre mood.
You will see a stunning mosaic of Christ with a heart of flame, which gives the sanctuary a spiritual and emotional feeling. You can also climb the tower and spend time admiring the stunning views of Paris. Another popular place is the esplanade, a staircase with more than 200steps leading to the Sacre Coeur, an excellent area to hang out with street musicians.
You should also explore the neighbourhood Montmartre which features unique restaurants, quiet outdoor cafes, art galleries that evoke the bohemian past and excellent art museums. If you want to experience the bohemian creative spirit, this is the place.
The Champs-Elysées
Andre le Notre landscaped the most iconic avenue in Paris. Previously an impoverished field of Marshland, Baron Haussman, a city planner, planned the elegant buildings we see on the champs Elysees.
The Champs Elysees has two sides: the upper and lower part. The upper part features cinemas, theatres, luxury shops, restaurants, hotels and cafes, drawing plenty of tourists, and it is also known as the meeting point for Parisians. The lower part features Petit Palais, a fine arts museum and an ample park called the Jardins des Champs-Élysées.
The Champs Elysees is famous thanks to its prestigious establishments, including upscale designer shops like Tiffany & Co, Louis Vuitton, and Cartier. There is also a pastry shop called Maison Ladurée, famous for delicious pastries and an 18th-century tea salon.
It is a fantastic place for fine dining with legendary restaurants such as hotel Le Fouquet's, brasserie de luxe restaurant, and L'Atelier de Joël Robuchon Étoile, an exihilirating gastronomic restaurant that foodies love.
It may seem like a place for the wealthy, but many affordable joints in Champs Elysees cater to students and tourists on a budget. They include McDonald's, burger king, Starbucks and the Disney toy store.
Practical tips for visiting Paris
As iconic as it is, Paris is a massive city with thousands of sights to see and activities to do. Thankfully, a little planning helps, so this travel to Paris guide is essential.
Paris is a big European city that truly lives up to its hype, and it is advisable to take into account the following practical tips to get the most out of your visit.
Spend longer than a weekend in Paris
It is true to say that it would take you a lifetime to explore everything in Paris. However, you can make the most out of your trip by spending longer than a weekend. As earlier mentioned, Paris has an emotional gravity that makes you want to go back there again and again, and you cannot get a whole impression of the city in a short duration. Therefore, it is best to plan for the best experience during your vacation.
The best season to travel to Paris is during the summer, thanks to the sunny weather and longer days. It is a perfect season to see the sights, and the laid back atmosphere allows you to enjoy the outdoor cafes and parks. The high season is from around June to August, which means that the tourists crowds can be overwhelming, especially in the Eiffel Tower and Louvre museum.
Therefore you should make your restaurant and accommodation reservations early to avoid inconveniences. Although your budget may determine your length of stay in Paris, a 7days to two-week stay is best. With so much to see, a more extended stay is worth it.
Paris is a city for all pockets
Although Paris is one of the most iconic destinations globally, many people quickly assume that it is an expensive city. To some point, yes, but it doesn't have to be when you plan accordingly. Some ways to travel to Paris cheaply are to plan your itinerary early and look for cheaper accommodations.
The Eiffel tower is impossible to miss as a tourist in Paris, but it may cost about $19, and the long lines in the summer will leave you exhausted. You would save yourself a great deal by visiting in the evening, sitting on the sprawling lawns and admiring the sunset lit tower.
Try to time your visit to Paris on the first Sunday of the month when most museum visits are free. The budget-friendly way to see Paris city is on your own, via a bus or rental bike. Food can be expensive, but you can save yourself some bucks by staying out of the touristy food streets of Paris. Also, avoid budget hotels in the Paris suburbs as they will cost you more in transport in the long run.
Paris is a city for all pockets, and with your budget-friendly travel to Paris guide, there are even free ways to enjoy it. But the city is worth the price.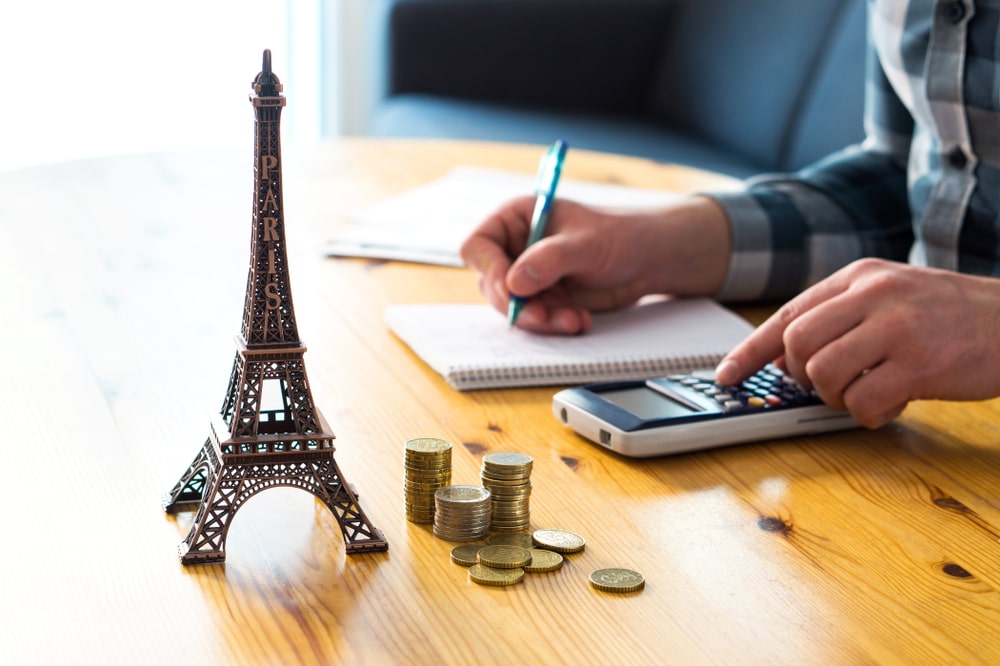 Stay out of the most popular districts
We mentioned five tourist districts earlier in this travel to Paris guide, but with 20neighbourhoods, you have plenty of choices, especially if you are travelling on a budget. The Eiffel tower offers an unforgettable experience in Paris but visiting on a Saturday afternoon in the summer may result in the worst experience. Most pickpockets and thieves are present around the place during such times.
Gare du Nord is a popular accommodation neighbourhood for tourists because the hotels are cheaper. However, the area could be a bit dangerous, so be careful. The area at Porte de Montreuil is also a bit unsafe after dark, even though the airport is a few kilometres away.
Nightclubs around the Champs-Élysées are popular as they give tourists a taste of Paris nightlife. However, it is best to choose a less busy area if alone after dark. Also, avoid the Bois de Boulogne after dark because questionable characters visit the park at such times.
Like many other cities, you can encounter the best and the worst people in Paris. If you are naturally scared or alone, stay out of the most popular neighbourhoods to enjoy a hassle-free visit around Paris.
Paris is not only a city for couples
Although many people describe Paris as the city of love, it is not only a city for couples. There are many reasons to visit Paris, including:
Iconic landmarks
Shopping opportunities
Delicious food
Day trips to the parks and gardens
The cafe culture
Worldpackers experiences etc.
Generally, Paris is a versatile city with a place on every traveller's bucket list. Commonly referred to as the most romantic city worldwide, Paris is home to the world-famous sights captured in magazines, social media photos and movies. Paris is more than the Eiffel tower.
Countless landmarks and monuments add to the beauty of the vast boulevards, and the charming cafes are nothing short of amazing. The French cuisine is also one of the most desirable worldwide, not to mention Paris's dynamic sense of fashion. Whether you fall in love with the narrow medieval streets of the Marais neighbourhood, remain in awe of the monumental Saint Chapelle, or the French culture experience, you can create special memories for yourself in Paris.
Paris is packed with sights and activities to do, so no traveller would find themselves bored while in the city. It provides unmatched insight into the French culture, endless photo opportunities and some inspiration.
Use public transport
Paris has several underground lines, and public transport is safe for tourists. Armed with your travel to Paris guide, it is cheapest method to get around the city. Every other block in the city has a subway stop, and a single-use bus ticket costs 2EUR.
The RER refers to an above-ground train with five lines serving ll-de-France and Paris. It utilizes the same tickets as the metro and works the same way. But you have to use your ticket through the automatic barriers on your way out of the station. Luckily, you can also use the same ticket if you have a connecting journey with the metro.
The Paris metro is the fastest way of getting around the city with an underground system of 16interconnected lines and more than 133miles of lines. The Montmartre Funicular is an automatic railway connecting the foot with the summit of the Butte Montmartre, so you should avoid climbing the 197 steps.
Moreover, four tram lines navigate Paris and work on the same ticketing system like the metro, bus and RER. The bus to Paris Orly from the airport costs around 9.50-12.10EUR depending on the bus you take. The airport Roissy bus to Charles DE Guille Paris will cost you 12EUR each way.You can get the tickets from any metro station.
It is best to find out about the different types of buses, public transport schedules and fares early to avoid inconveniences.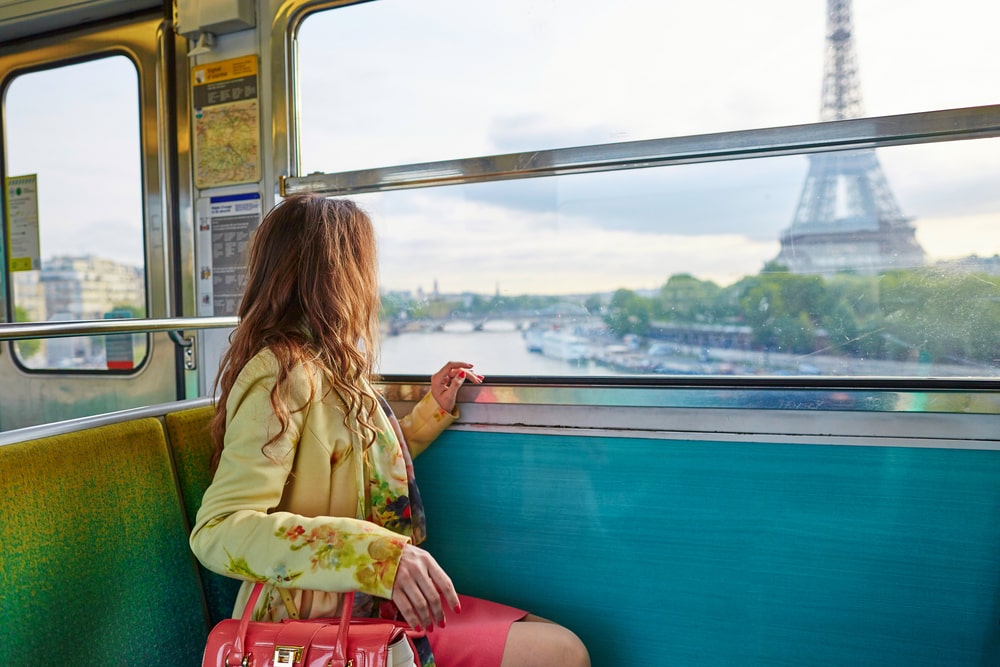 Follow our guide and enjoy the trip
With this comprehensive travel to Paris guide, you can enjoy a stress-free visit to Paris and make the most memories. It is advisable to plan your international trip in advance and check covid 19 information applicable to France. We are living in unpredictable times and after the pandemics, it is essential to ensure your travel.
Heymondo's travel insurance includes covid 19coverage with perks including:
Up to 5million medical cover even in case of a COVID-19 infection
It covers medically prescribed PCRs
Coverage for repatriation back home
Additional lodging expenses due to medical quarantine if you test positive
Travel insurance covid 19 certificate, a common requirement when entering many countries.
In addition to the heymondo app, you can take advantage of a chat with a medical officer and free emergency calls all around the clock. You can also check travel insurance policy details and contact claims management whenever you need to.
Whether you are travelling to Paris or any other part of Europe, buying travel insurance protects you against:
Lost baggage
Emergency airlifts
Illness or injury in a foreign destination
Early returns
Trip cancellation or delays
Adverse weather conditions that could interfere with your trip
Lost or damaged rental car etc
In other words, travel insurance covers your financial liability if unavoidable circumstances interfere with your trip. If you are planning to travel to France, get your travel insurance to avoid any kind of trouble.