Are you looking to get away from the hustle and bustle of city life or work? A visit to the famous cenotes of the Yucatan peninsula could be one of the best decisions. Mexico is known for some of the most popular tourist attractions, including the Mayan ruins and the cenotes.
The Mayan Ruins include the likes of Chichen Itza, located in Eastern Yucatan State in Mexico. It was a Mayan city during the Pre Columbian period that dates back to about 400 AD. It is one of the seven wonders of the world. You can get to it by bus or car, private or hired. It should take two hours from Tulum and two and a half hours from Cancun to get to the ruins.
Another famous Mayan ruin is the Coba Archeological site located 47 Km away from Tulum. It is an ancient Mayan ruin that dates between 50 BC to 100 AD and it is situated between Lake Coba and Lake Macanxoc.
Now, apart from the ruins, are the cenotes. The cenotes, in a way, have the Mayan belief system tied to them as they were considered sacred wells where religious ceremonies were carried out. The Yucatan Peninsula is well endowed as there are nearly ten thousand known cenotes in this region alone.
This article will give insight into some of the top cenotes before your expedition to the Yucatan Peninsula.
What are cenotes?
Cenotes are underground caves that contain water; some are open and some are closed off to the upper part of the world. Cenotes are formed when an area's limestone surface or bedrock collapses, exposing groundwater underneath. They are ubiquitous in the Yucatan Peninsula because they emerge as a porous limestone platform that gets dissolved over time with rain. Continuous dissolution of the limestone bedrock causes it to collapse to form a sinkhole. This sinkhole exposes the groundwater.
Cenotes contain a variety of living organisms. It may not be as rich as other water bodies, but you will be amazed at what a small sinkhole can accommodate. Some of flora and fauna found in the cenotes are the water lilies and some fish species such as the catfish, eels, Mojarras, and the supplies.
Cenotes in Riviera Maya are some of the best globally because of their crystal clear turquoise blue waters. Another thing that stands out about cenotes in Riviera Maya is that there is a variety of cenotes to visit within a small area. Some are so close together they could be considered as one.
Types of cenotes
Cenotes come in three forms. They are as follows:
Underground cenotes– These are entirely closed off to the surface. They are considered young or newly formed. Such cenotes have not been discovered; if known, they are hard to access and open to certified and experienced divers only.
Semi-open cenotes– Semi-open cenotes are partly open and partly closed. They are between newly formed cenotes and cenotes that have developed for a while. The sky can be seen from below. An example is the Calavera cenotes.
Open cenotes include the Cristal cenote, Carwash Cenote, and the Escondido Cenote. They are fully exposed to the sky or surface and can be mistaken for rivers. Such cenotes have been there for ages hence the open nature.
Puerto Morelos
1. Cenote Mojarras
This is one of the largest open cenotes and is located 36 kilometers from Cancun or approximately 13 kilometers from the Puerto Morelos route of the cenotes. The Cenote is 12 meters deep and 17 meters deep at the center.
At Las Mojarras, you can swim, snorkel, view the stalactites, ride horseback, ziplining, and even use ATVs. The entry fee per person is 150 pesos. Other activities are paid for separately. There are palapas and grills, perfect for picnics and changing tables and restrooms.
You are requested not to use sunblock or any cream before entering the waters to keep them fresh and clean. It is open daily from 9 am to 5 pm.
2. Cenote Boca del Puma
This cenote is 16 Kilometers on the Puerto Morelos cenote road, 20 minutes away from Puerto Morelos. This Cenote is best for swimming and snorkeling as well as zip lining.
You can experience the highest ziplines at 200 pesos and a regular entrance fee of 250 pesos per person. The Cenote is open from 10 am to 5 pm. Diving is not allowed on this Cenote. The available facilities include washrooms, locker rentals, ATVs, and a restaurant. The Cenote prohibits the use of a sunblock and is only accessible by individuals above the age of six.
3. Cenote Siete Bocas
This Cenote is found fifteen kilometers away from the Puerto Morelos cenote road and has one of the most spectacular underground experiences. The name siete Bocas loosely translates to seven mouths to mean that this Cenote has seven entrances. The entrances are pretty small hence the cave-like experience. Here, you can swim, snorkel, and dive.
There are facilities like toilets and changing rooms. Therefore, picnic tables could be a good destination for a get-together and a picnic on the side.
To enter, you are required to pay 300 pesos per person. It is open from 8 am to 5 pm daily.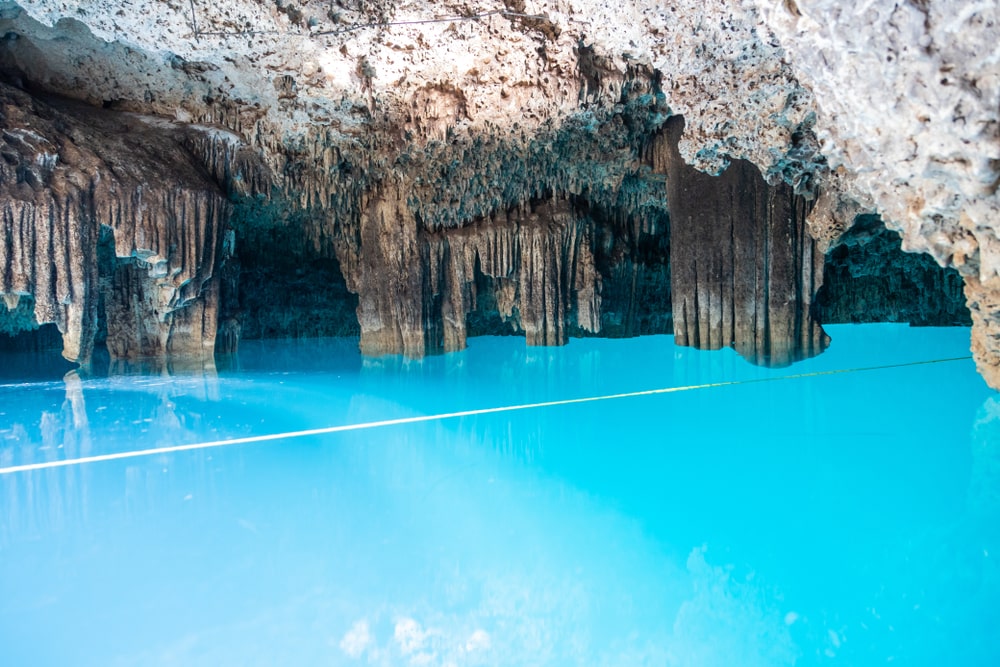 4. Cenote Verde Lucero
Also known as Green Light cenote because its green appearance is fifty minutes away from Cancun. The twenty meters deep Cenote is an open one with a very high diving platform. The diving platforms are 4 and 7 meters high.
It is quite a spectacular scene with crystal clear waters and a high. Here, you can swim, zipline, dive, and snorkel. To experience this, a fee of 300 pesos is required of you. It opens from 9 am to 5 pm. The best visiting time is over the weekdays as the Cenote is very crowded over the weekends.
Some available facilities are restrooms, a parking lot, and changing rooms. You are required to always be in a lifejacket and strictly asked not to wear sunblock.
5. Cenote La Noria
This laid-back Cenote might be perfect for your getaway. It has beautiful turquoise waters and an additional marvel, the stalactites at the ceiling of the Cenote.
This Cenote opens from Tuesday to Sunday from 9 am to 5 pm with an entry fee of 200 Pesos per person.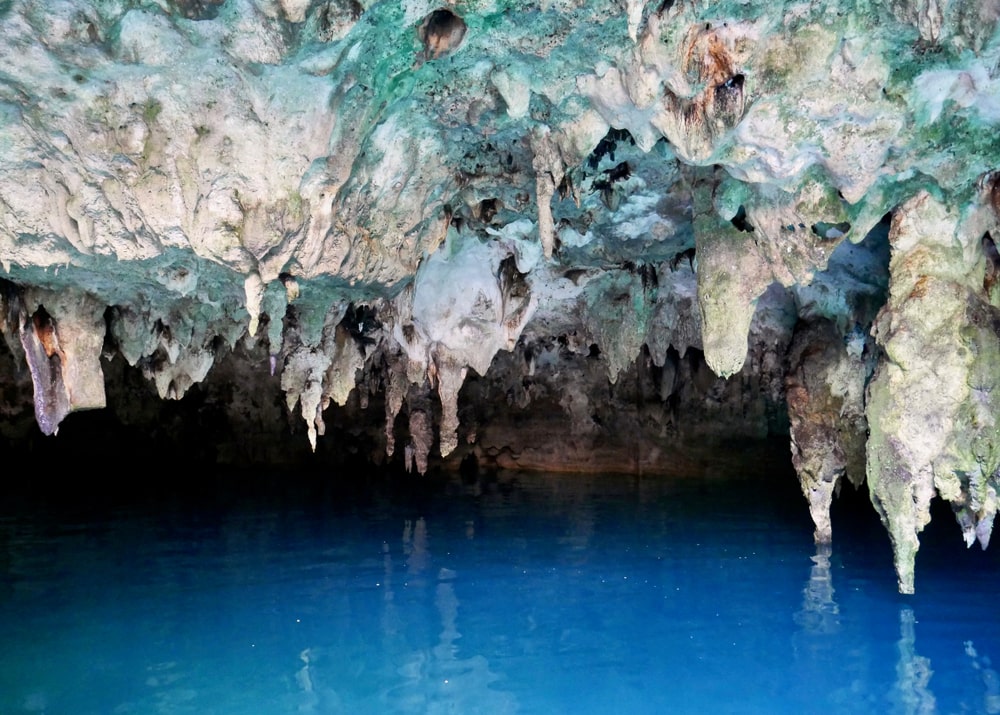 Playa Del Carmen
1. Cenote Chaak Tun
This is a site to behold. It is one of the most attractive cenotes with well-carved caves, beautiful stalagmites, and stalactites in Riviera Maya.
This Cenote has very clear waters and is favorable for snorkeling. If you are fascinated by caves, should make this a must-visit.
The site is open daily from 8 am to 4:30 pm and has an entrance fee of 500 pesos, including a guided tour, snorkeling gear, and a locker. Some of the amenities found on this site include restrooms, a parking lot, and lockers. Do carry your food if you intend to stay long. Also, you are requested not to use sunblock and always have your life jacket on.
2. Cenote Dos Ojos
This is one of the most popular cenotes for snorkeling and cavern diving. It is 119.1 meters deep, 82km wide, and has twenty-eight known sinkhole entrances. It is located in the North of Tulum and is thirty minutes away from Tulum. This Cenote has several aquatic life and plant life. One that stands out is the fish that nibble the dead skin off your feet.
Cenote Dos Ojos has sparkling blue clear waters that are best for swimming and snorkeling. You also get to experience the beautiful stalactites and stalagmites within the site. The bat caves are another site to visit within the Dos Ojos cenote.
It opens from 8 am to 5 pm daily and charges a fee of 350 pesos.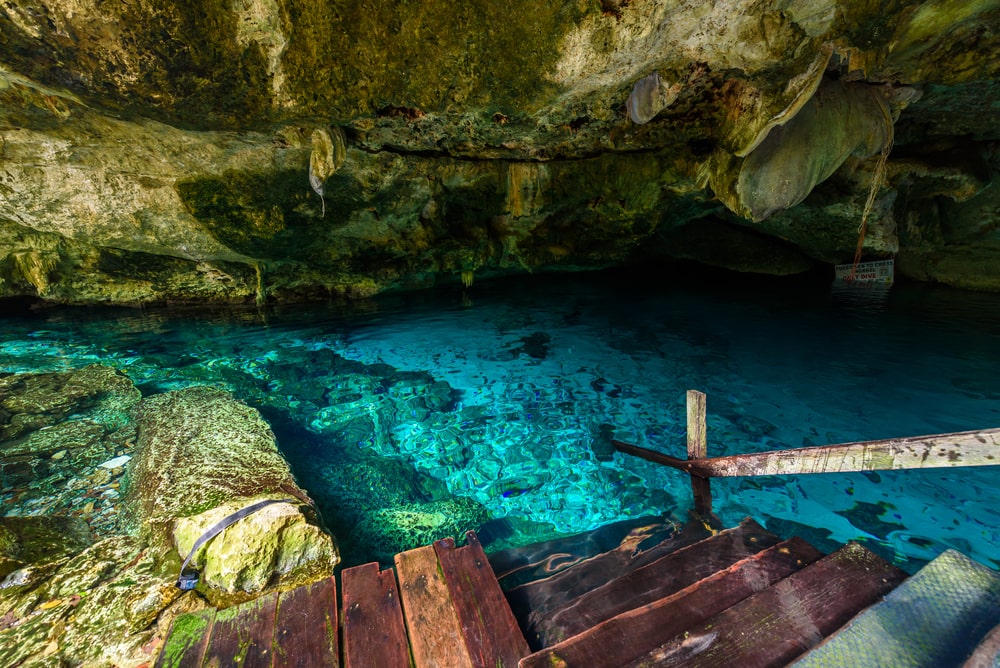 3. Cenote Nohoch Nah Chich
Cenote Nahoch Nah Chich, to mean giant birdcage system, was discovered in 1987 and is an extensive water-filled system wholly submerged. It is one of the most explored for cavern diving as it is a channel toward the world's largest underground river. It is 71 meters deep and 67 kilometers long. Nach Nah Chich is located in Tulum and has been a site for discovering historical items such as the remains of humans and animals.
You can swim and snorkel here as well as dive. Diving, however, past a certain point is only reserved for experienced divers.
4. Cenote Cristalino
Cenote cristalino, as the name suggests, means crystal clear Cenote is located thirty minutes south of Playa Del Carmen and a thirty minutes drive from Tulum. You get to experience incredible views of the rock formations on the floor of this Cenote.
You can snorkel, cliff jump, swim, and visit the stalactite caves.
This Cenote opens daily from 8 am to 6 pm. To maximize the experience, you are recommended to visit the Cenote on a weekday as the weekends are very crowded. The entrance fee is 200 pesos for adults and 150 pesos for children.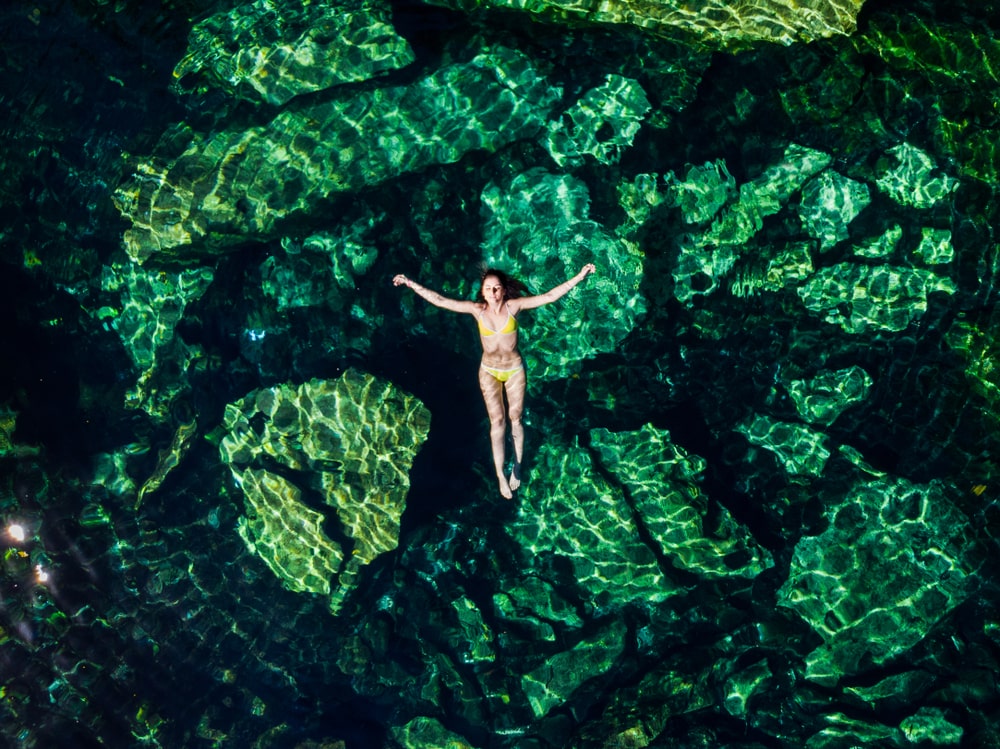 5. Cenote Kantun Chi
Kantun Chi, a cenote between Akumal and the Xcaret park, is one of the most spectacular sites. At Kantun Chi, you can explore the cenotes or the eco-park. You will learn more about the caverns and the other four cenotes around them at the eco-park.
The eco-park is open daily from 9 am to 5 pm, all year round. The Kantun Chi cenote entry fees vary. There is the package that allows you to visit the four cenotes at your leisure, another that is a guided tour to the same four cenotes, and a guided tour through the eco-park. The last two include lunch in their packages.
You are advised to visit early in the morning for your best moments. There is a restaurant on site where you can access meals.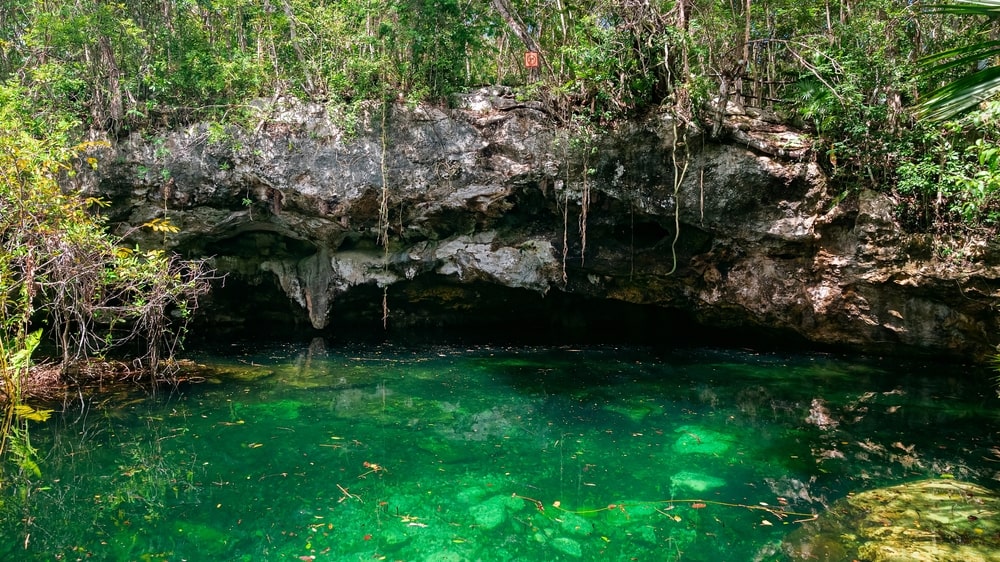 Puerto Aventuras
1. Casa Cenote
Only 25 minutes away from Tulum, casa cenote, or Cenote Manati, is well known for its crystal clear waters. It is an open cenote, and for that reason, it can easily accommodate children.
Casa cenote is excellent for snorkeling and diving as well as swimming. To experience this, you are required to part with 150 pesos. It opens from 9 am to 5 pm daily. The site has enough facilities, so you should not worry, especially if you have children.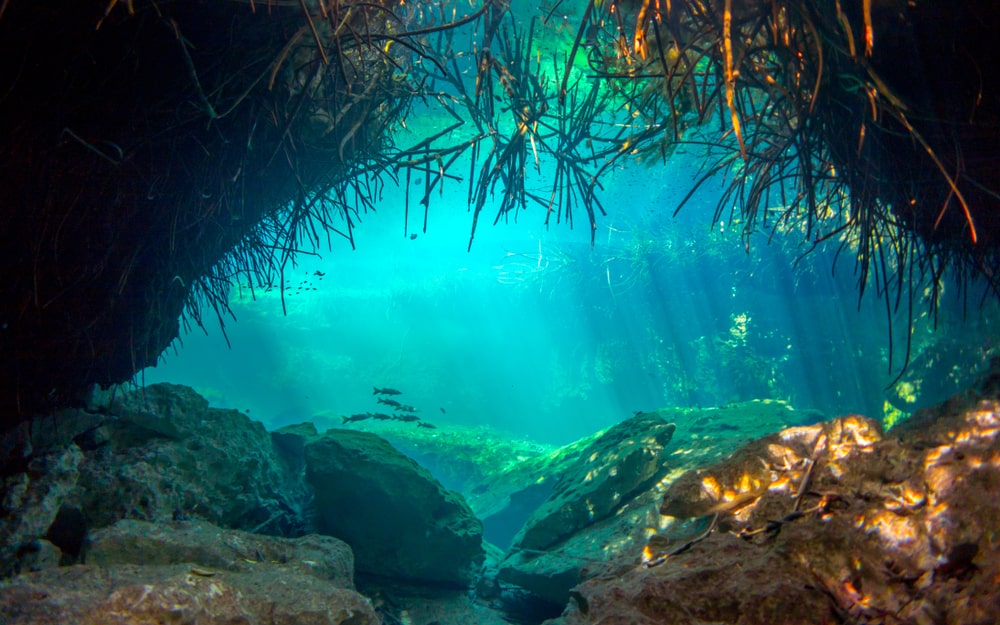 2. Cenote Angelita
Twelve minutes away from Tulum, this Cenote is a site to behold. It is located south of Tulum and is approximately seventy meters deep. It is one of the cenotes with unique features such as forming optical illusions resulting from a halocline. This occurs when fresh waters meet with saline waters.
For you to experience this, you are required to part with 150 pesos. It opens at 8 am and closes at 5 pm.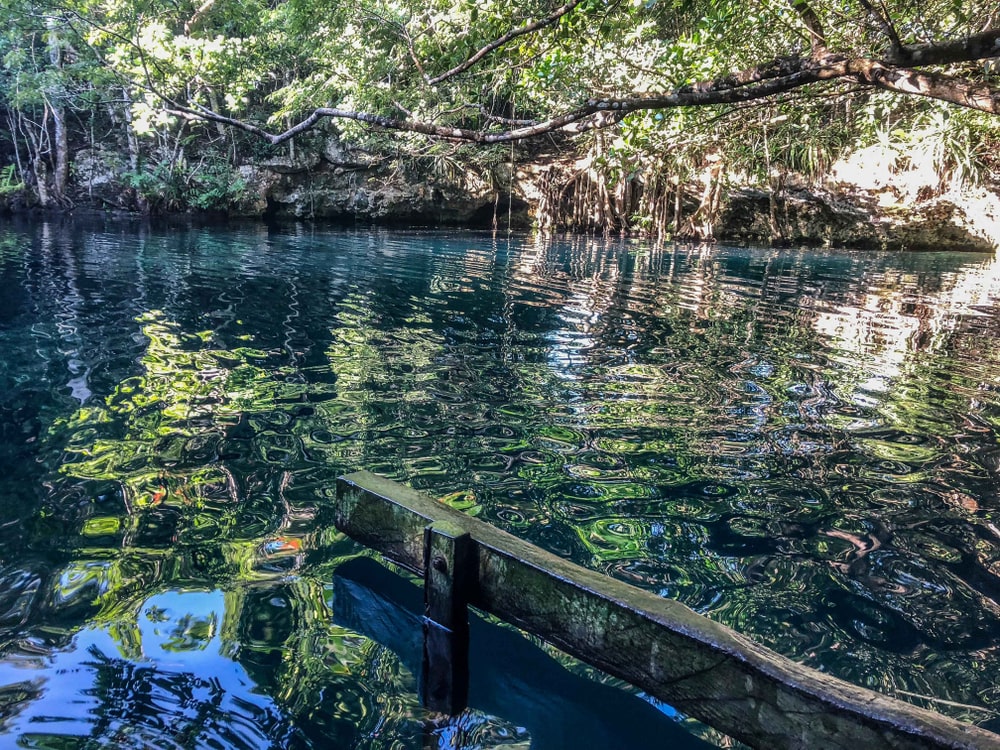 3. Cenote Azul
Also known as the blue Cenote, this one is one with a spectacular view. In the native language, Azul means blue. It has bright turquoise waters with several fishes therein, giving you an experience of a lifetime. The small fishes nibble at your feet, a ticklish yet relaxing feeling. The people call it a fish spa.
The Azul cenote is between Tulum and Playa del Carmen in Quartan Roo. It is an open cenote and is considered one of the largest cenotes. The opening hours of this Cenote are 8:30 am to 5 pm. It is pretty popular and may require you to be keen with your timing to avoid crowds.
Some fun activities are diving from a fifteen-foot high platform, snorkeling, and swimming. It has both shallow and deep ends and can therefore accommodate children. Some available facilities include washrooms, changing rooms, and shops where you can get snacks for yourself and the fish. This Cenote charges 140 pesos per person to access its services.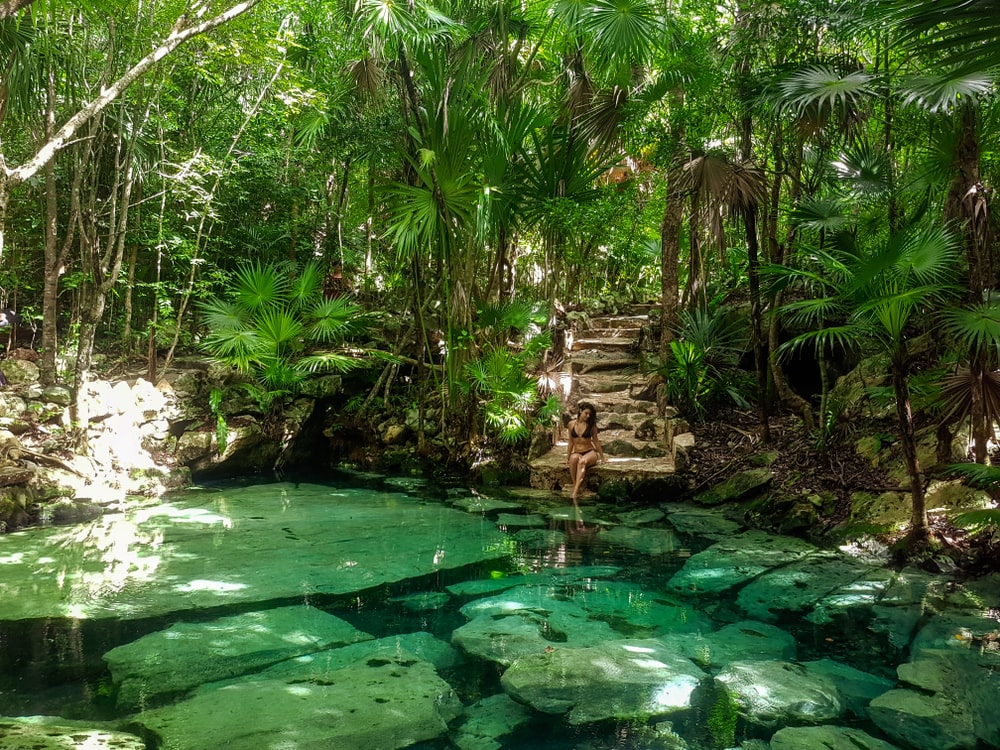 4. Cenote Jardin del Eden
Also known as Eden cenote, the name is well deserving as it has clear waters and is one of the biggest open cenotes near Playa del Carmen, 21kilometers south. If you are coming from Tulum, it should take thirty minutes to get to this Cenote.
It has no restrictions, such as wearing a life jacket. There are jumping platforms that go as high as three to four meters for thrill seekers. There are also tiny fish therein that will have you experience a fish spa.
The Cenote is open from Sunday to Friday from 9 am to 5 pm at a fee of 200 pesos for adults, 100 pesos for children, and 300 pesos for divers. Some of the facilities available include palapas, restrooms, gear rentals, and a shop for snacks. You can carry your food.
Tulum
1. Gran Cenote
This Cenote is located in Tulum Quintana Roo, Mexico. It is 5 km from Tulum, thirty minutes away, and about fifty minutes from Playa del Carmen. This Cenote is famous for its clear waters and prosperous life, such as turtles and fish.
Gran cenote is 119.2 meters deep and 364.396km wide. You get to have a cave experience as the Cenote is partly open. This Cenote has close to 187 known openings, few of which are used to access the Cenote.
To get to the Cenote, you can hire a car or a taxi or even bike to the site, which is barely thirty minutes away. The site has several facilities, including toilets, bathrooms, changing rooms and a canteen where you can get snacks and drinks. You can carry your food as Gran Cenote allows you to.
As for diving, swimming, or snorkeling, you must have the appropriate gear, including a life jacket. You could hire at a fee if you fail to carry your snorkeling and diving gear. The site opens from 8 am to 4:45 pm and charges 500 pesos per person to access it. It is very crowded and quite costly when compared to other cenotes.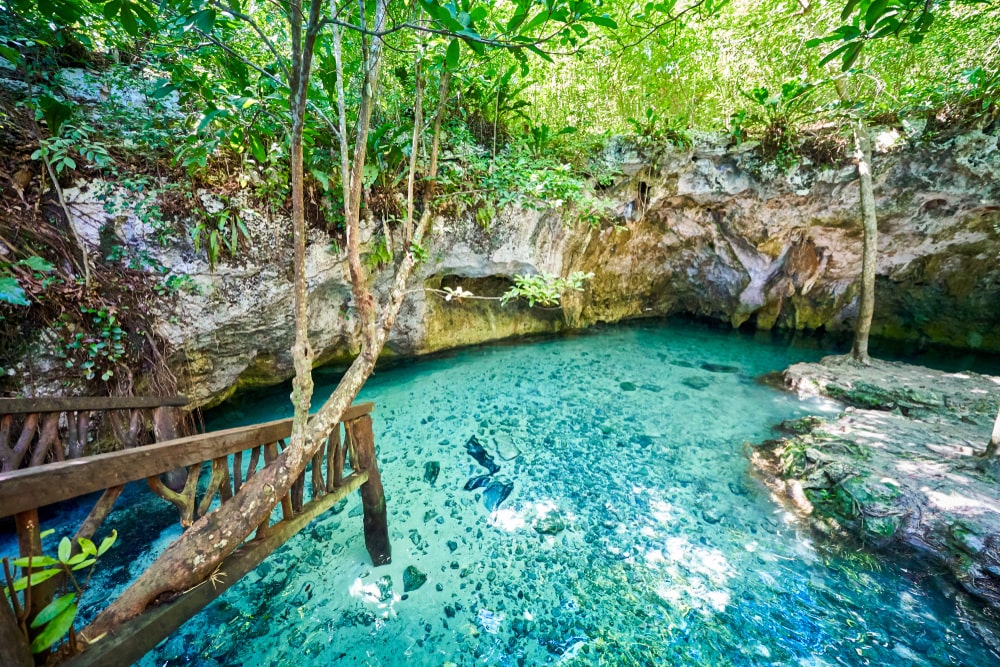 2. Cenote Carwash
Cenote carwash is an open cenote and is vast. It is suitable for snorkeling, swimming, and diving. It has incredible water clarity and a beautiful floor full of greenery and life. The Cenote has jumping platforms as high as 3 meters.
This Cenote opens at 8 am and closes at 6 pm. To enter, you must pay 100 pesos for a regular swimmer and 200 pesos for divers. It may not be so strict where life jackets are concerned. The available facilities at the site are toilets, changing rooms, and bathrooms.
3. Cenote Cristal
Also known as the Cenote Naharon or Crystal, it is one of the top cenotes around Tulum. It is an open cenote and is very close to cenote Escondido such that you only get to pay one entry ticket for both.
It is south of Tulum, less than 30 minutes away by car. You can get there by bike, car, or taxi. The Cenote is ideal for snorkeling and swimming, with diving platforms as high as twelve feet tall.
4. Cenote Suytun
This cenote, twenty minutes away from Valladolid and an hour from Tulum, is one of the best for families. Its waters are shallow with a beautiful turquoise appearance to it.
To enter, you need to pay a fee of 150 pesos for adults and 100 pesos for children . The amenities that are available include restrooms, changing rooms, lockers, and a restaurant on site.
Again, to have the best of experiences, visit the site early morning or late in the evening. This cenote is open from 9 am to 5 pm.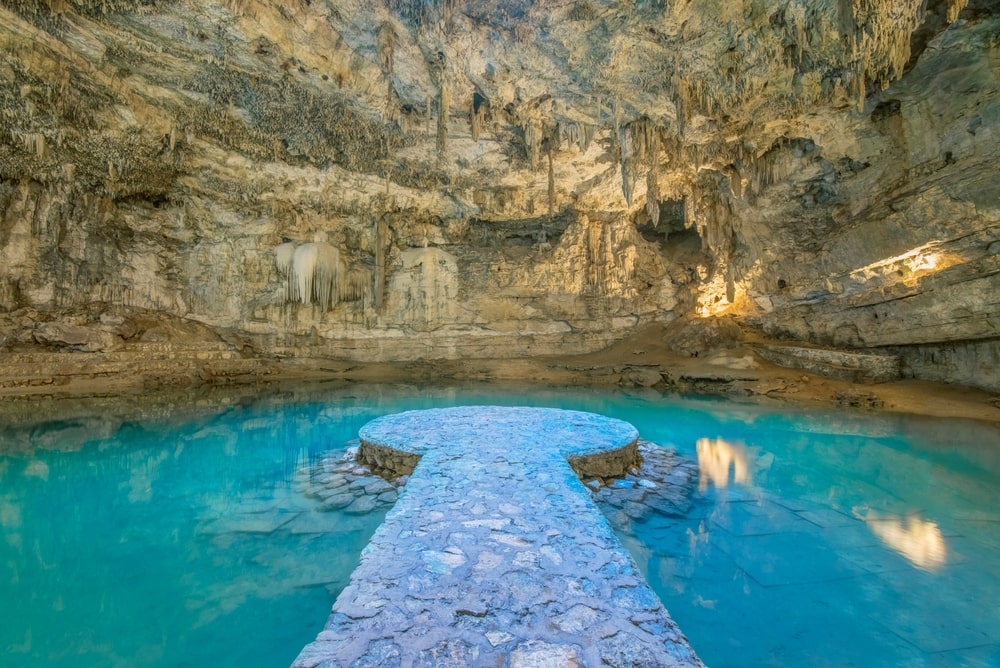 5. Cenote Escondido
Cenote Escondido is eight kilometers, a five-minute drive from Tulum. It directly neighbors Cenote CristaI and is slightly hidden, unlike Cenote Cristal. Due to its hidden nature, it never gets crowded and may be a getaway during the peak season. It boasts fresh crystalline clear waters and rock formations that can be seen from the surface go as deep as twenty feet.
This site is perfect for diving, snorkeling, and swimming. The site opens from 10 am to 5 pm and is very keen on the safety measures such as having a life vest on. Some of the facilities available at the site include changing rooms, toilets, parking areas, and cafeterias where you can access snacks and drinks. To visit, one pays 150pesos per person.
6. Cenote Zacil Ha
Zac Ha neighbors cenote Carwash and is an open cenote. It is approximately ten feet deep and is 8.5 kilometers from Tulum. It will therefore take you less than thirty minutes by car to get to the site.
The 35 meters deep Cenote is known for its clear turquoise waters that make the floor of the Cenote a site to behold. You can also see the stalactites shaped like water drops at the site. Another fun activity you can do here is ziplining. You can zipline at an extra cost of 10 pesos.
The Cenote opens from 10 am to 6 pm and charges 200 pesos per person. One of its strict guidelines regarding preserving the Cenote is that sunscreen is not allowed to avoid polluting the waters. If you must wear sunscreen, wear one that is 100 percent biodegradable. Some of the facilities at this site are changing rooms, bathrooms, and toilets.
What is the Best Time to Visit the cenotes in Riviera Maya
Cenotes in Riviera Maya are open to the public all year round. There is very little to no interference of the cenotes by the weather, therefore are perfect for exploring regardless of the time of the year.
You can consider the time of visit based on the following:
Time of the year
There are two major seasons in the Yucatan Peninsula: wet and dry. The wet season begins in May and extends to October. There is rain and some strong winds.
July to August is slightly hot, and the cenotes crowd as the locals look to cool down. During this period, some of the Algae are blooming and may reduce the clarity of the water. This time is okay if you do not mind the crowds and the high charges during peak season.
October is quite remarkable and is the low season; therefore, if the cold and the strong winds cannot stop you, why not?
The dry season begins in November. The temperatures in November are slightly low, and may not experience traffic as much. December to April is the peak season. This period is the best time to tour the cenotes because of the high temperatures and a favorable environment even for the kids. Do note also that this period can be very crowded and costly.
Time of the day
Again, you may either have the most memorable experience of your life or one frustrating one depending on the time of the day you decide to take your tour to the cenotes. Most cenotes open between eight and nine in the morning during peak hours and close between four and five in the evening.
Most tourists visit around midday; the time between eleven and two experiences the most traffic. The best time to visit is early morning between eight and ten or the evening before closing.
Considering the two, it is essential to remember that each Cenote has its route, apart from those very close together, such as Cenote Carwash and Cenote Escondido, that are so close one only needs to pay once to visit both of them. Otherwise, it is recommended that you follow an itinerary to the latter for your safety. Plan a route with your touring agency or guide, and stick to it.
Travel to Mexico Insured by Heymondo
Life is full of uncertainties, and one way of cushioning yourself against anything that may occur during your vacation is by taking travel insurance. If this is new to you, travel insurance is an insurance product that covers unforeseen losses that may take place during the trip. The insurance covers you regardless of where you are.
One such company that offers these services is Heymondo. Heymondo provides three packages:
The single trip– This product covers any trip. It covers medical expenses, repatriation and early return, luggage theft and damage, trip cancellation, and covid-19 coverage.
Annual Multrip– This one covers all trips up to sixty days each within a year. This package covers medical expenses, luggage damage and theft, repatriation, trip cancellation, and covid-19.
Long Stay– This product covers up to 90plus days and will cover medical expenses, luggage theft, luggage damage, repatriation and early return, and a covid-19 coverage.
The covid-19 coverage covers all medical expenses, medically prescribed PCRs, extra lodging expenses, and trip cancellation. Heymondo has an application that makes it possible for its clients to access their services with ease.
The application has the icon for a medical chat with qualified personnel if you need medical assistance. The travel assistance icon has contacts you can use to seek guidance with the trip. The Incident Management icon assists with challenges like transport delays, damaged goods, theft, and any other occurrence during transit.
The application has your insurance information, such as the policy certificate number, start and end date, and your place of origin and destination. The Heymondo application is available to android and IOS users. The application also has a highly responsive customer service team.
As you seek this experience of a lifetime, ensure you have your insurance cover, swimwear, water shoes, snorkeling gear to save on costs for hiring, a camera to capture the memories, sunscreen (biodegradable), and a few essential items. Ensure you adhere to the guidelines of each cenote site as they differ, and you will be just fine.