Do you like to backpack? Are you preparing for your backpacking trip through Thailand? Then this article will come in handy for you. Backpacking in Thailand is famous for many travelers, especially those looking for adventure and cultural experiences on a budget-friendly trip. Thailand is based in Southeast Asia and is known for its picturesque beaches, stunning temples, and delicious food. In this article, you will be enlightened more about backpacking in Thailand, from the top tips to the best tourist destinations, among other crucial information that will help you plan your trip to Thailand.
Is Thailand good for backpacking?
For obvious reasons, Thailand is an excellent and popular destination for backpackers worldwide. This country is safe, cheap, and has well-trodden backpacker trails. There is much to explore in this region. These include stunning beaches with crystal clear waters, rich culture, beautiful temples, delicious food, the monthly full moon party, and many beaten paths.
One of the main reasons Thailand is so popular with backpackers is its affordability. It's a budget-friendly destination with a low cost of living and plenty of cheap accommodation, food, and transportation options. This makes it an ideal destination for travelers exploring Southeast Asia without breaking the bank.
Thailand is also easy to navigate, with a well-developed transportation system connecting major cities and towns. This action makes it easy for backpackers to move around the country and visit different places.
Moreover, backpackers can do a wide range of activities in Thailand, from jungle trekking during a day trip to exploring Thai food and visiting historical sites and temples. Also, tourists can relax on its gorgeous beaches, opt for rock climbing, explore the night markets, or party in some of the country's lively nightlife scenes. And with so many other backpackers around, it's easy to make new friends and share experiences.
In addition, Thailand is known for its friendly and welcoming locals. The country has a strong culture of hospitality and respect. Most Thai people proudly show their country and culture to visitors. As a result, travelers can enjoy their stay in this magnificent country with ease.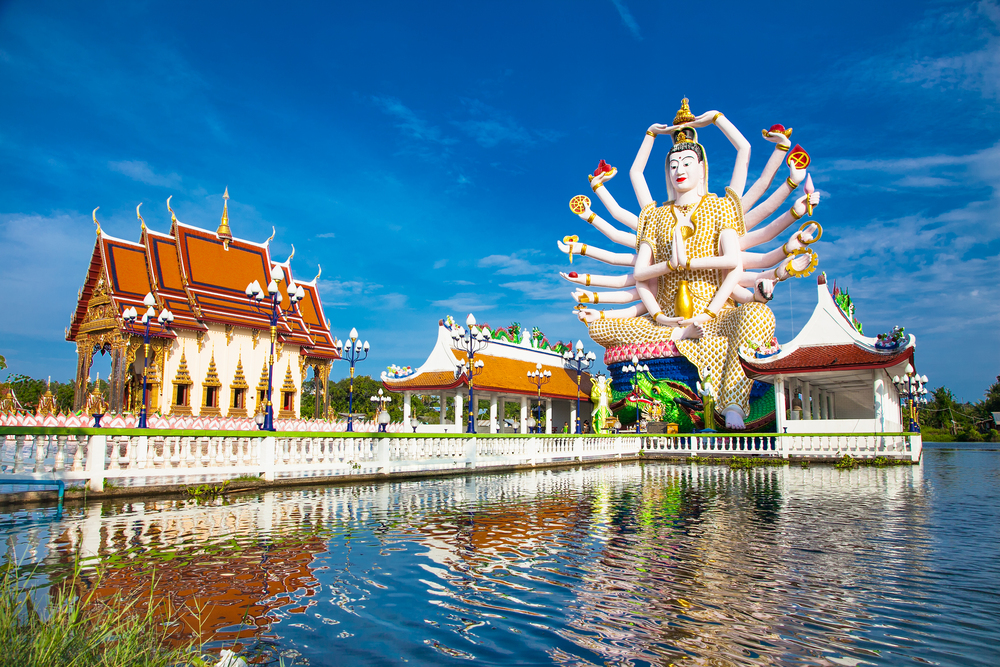 What to visit in Thailand when backpacking
Thailand has many terrific destinations worth visiting for backpackers, ranging from historical sites, hill tribes of Chiang Mai, and breathtaking beaches to bustling cities. Here are some top places to visit in Thailand when backpacking:
1. Bangkok
The bustling capital city of Thailand is a must-visit for any backpacker. It is a great place to start your backpacking journey in Thailand. Bangkok has plenty to see and do. Also, the city has easy access to other destinations in the country and region. For instance, the flight from Bangkok to Chiang Mai is approximately 1 hour and 15 minutes. Also, there are many markets, temples, and lots of street food.
The Grand Palace is a historic building in the center of Bangkok, Thailand. The complex was the official home of Kings in Thailand from 1782 until 1925. Today, the Grand Palace is a popular tourist attraction and a must-visit destination for anyone traveling to Bangkok. Another most visited place in Bangkok is Wat Pho, the Royal Palace. This temple is one of the oldest and largest temples in Bangkok and has an impressive reclining Buddha statue, the 2nd largest in the world.
Besides, if you are a street market fanatic, you will have numerous choices in Bangkok. Some of the most famous street markets you can visit include Paptong and the floating market, which is an hour's drive from the city.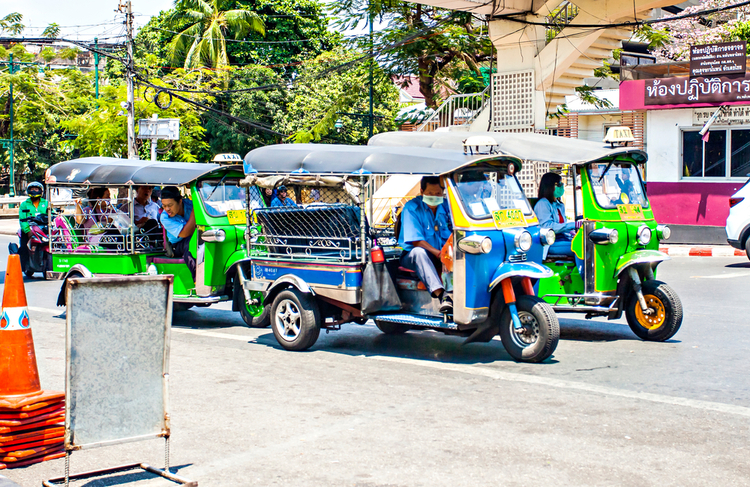 2. Chiang Mai
This charming northern city is a favorite among backpackers who visit the country, and for a good reason. It is home to a rich cultural heritage, with over 300 temples and historical sites to explore. You can learn about Thai Buddhism and history while exploring the city. Some of the most famous temples in the town include Wat Phra Singh.
Also, this northern city is famous for its delicious food, including traditional northern Thai dishes such as khao soi (curry noodle soup) and saiua (spicy sausage). You can find street food stalls and local restaurants.
Chiang Mai is surrounded by beautiful nature, including mountains, waterfalls, and national parks. You can go jungle trekking or mountain biking or visit the Doi Inthanon National Park to enjoy the cool breeze of Thailand's highest peak. Chiang Mai is an excellent destination to experience Thai culture, cuisine, and nature. It has everything for everyone!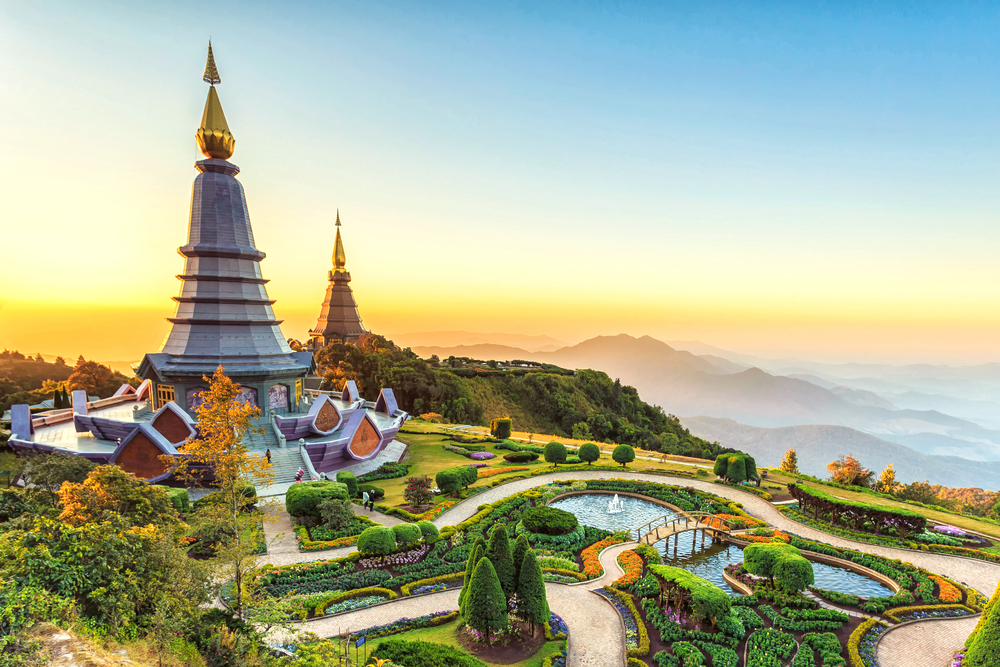 3. Chiang Rai
Chiang Rai can be a great place to visit when backpacking in Thailand. The city is smaller and less crowded than other popular destinations like Bangkok, making it a more relaxed and authentic experience.
Chiang Rai offers plenty of budget-friendly accommodation options, including guesthouses, hostels, and homestays. The city also has a vibrant night market scene, where you can have a taste of a variety of delicious Thai street food at an affordable price.
In addition, there are many affordable activities to do in Chiang Rai, such as visiting the temples, hiking in the nearby mountains, and exploring the hill tribe villages. One of the must-visit temples in the city is Wat Rong Khun, also known as the "White Temple". The unique and awe-inspiring temple combines traditional Buddhist elements with modern art and culture.
Overall, Chiang Rai can be an excellent destination for backpackers looking for an authentic cultural experience, outdoor adventures, and budget-friendly travel options.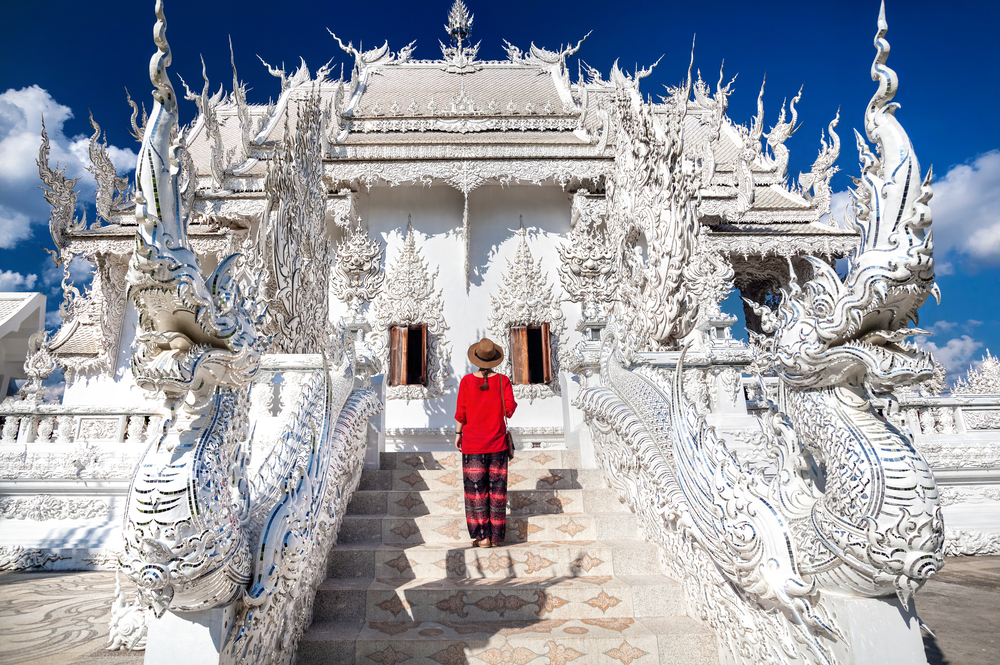 4. Ayutthaya
Another great place to visit when you go backpacking in Thailand is Ayutthaya. This part of Thailand is a historical city located a few hour's drives North of Bangkok and is a UNESCO World Heritage site that attracts thousands of visitors globally.
Ayutthaya is an ancient city in Thailand that was once the capital of the Kingdom of Siam. It is located just a few hours north of Bangkok and is a good stop if you travel by bus from Bangkok to Chiang Mai. When you visit this city, you can explore the ancient city's ruins, including temples, palaces, and other historic sites from the 12th and 13th centuries. One of the most famous attractions in Ayutthaya includes Wat Mahathat, a temple known for its Buddha head entwined between the branches of a leafy tree.
When you visit Ayutthaya, you can explore the city on foot, by bicycle, or by tuk-tuks. There are also boat tours that offer a unique perspective on the city, as many of the historical sites are located along the river. Nonetheless, if you want to explore this city at your pace, it is advisable to rent a bike.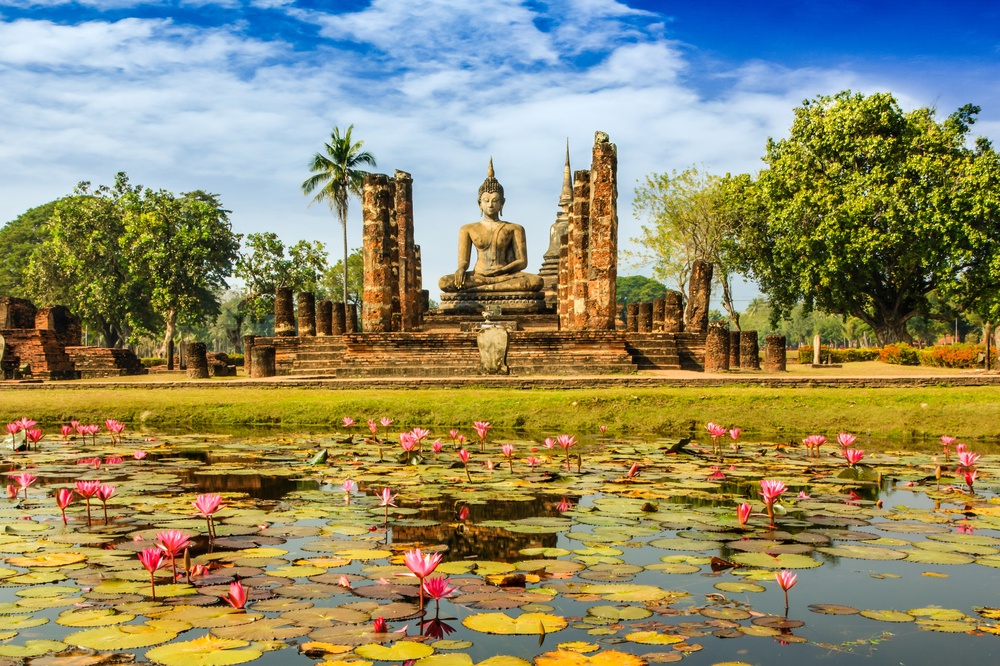 5. Thai Islands
Are you looking for a perfect route to finish your backpacking trip in Thailand? Thai Islands should be your ultimate destination. Thailand is known for its beautiful tropical islands, which are popular destinations for tourists from around the world. Some of the most well-known Thai islands include:
Phi Phi islands. One of the ideal places to finish your route as a backpacker is Phi Phi Islands. Phi Phi are six islands that are located in the Andaman Sea, about 48km southeast of Phuket, Thailand. The islands are famous for their crystal-clear waters, stunning beaches, limestone cliffs, and vibrant marine life. The Islands are a popular tourist destination in Thailand, attracting many visitors annually. However, the islands' natural beauty remains largely intact, and efforts are being made to preserve the local ecosystem and wildlife.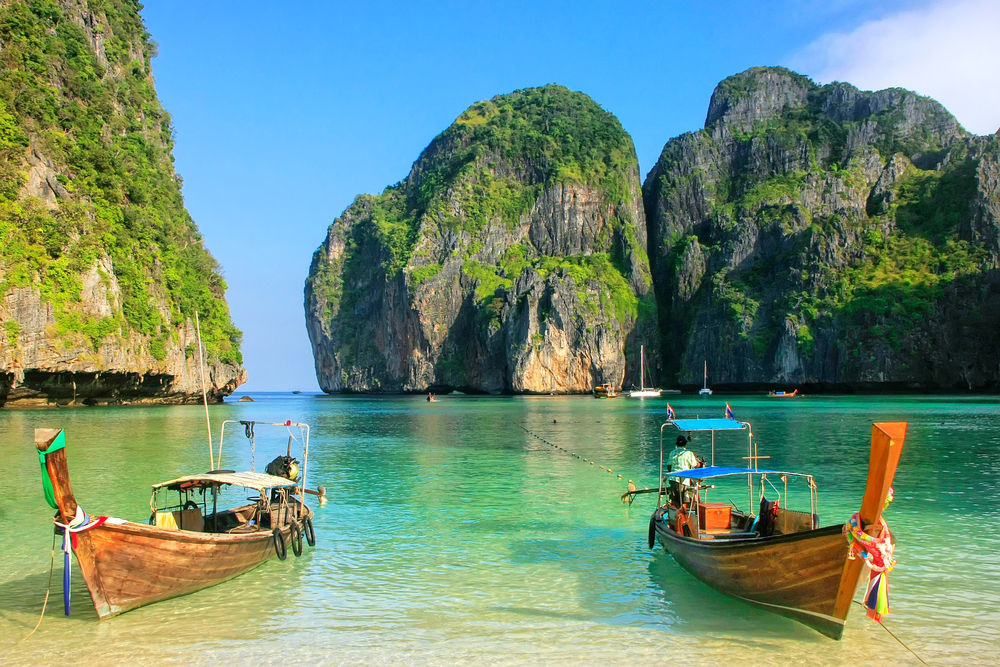 Koh Tao. also known as "Turtle Island", Koh Tao is a tiny Island lying in the Gulf of Thailand. This Island is primarily known for its world-class diving. However, it has a thriving backpacker scene. It has a range of beautiful beaches, including Sairee Beach, which is the longest and most popular. Backpackers can also hike to the Island's various viewpoints, rent a scooter to explore the Island, or take a boat tour to nearby islands. Besides, Koh Tao offers an array of accommodation options to its visitors. This varies from budget hostels to luxury resorts. Plenty of restaurants and bars on the Island also cater to all budgets and tastes.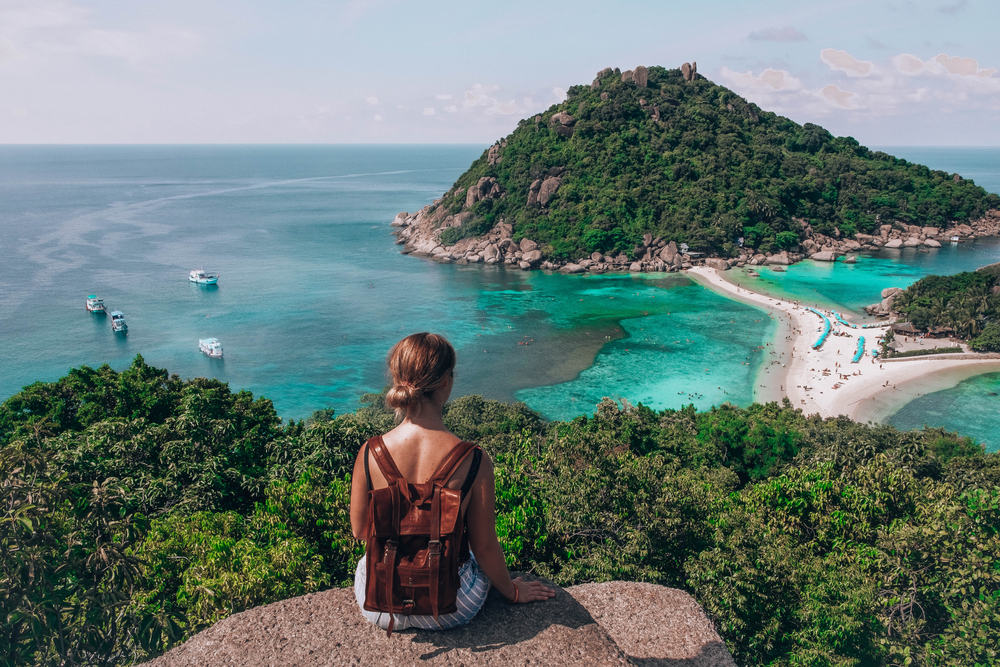 Koh Samui. Koh Samui is a tropical island positioned in the Gulf of Thailand, around 700 km south of Thailand. With its pristine beaches, crystal-clear waters, lush forests, and relaxed atmosphere, Koh Samui has become one of Thailand's most popular destinations. The Island boasts diverse accommodation options, from top-notch resorts to pocket-friendly guesthouses. This action makes Koh Samui an accessible destination for travelers of all budgets. Visitors can explore the Island's many waterfalls, temples, and other natural attractions or simply relax on one of the Island's stunning beaches.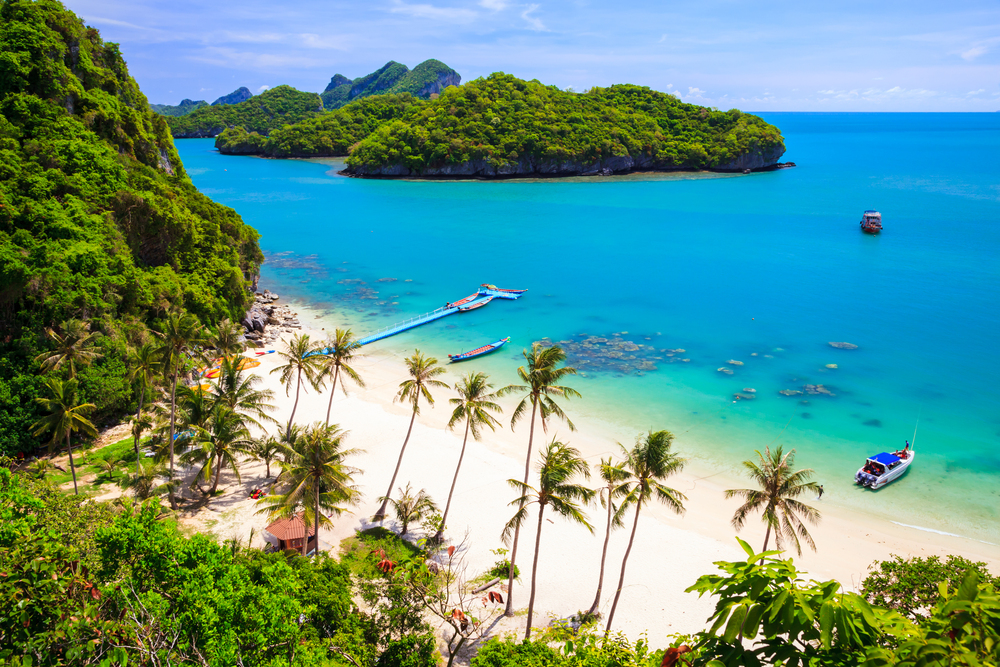 Money-saving tips for your backpacking trip through Thailand
Backpacking in Thailand can be expensive, especially if you're not careful about your spending. Fortunately, there are several money-saving tips that can help you make the most of your travels without breaking the bank. Following these tips, you can have a memorable backpacking trip through Thailand without spending a fortune.
Go local. The best method that you can use to save money in Thailand is to live like a native as much as possible. Being a local can be an effective way to save money and experience the country more authentically. Tourists can find better deals and avoid overpriced tourist traps by patronizing local businesses, using local transportation, and learning from locals. The average Thai lives on less than 7,750THB monthly in Bangkok and even less in the countryside. Additionally, by engaging with indigenous communities, tourists can gain a deeper understanding of Thai culture and make meaningful connections with the people they meet. This way, staying local in Thailand can benefit tourists financially and personally.
Eat street food. Eating Street food when you travel in Thailand can be a very convenient way to save money while enjoying delicious and authentic Thai cuisine. Thai street food offers various dishes, from savory curries and stir-fries to sweet desserts and snacks. Street food in Thailand is often very affordable, with many dishes costing just a few baht. You can get a filling and delicious meal for a fraction of the cost of eating at a restaurant.
Take advantage of happy hour. Taking advantage of happy hour in Thailand can be an excellent way to save money on drinks. During happy hour, many bars and restaurants offer discounted prices on drinks for a limited time, usually in the early evening. Looking for bars and restaurants that offer great deals during happy hour is helpful. Some places may give you discounted drinks, while others may have deals on food or give you a free drink with your order. Although happy hour can be an ideal way to save money on drinks, drinking responsibly is imperative.
Buy beer at 7-Eleven. In Thailand, buying beer at the 7-Eleven store is advisable. These stores are generally 50% cheaper than local bars and are located all over Thailand. 7-Eleven offers a wide variety of beer brands, both domestic and foreign. However, it is helpful to know that it is illegal to drink alcohol in the street in Thailand.
Don't book tours before you arrive. Whenever you plan to travel to Thailand, do not book your tours online and wait until you reach Thailand. It can be more expensive to use a travel agency online. The most convenient way to get a better deal is to book when you arrive in Thailand. Alternatively, you can use public transportation. For instance, if you are in Suvarnabhumi, just get airport rail link trains to join the city center MRT network and Skytrain. You can also take a free shuttle to where you can catch a cheap city bus.
Stay with locals. One of the finest ways a traveler in Thailand can stay with locals is through Couchsurfing. Couchsurfing means sleeping on a local person's couch. The activity is free and helps tourists save the cost of booking hotels or guest homes. Also, it allows travelers to meet local people at a lower cost.
Pack a water bottle. There are many cheap options for acquiring fresh drinking water in Thailand. As a tourist, the most sensible choice is to have a water bottle and look for nearby water refill dispensers. These machines are not difficult to find and are available nearly everywhere. It is helpful to note that refill dispensers dispense fresh water cheaper and more conveniently. Thus, they will help you save an extra dollar.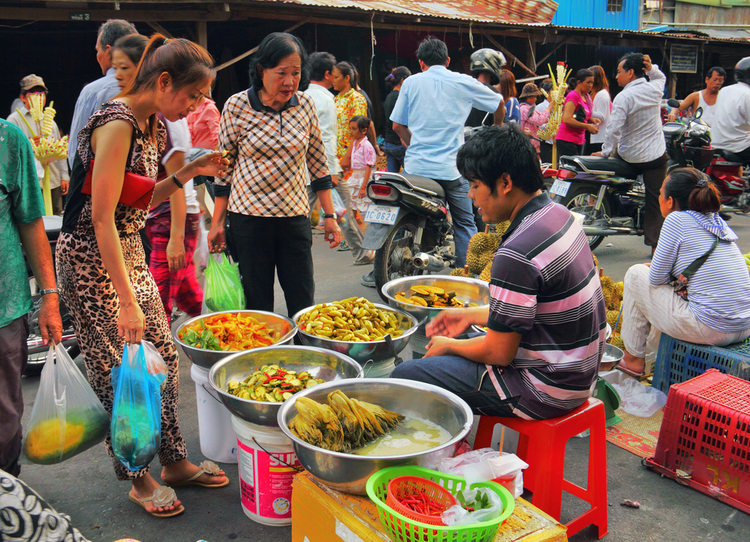 How long should I spend backpacking Thailand?
The time you should spend backpacking through Thailand depends on your travel style, interests, and budget. However, as a general rule of thumb, we recommend spending 2-3 weeks in Thailand to see some of the country's most popular destinations and experience the culture. During this time, you can visit cities like Bangkok and Chiang Mai. You can also explore ancient temples like Wat Phra Kaew and Wat Pho. You can relax on stunning beaches like Koh Samui and Phuket and enjoy delicious Thai cuisine.
Suppose you have more time and are interested in off-the-beaten-path destinations or adventure activities like trekking or scuba diving. In that case, you may consider spending 4-6 weeks or more in Thailand. Ultimately, the length of your backpacking trip through Thailand will depend on your personal preferences and budget. Just plan, budget, and make the most of your time in this beautiful and culturally rich country.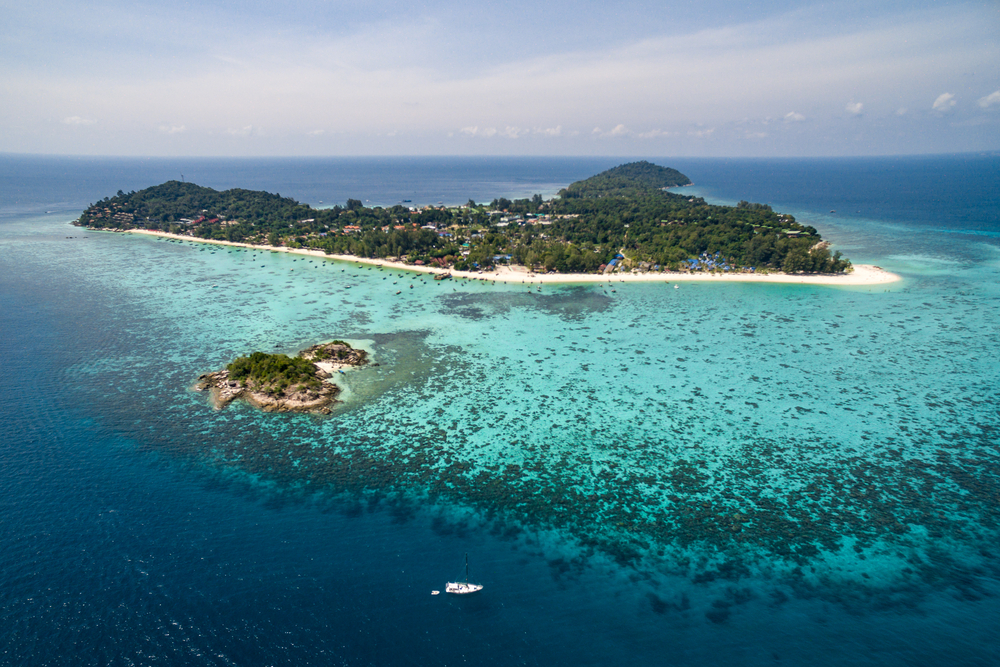 Don't backpack without your travel insurance
If you're planning a backpacking trip to Thailand, travel insurance is an essential item to pack. Backpacking can be an adventurous and exciting experience, but it comes with risks. From minor injuries to severe accidents, travel insurance can help protect you and your belongings from theft during your trip. We advise travelers to use Heymondo single-trip travel insurance coverage. A wide range of coverage is provided with this cover to ensure your trip is well protected.
In the case of a medical emergency or loss of luggage, Heymondo has a 24/7 assistance app. During your trip, you can consult a medical team and take advantage of other benefits related to your health affairs with the Heymondo assistance app. However, Heymondo travel insurance covers any healthcare expenses incurred during the trip. This includes healthcare assistance, a visit to a specialist, treatment, hospitalization, or health supplies.