Do you want to find out what to visit in Thailand? Read this article and start planning your trip!
Thailand is home to beautiful scenes that comprise tropical islands, bustling modern cities and traditional villages. It's also home to stunning coastlines with blue lagoons and amazing beaches. If you are looking to spend some time exploring Thailand, you have to know a few facts. You have to know the travel rules, safety issues, travel insurance for Thailand, security in Thailand and the best destinations. The unexpected effects of the coronavirus made many countries, including Thailand, restrict movement.
However, Thailand has now opened its borders, and you can visit at any time. Check the International Air Transport Association (IATA) to ensure you're in line with the global travelling standards. In this guide, you will find all details about touring Thailand, and travel insurance for Thailand.
The most beautiful places to visit in Thailand
Thailand is popular tourist destination worldwide, thanks to the numerous beaches, islands, and delicious Thai foods. Since there are so many destinations to visit in Thailand, it can be overwhelming if you're a first-timer. To help you pick up the best place to visit, here is a complete list of the top destinations in Thai.
Bangkok, the capital city of Thailand
A must-see while in Bangkok is the Thanon Khao San. It's a perfect road for trailing that gives you the fantasy of a nature trail walk. Head off to Wat Pho and the other temples in the capital city. As you tour the city, grab some street food as you enjoy the beautiful atmosphere. Remember to visit the Chatuchak Weekend market for some shopping.
Sukhothai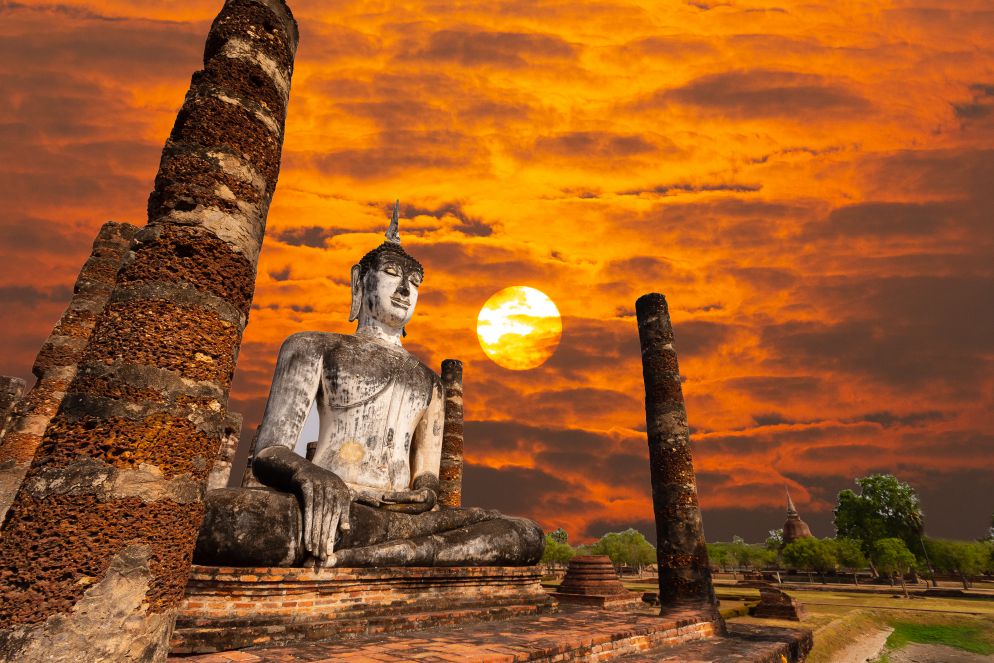 This is a tiny city in Northern Thailand, and it's a top-rated tourist destination. Sukhothai was Thailand's first capital, and it's full of countless temples, magnificent palaces, and monuments. There are ruins of an ancient city near the city, going by the same name. The city's Historical park is a must-visit. It's divided into several zones, featuring temples, Buddha figures, chedis and monuments. The park also has sparkling lakes, manicured gardens and moats. Stop by the Ramkhamhaeng National Museum to learn more about the park.
Ayutthaya, ancient capital of Thailand
The old city was founded in the 14th century, and it's located in central Thailand. The city sits on an island that's surrounded by three rivers. Initially, it was the capital of King U Thong's kingdom, and now the ruins are a major attraction. It's an impressive site with three magnificent palaces, 400 temples and reliquary towers. A very popular site here is Wat Phra Mahathat, where you'll find a sandstone Buddha whose head is entwined with a Bodhi tree's roots.
Koh Samui e Koh Tao
Ko Tao means "Turtle Island", and it's known to be Thai's best place for scuba diving. Tourists from different countries flock in to enjoy the island surrounded by crystal-clear waters. There are many white-sand beaches, giving easy access to some colourful coral reefs. Koh Samui offers excellent opportunities to enjoy other outdoor activities like hiking, cliff jumping, rock climbing and paddleboarding. Once you're done with a busy day outdoors, you can tour Mae Haad as you grab some food or Sairee Beach for partying.
Koh Phangan
Koh Phangan is a perfect place for pleasure-seeking tourists. There are so many activities lasting all night and numerous beaches offering time to recover. During the day there are many of activities to participate in such as trekking, swimming, scuba diving, yoga, meditation and more. Koh Phangan is an Asian Ibiza, but you can also find some quiet areas, swaying hammocks and shady palms that give you a tropical island mood.
Koh Lipe, the beautiful island of Thailand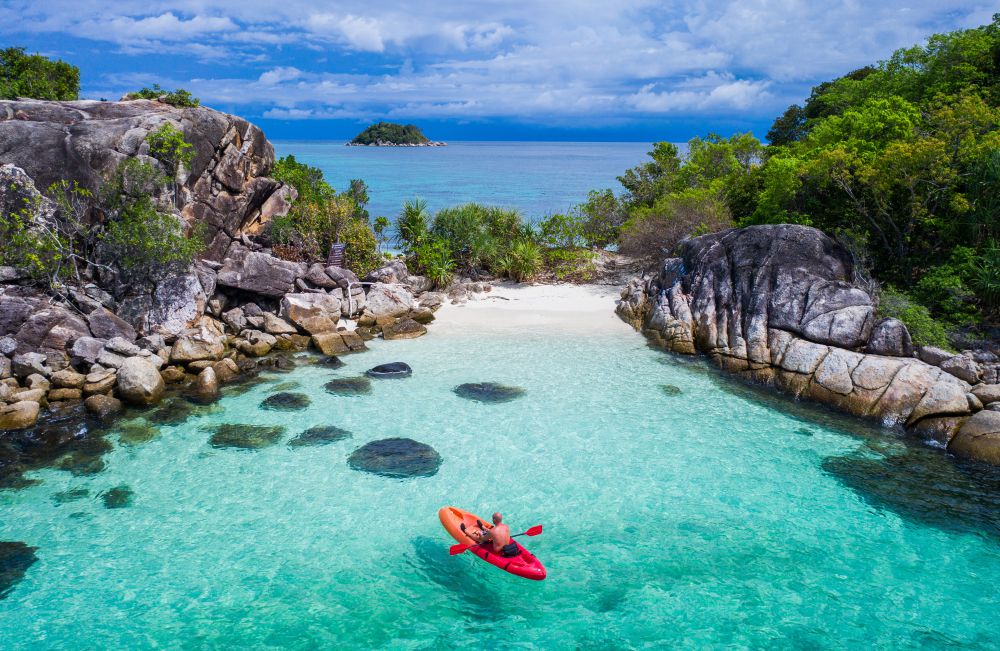 Once a serene tropical paradise, but a lot of development has taken place on the island. However, there is still so much you can enjoy on this island. Koh Lipe has two white-sand beaches separated by green hills and coral reefs. Koh Lipe's centre has many fancy hotels, cafes, restaurants and shops. In short, the area gives you a mixture of both coast and city life.
Koh Chang e Koh Kood
Koh Chang is also reffered to as "Elephant Island" because it has the shape of an elephant, and it's a fantastic island to visit in Thai. The large island is secluded and very beautiful. It's dotted with magnificent coastlines, several towns and various accommodation options. The island's interior has tropical jungles and waterfalls perfect for trekking through. The tourism infrastructure isn't well-developed, so getting around is more of a trek.
Chiang Mai
Chiang Mai is tucked in between misty, jungle green mountains, and it's one of the best places to tour in Thailand if you love a countryside view. It has a lot of ancient constructions, tropical forests and trekking hills. While here, you can visit the Doi Inthanon National Park, a part of the Himalayan mountain range. The park is home to various villages and incredible viewpoints. Chiang Mai is also home to Buddhist temples, including the popular Doi Suthep, Wat Phra That Doi Suthep and Wat Phra Singh.
Chiang Rai, at northern borders of Thailand
This ancient city sits right on the border with Laos and Myanmar. It's a mountainous city known for its trekking trails in Lam Nam National Park. The trails will lead you to colourful waterfalls like the 70-metre tall Khun Kon waterfall, forests and tribe villages. The good thing is that you won't even have to worry about security in Thailand because the area is one of the safest despite being amidst mountains.
Pai, canyons of Thailand
Initially, Pai was a quiet village, but now it's a busy town between Chiang Mai and Mae Hong Son with a picturesque valley and calm atmosphere. Pai is an ideal Thai destination thanks to its numerous guesthouses, souvenir shops, restaurants and bars. The Wednesday Market seems to be a popular attraction, drawing in crowds from surrounding villages. While here, you can explore the natural attractions, go on trekking tours or visit the hill tribes like Karen and Lisu.
Erawan National Park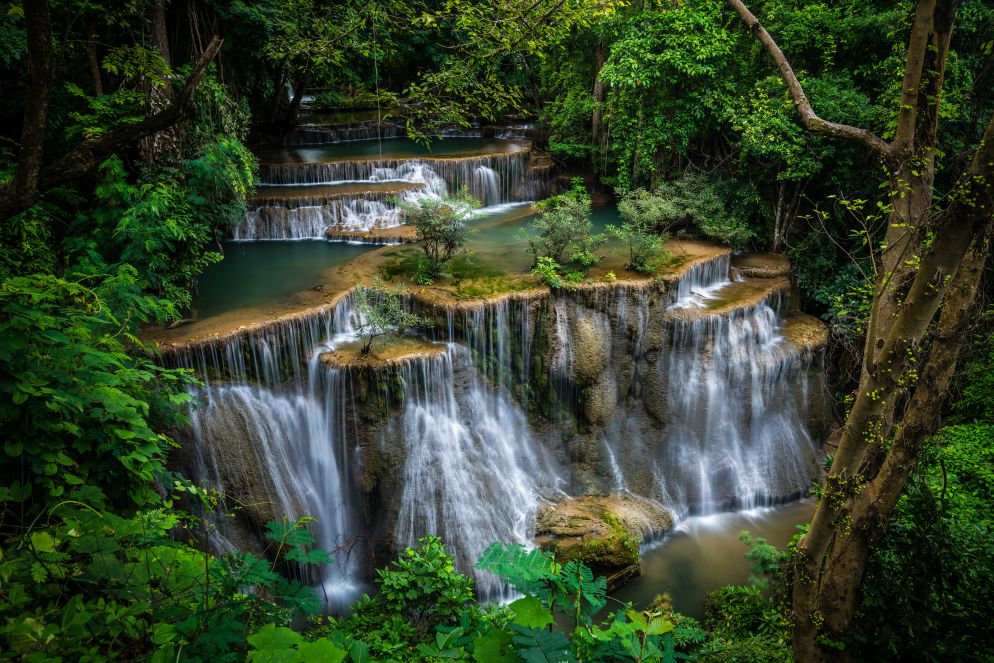 The major highlight of the Erawan National park is the emerald-green pools below the Erawan Falls. The waterfall tumbles through the forest, giving a scenic view for locals and tourists. You can go swimming here or escape the crowds by walking on the 5km Khao Hin Lan Pee trail.
Marine national park Mu Ko Ang Thong
One of Thai's beautiful regions is the Marine National Park, encompassing 51 islands covered by well-preserved rainforest. White beaches and colourful coral reefs surround the island. You might even spot mouse deer, sea otters, fishing cats, wild pigs, sea eagles, and so many more animals.
Damnoen Saduak Floating Market
The Damnoen Saduak Floating Market is a unique Thai tourist institution where sellers do all the business on the water. You will find vendors on boats selling their produce, goods, street food, and dry goods. The market is 60 miles west of Bangkok and operates from 7 a.m to 11 a.m.
Kanchanaburi
Kanchanaburi is famous for its connection to WWII via a bridge. You can walk across the bridge or take a train from one side to the other. Please stop by the Thailand-Burma Railway Centre to check the story of the men who lost their lives during the railway construction. There are two museums – the JEATH War Museum and the World War II Museum & Art Gallery. The two museums offer more insight into what happened during WWII.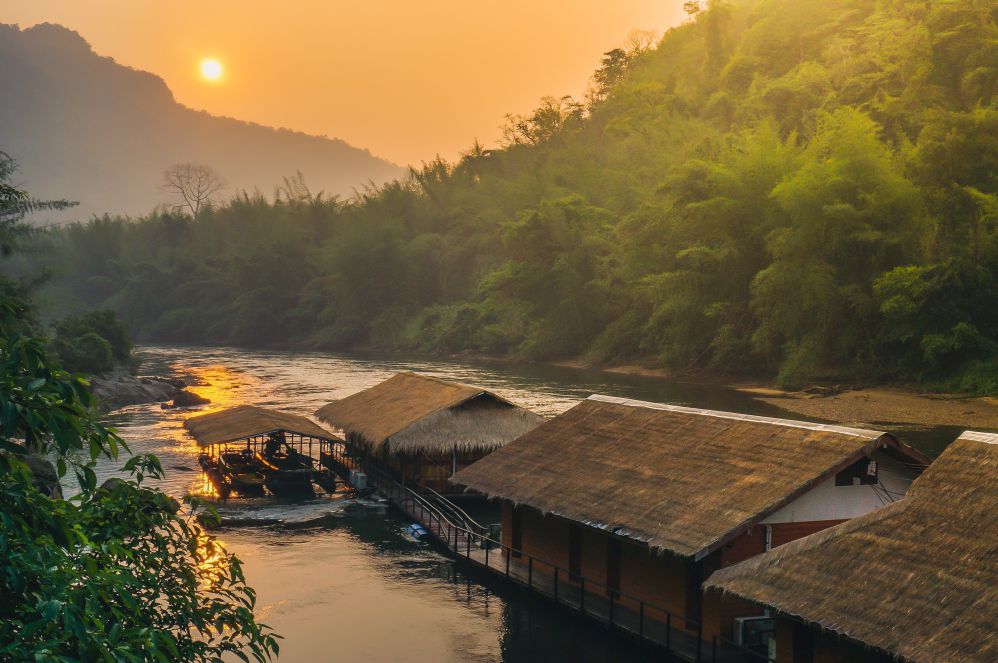 Khao Sok National Park
If you consider yourself an outdoor person, take a Khao Sok National park trip. Khao Sok Park is home to various limestone cliffs, waterfalls and an evergreen rainforest. The park is a bio-diverse area where you'll find more than 200 kinds of flora and 5% of the world's animal species.
Do I need travel insurance to travel to Thailand?
Heymondo travel insurance for Thailand covers your medical expenses, including in the event of infection by coronavirus and:
Up to 5 million euros of medical expenses while travelling.

24-hour medical assistance, 365 days a year, including in case of COVID-19 infection and medically prescribed PCR tests during your trip.

Extra lodging expenses due to medical quarantine are covered when testing positive and prescribed by a doctor.

Cancellation coverage when testing positive for COVID-19 prior to the start of the trip or illness or death of a family member due to COVID-19.

Heymondo's Assistance App: 24-hour medical chat, free emergency assistance calls and incident management in the palm of your hand.
As well as all of this, you will also receive the COVID-19 certificate attached when purchasing the travel insurance with Heymondo. This document explains the COVID-19 medical assistance covered, and it is needed to access several countries.
Now that you've read this guide on the best Thailand destinations, it's time you prepare for your trip. Have a great time touring the destinations mentioned in this guide, and the good thing is that security in Thailand shouldn't be an issue. Remember to take travel insurance for Thailand and have a great time!