If you want to travel to Australia, you need to know that it is a diverse country, full of life and culture.
It has something to offer for any traveller, with landscapes perfect for hiking or surfing, city landscapes filled with skyscrapers and shopping, and small towns rich in history. With so many options available, it can be tough to choose when options are abundant. This travel to Australia guide expounds on everything you need to know when travelling.
Travel to Australia: The Ultimate Travel to Australia Guide
Whether for business or pleasure, you need to understand the entry requirements for visiting Australia. With the Covid-19 pandemic still looming, it is always good to consult with the relevant authorities. IATA has all these requirements.
Do I need a Visa to travel to Australia?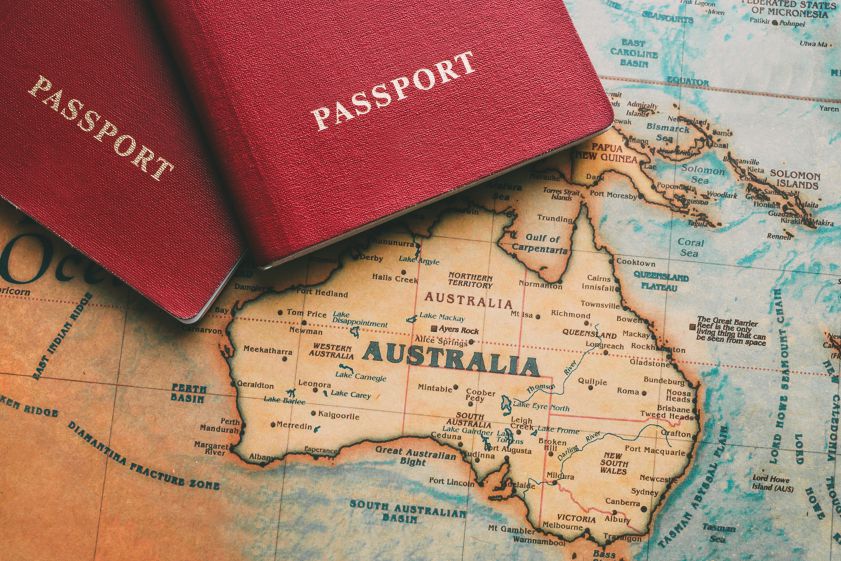 A visa is a permit to travel to and enter Australia. It allows the bearer permission from the Government of Australia to enter its borders for a specific purpose, such as tourism or business. After arriving in Australia, you must meet specific entry requirements before visiting our beautiful country. You will need a tourist Visa to Australia. The visa to Australia is six months long and is valid for 12 months from the date of issue. During these 12 months, you can leave and re-enter Australia as much as you like.
Do I need travel insurance to travel to Australia?
Yes. You need travel insurance for Australia for yourself and your belongings when you are travelling to Australia. It's not a requirement of the Government, but it is highly recommended by us. 
When traveling to Australia, we recommend to purchase a travel insurance for any eventuality. It can compensate you in case of death or injury, cancelations, or lost luggage. Heymondo travel insurance covers your medical expenses, included in the event of infection by coronavirus and:
Up to 5 million euros of medical expenses while traveling.
24 hour medical assistance, 365 days a year, including in case of COVID-19 infection and medically prescribed PCR tests during your trip.
Extra lodging expenses due to medical quarantine are covered when testing positive and prescribed by a doctor.
Cancellation coverage when testing positive for COVID-19 prior to the start of the trip, or illness or death of a family member due to COVID-19.
Heymondo's Assistance App: 24 hour medical chat, free emergency assistance calls and incident management in the palm of your hand.
As well as all of this, you will also receive the COVID-19 certificate attached when purchasing the travel insurance with Heymondo. This document explains the COVID-19 medical assistance covered and it is needed to access several countries.
to Australia Guide: What is the best season to travel to Australia?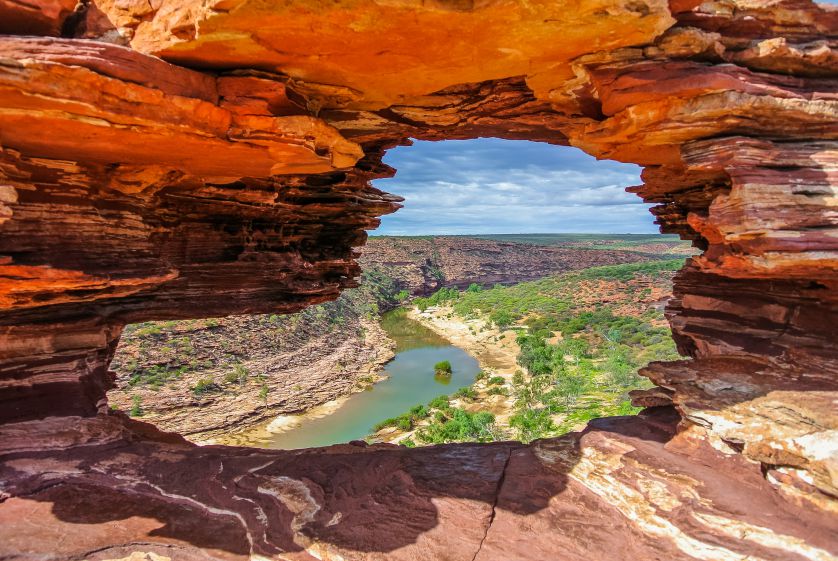 Travelling to Australia in the summer
The seasons in Australia are opposite to those in most other countries, so summer is from December to February, autumn is from March to May and winter, June to August. The best season to travel to Australia is between the months of November and April. This time of year, you will get good weather with an average temperature of 70 degrees Fahrenheit. You will also have access to a vast range of Australian attractions.
Travelling to Australia in the winter
The likely chance of rainfall is higher during this time, so if you are planning to have a lot of outdoor activities on your itinerary, winter may be the better option. Temperatures can still rise up to 90 degrees Fahrenheit, but it will not last as long because more wind is moving through the country for more cooling effect.
What is Australia's official currency?
The Australian dollar (AUD) is the official currency of Australia. The symbol for this currency is $, and A$ is used when distinguishing from other currencies such as American dollars or Euros.
One Australian dollar equals 0.64 (at the time of writing this article), which means your money will go a lot further when you are travelling to Australia.
You can withdraw money from ATM's, but make sure that your card is compatible with the machine and that it accepts Visa cards. You will need to know your PIN (Personal Identification Number) and check if there is a fee for this.
What to see in Australia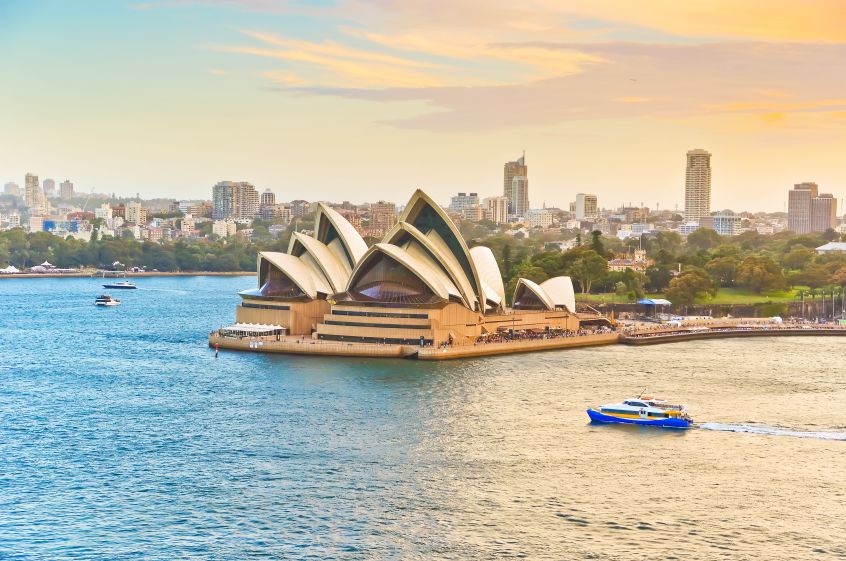 In this travel to Australia guide, we have compiled a list of what to visit in Australia and must-see attractions that you cannot miss while travelling to Australia.
Sydney Harbour, New South Wales
A trip to Australia would not be complete without a visit to the magnificent Sydney Harbour. The entire area is full of history and culture, and it's an iconic national landmark in Australia.
The huge original Opera house and Harbour Bridge makes the perfect backdrop for this location. You can take a boat ride or walk along the shore for some postcard-worthy photographs.
Great Barrier Reef
The Great Barrier Reef has been named as one of the seven natural wonders of the world and is also a UNESCO World Heritage site.
There are many tours available to take you out on a boat to explore these underwater worlds. You can go diving, snorkelling or even take some time out on a catamaran or luxury yacht.
Uluru-Kata Tjuta National Park, Northern Territory
Known as Ayers Rock or Uluru, this is one of Australia's most iconic landmarks. This red monolith is present at the heart of the Uluru-Kata Tjuta National Park, which has been listed as a UNESCO World Heritage site since 1987.
Great Ocean Road, Victoria
The road itself is a wonder to behold, but you will also be able to spot many of Australia's native animals and plants on this drive. It is a perfect location for an adventure and picnic.
Kakadu National Park, Nothern Territory
This national park is the perfect place to witness aboriginal culture and history. This area contains one of the oldest living cultures on earth, and it is a wonder that this has been protected.
Cape Tribulation, Queensland
This area is Australia's rainforest belt, and the rain showers are known for their high acid content, which has formed a special ecosystem. You can see many plants, animals and insects that are only found in this area, making it an attraction for botanists, zoologists and entomologists alike. The Daintree Rainforest is part of this area.
Lord Howe Island, New South Wales
This little island is situated around 600 miles off the coast of New South Wales, and it's the perfect place for you to catch up on your reading or snorkelling. You can spot humpback whales that migrate every year, so it will be an added bonus if you are lucky enough to see these creatures in action.
Freycinet National Park, Tasmania
This area has been named as one of the world's top ten coastal destinations, and it is easy to see why. From hiking around Wineglass Bay to relaxing with a coffee on Binalong Bay, this place will be full of fond memories for you.
the Blue Mountains National Park, New South Wales
This area was created by ancient volcanic eruptions and can be accessed via the scenic train ride. The Blue Mountains are one of Australia's oldest mountain ranges, which means it has a beautiful landscape full of lush vegetation and wildlife.
Ningaloo Reef Marine Park, Western Australia
This is one of the best places in China to spot whale sharks. They are usually found between April and July, so make sure you visit during this time for your chance to see these gentle giants in the region.
Fraser Island, Queensland
It is one of the biggest sand islands in the world, with a vast array of plant and animal life. You can go 4w driving and swim on this untouched stretch of land, and the white sands make for some breathtaking photographs.
Broome & The Kimberley, Western Australia
This region has some of the most ancient indigenous cultures in Australia. You can even see ancient aboriginal paintings in the springs of Hamelin Pool, which are 27,000 years old.
Kangaroo Island, South Australia
The landscape of Kangaroo Island is so untouched that you will still find many old aboriginal cave paintings on the sides of cliffs.
Margaret River, Western Australia
One of the most famous wine regions in Australia, this area has some great initiatives to protect the local environment. The stunning coastline will make you want to take a dip and enjoy a glass of locally produced wine.
Cradle Mountain- Lake St. Clair National Park, Tasmania
This national park is part of the Tasmanian Wilderness World Heritage Site. The views are spectacular, and if you are lucky, you might spot some local wildlife in their natural habitat.
Useful Tips for Traveling to Australia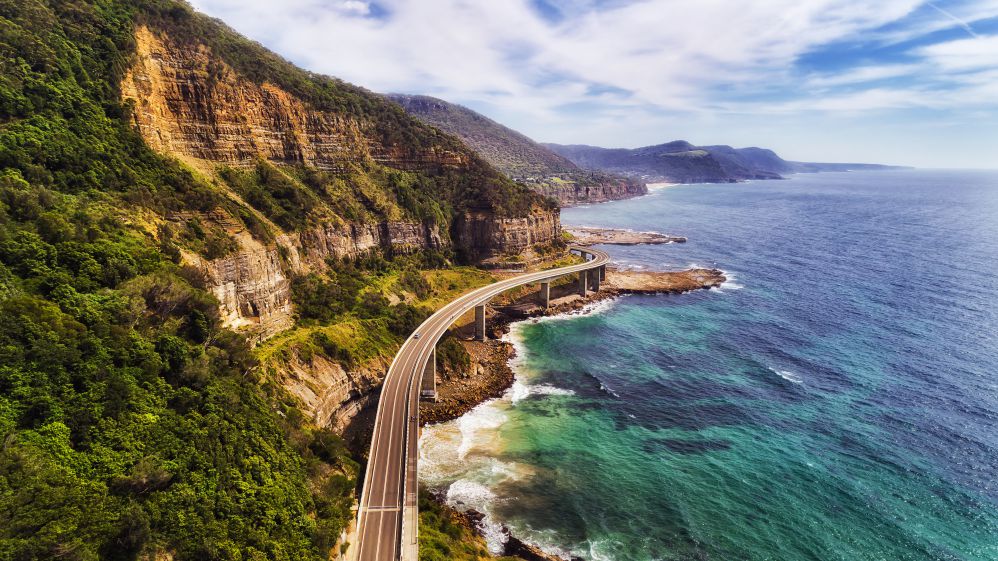 In this travel to Australia guide, we have also encompassed some of the most useful tips for travelling to Australia.
How to Get Around Australia
Memorise the basic directions!
It is important to know how to get around Australia without having to use a GPS because there are no street signs in some areas. Make sure you learn the difference between left and right, as well as forwards and backwards. Your life might depend on it.
Book your Australia Rail Pass at least three months in advance
This pass will give you a discount on train travel, and it can be used on some of the country's best scenic railways. You can also get a list of what to visit in Australia to make your expedition even easier.
Get travel insurance for Australia
Even if you are only going on a short trip, make sure you have good insurance cover because you never know when something might happen. There are various policies depending on how long you will be gone, so make sure you do your research beforehand.
Find out the best season to travel to Australia
The best time to visit Australia depends on what activities you want to enjoy. It is generally recommended to visit between May and September if you want to avoid extreme heat.
Research the best time to book your flights
This will depend on what destination you are visiting. It is generally recommended that you book about six months in advance if possible. This is the ideal amount of time because it allows for flexibility; however, it may be possible to get a cheaper deal if you book further in advance.
Pack wisely
Make sure you don't forget important items such as your passport, travel insurance documents and charger for your electronic devices. It is also a good idea to bring sunscreen and a hat so that you won't burn easily. Additionally, pack layers because the weather can change very quickly.
Look into your visa requirements
It is a good idea to find out what the visa requirements are for where you are visiting because if you don't follow them, you could end up in trouble with the law.
What to Avoid in Australia
Feeding Wild Animals
Many Australians believe that feeding wild animals encourages them to become reliant on humans. If you do feed an animal, make sure it is something they might come across in the wild and not something like candy or chips.
Swearing in Public
Australians take offence very easily if you swear in public. If you are unsure whether it is acceptable to swear, look around you and see what the locals are doing. Swearing in front of children is particularly offensive.
Taking Photographs at Military Bases or Government Buildings
While there may be great photo opportunities near military bases, do not take pictures of these areas without first receiving permission from the Defence Force or Government. There are often security guards on duty to ensure you follow these rules.
What to Eat Australia
Pavlova
This is a dessert with baked egg whites and topped with cream and fresh fruit, such as kiwi fruit or strawberries.  A chef named Herbert Sachse invented it and was originally called the "Mallard" because it resembled a famous brand of car at the time.
Tim Tam
This is a popular chocolate biscuit with the shapeof a long rectangle and filled with delicious chocolate cream in the middle. The chocolate comes from cocoa produced at Australia's first-ever cocoa estate, set up by Belgian Father Jozef Wilbauw near Cairns in Far North Queensland.
Barramundi
This is a type of fish that they usually caught in Far North Queensland. People serves it whole or filleted and can be fried, grilled or steamed.
Anzac Biscuits
This is a type of biscuit which is made from rolled oats, flour, coconut and sugar. It was originally created for troops during World War I by the wives and mothers in Australia in 1915 in honour of Anzac Day on April 25. The recipe was sent to soldiers serving at the frontline in care packages.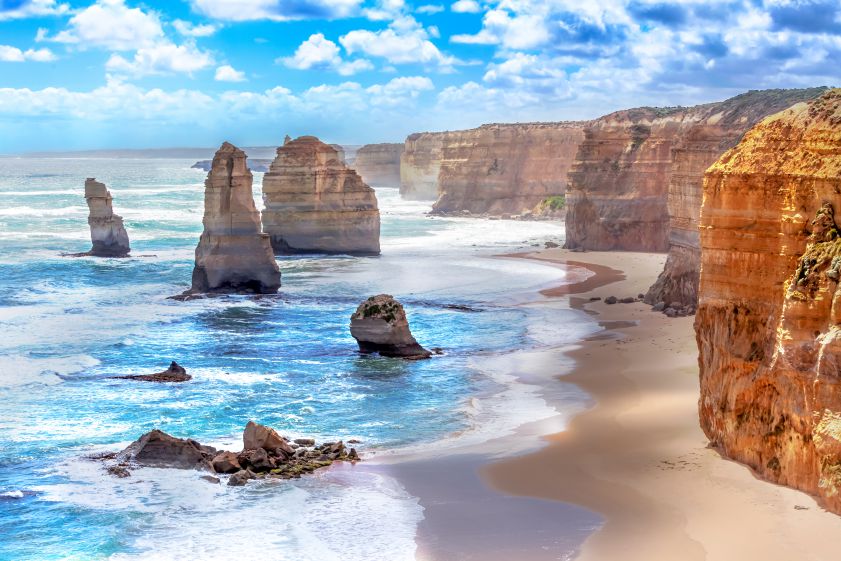 Travel Safe to Australia
Travel insurance is a must when travelling abroad. We recommend COVID-19 coverage. It covers the most common medical emergencies that could occur during your trip to Australia. It can be having an emergency appendectomy or being hospitalised for the acute coronary syndrome.
This travel to Australia guide has expounded on everything you need when traveling. With Heymondo App, you will have access to free 24/7 medical chat and emergency calls should anything happen.