One of nature's most beautiful times of year is the season's change from summer to autumn. The autumn season typically features cooler temperatures than during the summer, shorter days, and light showers. This makes finding Autumn destinations important, to make traveling both easier and more enjoyable.
The ever-present shift from one brilliant color to another has a way of igniting one's creative spirit. Not only does the intense heat of summer begin to dissipate, resulting in cooler weather that is excellent for trips, but there are also fewer people, lower prices, and lots of festivals and events to enjoy at this time of year.
And to help you out, at Heymondo we have compiled a list of the top 8 exciting Autumn destinations around the world. Find out where to travel in the Fall so you can take in the beauty of the leaves changing colors.
Utrecht, Netherlands
Utrecht, Netherlands, usually experiences cool autumn weather conditions characterized by overcast skies and mild temperatures. Average daytime highs range from around 2°C to about 25°C. Average daily lows range from about -2°C to about 15°C.
After the summer crowds have gone, the more peaceful months of Fall provide good chances for recreational pursuits. You'll be able to pick up on the romantic emotions that emanate from the most vibrant mood of the area everywhere you go in the city. Students, tourists, and locals contribute to the energy in this metropolis. The streets of Utrecht are at their most beautiful in the autumn when the trees are clad in their colored leaves, illuminating the city.
Wharf basements along Utrecht's canals are home to cafés and balconies with water views. In addition to its iconic Dom tower, this medieval university town is home to several other landmarks that help to create the area's unique character. Cars are forbidden inside the municipal limits.
There's always something fun to do in Utrecht during this time of year, from visiting museums to attending the city's annual Bockbierfestival (bock beer festival), which is also held in other locations around the Netherlands. These festivals are held in the city squares no matter the weather and feature a wide variety of beverages, tents, food vendors, and occasionally even a stage for live music. It's important to remember that Utrecht is a popular Autumn holiday destination, so tickets go fast once they go on sale.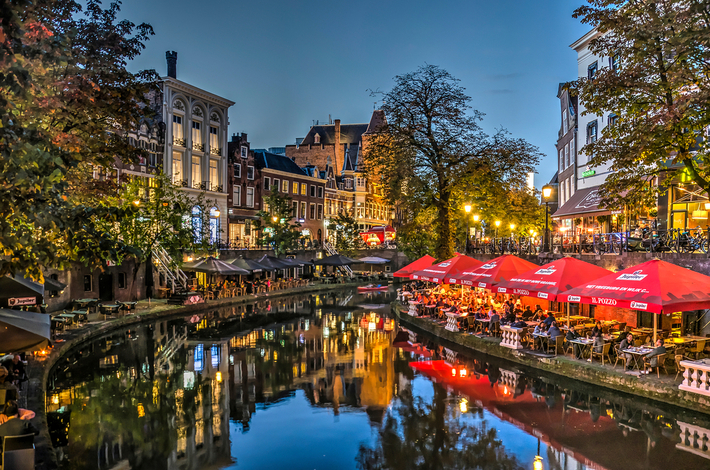 Belfast, Northern Ireland
Normal November temperatures in Northern Ireland tend to fluctuate. As the colder months approach, the temperatures decrease. Early in November, temperatures average over 12°C, falling to around 9.5°C by the end of the month.
The autumn colors in Belfast are fantastic! We advise taking a crisp autumn walk across the city, where trees are decked out in brilliant fall colors of oranges and reds, and parks are brimming with greenery. This is a great experience any time of year, but in the Fall, the changing leaves and crisp air make the Botanic Gardens, the Lagan Towpath, and Cave Hill Country Park all the more breathtaking. This is the best time of year for those on a tighter budget to travel because many hotels and tour groups often offer substantial discounts.
The tremendous contributions that Belfast has made to its extensive musical heritage have garnered the city worldwide recognition from UNESCO. The Oh Yeah Music Centre is a haven for musical creativity, so get with the flow while you're there! The Belfast Traditional Music Trail and the new Belfast Music Walking Trail are also excellent options that you should explore more. There are many different kinds of concerts and live events that you may go to throughout the autumn.
In addition, every year in the Fall, often in October and November, Belfast hosts the Belfast International Arts Festival, the city's longest-running international arts festival. This festival celebrates the arts in all forms, including live performances (theatre, dance, classical, and roots music), visual art, cinema, digital literature, community service, and educational activities. The event spreads over many venues and places throughout Belfast.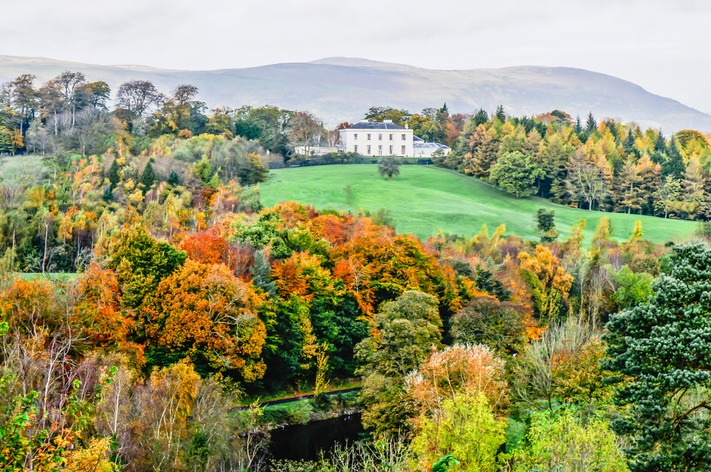 Ontario, Canada
It is anticipated that this year's great weather will continue well into October, bringing temperatures far higher than typical. The average high temperature for November in Ontario, Canada, is around 10°C, while the average low temperature is approximately 0°C. Some individuals may characterize the weather as brisk with a bit of wind.
The province of Ontario has a favorable location in the geographic center of the eastern part of Canada. This region is home to a plethora of lakes, expansive national parks, beautiful woodlands, and the world-famous Niagara Falls, among other natural wonders. The rich green color of the summer setting gives way to magnificent yellows, oranges, and reds as the leaves change color in the fall season, making it one of the most beautiful times of the year to visit. You can visit numerous exciting places in Ontario during the Fall, from relaxing by a lake to completing a challenging hiking trail.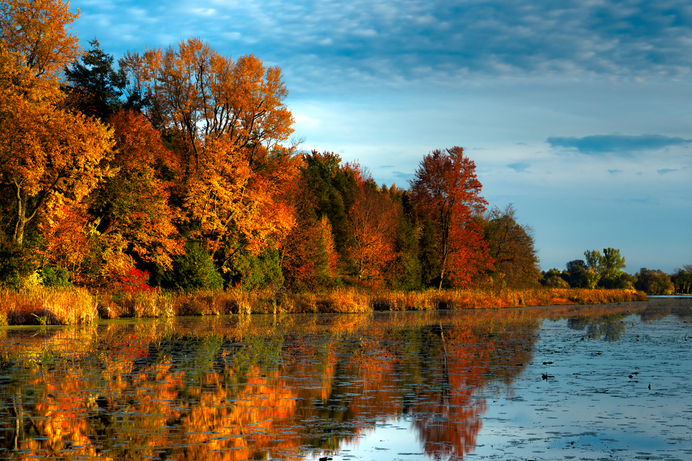 Bilbao, Spain
At this time of year, the comfortable maximum temperature expected in the northern areas of Spain is 19.3°C on average. The temperature drops to an average of 13.4°C at night. Since this is the rainiest period of the year, you should prepare for anything from 8 to 15 days of precipitation. In addition, these areas have a high probability of being affected by storms regularly. You should consider this if you are going to be traveling at this time of year to avoid any unpleasant surprises.
Despite the weather, you should still visit Bilbao, since the city offers several attractions that are worth seeing. It is quite possible to fill an entire Autumn holiday with nothing more than visiting the city's various museums. For instance, a visit to the magnificent Guggenheim Museum, which has valuable works by famous artists such as Warhol. Nevertheless, Bilbao is home to several other museums, including the Museum of Fine Arts, Archaeology and History, and the Museum of Sacred Art.
You will have the opportunity to participate in one of the numerous autumn celebrations that the city hosts if you visit at this time of year. The most important event is the Mycological Fair in Plentzia, which takes place in November. This festival honors all things mushroom-related and has been running strong for over thirty years now. The event includes tasting pintxos that have been made with mushrooms, a competition for children to create their own pintxos, and a presentation of this product that is so representative of the autumn season. December sees the Basque Snail Contest take place in Gernika-Lumo (Bizkaia).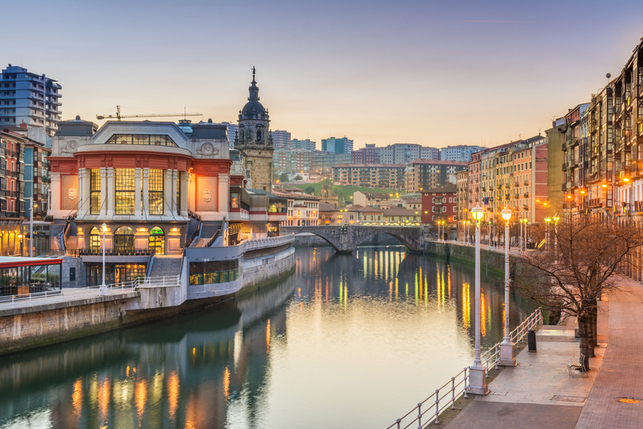 Nara, Japan
Cool temperatures, relatively low humidity, and sporadic instances of light precipitation or snow are characteristic of Nara, Japan's Fall weather. With temperatures ranging from 6.4°C on average to 16.5°C, November, the last month of autumn, provides a wonderful chance for travelers interested in traveling to Nara.
The brilliant autumn foliage of Japan may be seen at its finest in Nara. You can enjoy the autumn beauty of the city by visiting any of the many parks, temples, shrines, or gardens the city has to offer. The foliage of Fall reaches its peak around mid-November and often remains on the trees until about mid-December.
Nara, being a city in the Kansai region, has several different spots where you can go to appreciate the changing seasons and the autumn foliage's splendor. The trees around the Tsurugaoka Hachimangu Shrine often display autumn colors to their fullest. In addition, you should not miss a visit to Nara Park since it is home to a large number of free-ranging deer. At Isuien Garden, there are two different Japanese gardens that you can visit to get a taste of local nature. You can also go to Tanzan Shrine if you want to see the city's most beautiful fall foliage. And Mount Yoshino in Japan is breathtaking at any time of year, especially in the autumn.

Rocky Mountains, Colorado
In November, the average high temperature in Colorado is in the high 13s, while the average low temperature is in the upper 3s. This is the beginning of the temperature drop that occurs in Colorado. When the winds are sufficiently strong, the chilly air from the mountains may sometimes be felt down in the foothills of the mountains.
Autumn in Colorado is often considered to be one of the state's most photogenic times of year to visit. In addition to the breathtaking display of nature, the Fall also provides the opportunity to witness hundreds of elk go down from the mountains in search of mates before the onset of winter.
There are a variety of events that take place during Autumn in Colorado. One popular event is the Apple Harvest Festival, which takes place in numerous counties throughout the state. Other events you can partake in while on autumn adventures in Colorado include apple harvest festivals, hayrides, high-altitude hikes, Fall train rides, apple pie contests, pumpkin patches, and fall festivals.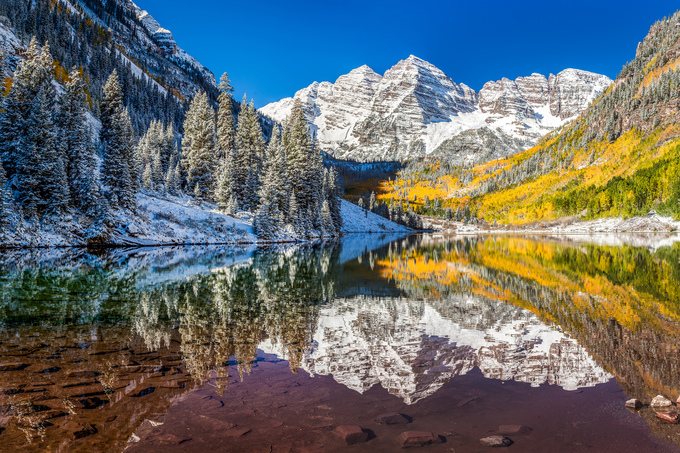 Lugano, Switzerland
In Lugano, the autumn season brings with it an average low temperature of 5.3°C. The highest daily temperature on average is somewhere about 11.2°C. In November, which is considered part of the wet season, there is an average rainfall of 207 mm, and it rains for a total of 8 days on average.
While Lugano is always picturesque during the summer, it bursts into autumn beauty when the leaves change color and Fall gently to the ground. In fact, Lugano has been called "the City of Autumn Leaves" by locals. Lavaux Vineyard Terraces, situated on the northern shores of Lake Geneva, with a total of 2,050 acres, are home to several historic vines. Lavaux Vineyard Terraces are a sight to behold in the Fall, regardless of whether you are a wine fan.
The Swiss wine road, spanning 21 miles from Ouchy in Lausanne to Chateau de Chillon Castle, is a fantastic autumn hiking track for those who like trekking but don't want to sweat much in the summer heat. The yellow arrows will bring you through working vineyards and medieval towns with plenty of opportunities to rest and refuel at taverns, restaurants, and local wineries.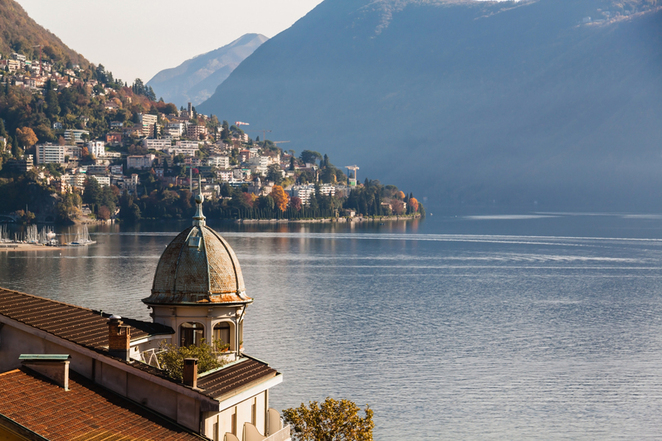 Lake Bled, Slovenia
The region's natural terrain produces a gentle mist over Lake Bled, which helps keep the area cool. Not only that, but the wind may pick up at times and make things rather cold. The average temperature drops to 3°C. The temperature seldom rises over 6° C and rarely falls below 1°C.
Slovenia in Fall is a picturesque landscape which makes it one of the best Autumn destinations. The great outdoors at Lake Bled in the autumn season is experiencing an incredible change as the trees turn brilliant gold and red, the leaves rustle and snap in the wind, and the sky is a deep purple. The waters of Lake Bled are also a beautiful blue color. The afternoon temperatures are still relatively warm, making a stroll around the lake a delightful thing to do, and the lake itself is a beautiful place.
A hike up Mala Osojnica, one of the most stunning vantage points of the lake, is an excellent alternative to just strolling around the lake. Possibilities for taking photographs are much enhanced from this viewpoint. Bled Island, a tiny isle in the middle of Lake Bled, is an absolute must-see for anyone visiting the area. You may get to the island by renting a rowboat and rowing there. If you don't feel like rowing, you can also choose to ride along on one of the numerous Pletnas that go to and from Bled Island. An autumn vacation at the lake might also include sightseeing at the Church of the Assumption on Bled Island, exploring the various nearby forests on foot or bike, or just unwinding at one of the many lakeside facilities.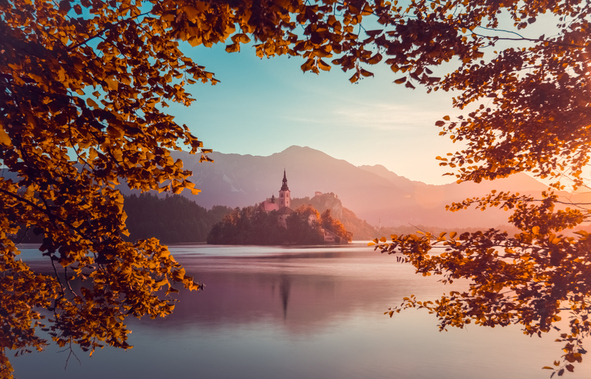 Why Do We Recommend Travel Insurance?
Traveling to any region of the globe is a thrilling experience. Yet, when traveling abroad, anything may occur. Because of this, it is essential to always travel with insurance on hand. If you cannot take your trip due to unforeseen circumstances, a trip cancellation policy will pay you for your prepaid, forfeited, and non-refundable fees. This is just one example of the many things that the travel insurance provided by Heymondo covers. Your coverage may also pay expenses up to the time and date of your departure (depending on the specifics of your policy).
Medical costs and those associated with travel disruptions and prearranged activities like adventure sports are all covered by Heymondo's comprehensive travel insurance. Before committing to a new insurer, be careful to research how these concerns are addressed in your potential new policy. Without the proper coverage, you might be responsible for thousands of dollars in hospital bills and other emergency costs if you are injured while traveling. Read "10 Reasons Why You Should Get Travel Insurance" if you need further persuading on the need to get travel insurance.