After more than a year of mobility restrictions due to the COVID-19 pandemic, tourism is reactivating. Luckily for travelers, tourism is reviving and some countries are opening their borders and receiving tourists. 
The way of traveling has changed and now more than ever, we all seek safety in our travels. Therefore, if you are planning a trip over the next few months, a good option is to take out travel insurance to travel without worries, among other recommendations for traveling during the COVID-19 that we will review below.
Take note of the following tips to travel safely and enjoy your well-deserved vacation!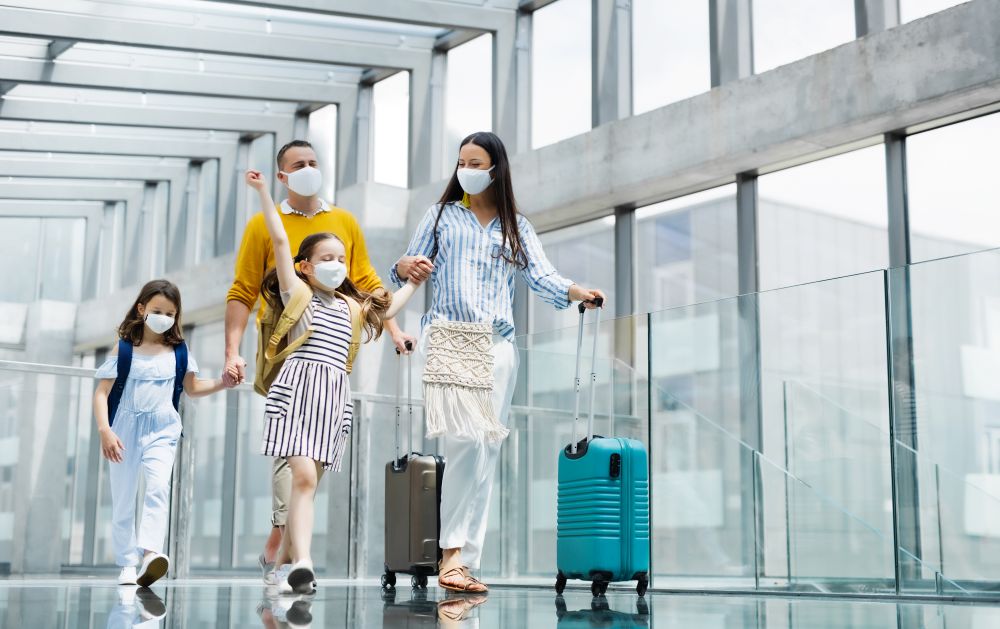 General Recommendations Before Traveling During COVID-19
Bring your updated documentation: passport, visas or international driving license, if necessary.

Find out about the health situation and vaccinations recommended to visit the country of destination.

Check the currency exchange.

Write down the main telephones of interest.

Check the security conditions of the place you are going to visit.

Bring enough means of payment and check that in the country of destination it is possible to pay by credit card.

Provide a family member or friend with the details of the trip you are going to take, including the dates and places of your stay.

Register in the Registry of Travelers of the Ministry of Foreign Affairs.

Take out travel insurance with the necessary coverage adapted to your trip.
1- Stay informed through official sources 
Before traveling, always get the right information from the official sources of the country you are going to visit and also follow the advice of the local authorities in your country of residence, each government has its own restrictions. 
Check whether your destination requires a vaccine passport, negative PCR test, quarantine, travel insurance or other restrictions before planning your trip. Maybe some tourist attractions need to be booked before visiting or your destination has curfew restrictions.
2- Purchase  Travel Insurance With COVID-19 Coverage 
Find the travel insurance that best suits your needs for your trip with COVID-19 coverage included. All Heymondo's travel insurances include COVID-19 coverage: 
Up to

5 million euros of medical expenses

while traveling. 

24 hour medical assistance, 365 days a year, including in case of

COVID-19 infection

and medically prescribed PCR tests during your trip.

Extra lodging expenses due to medical quarantine

are covered when testing positive and prescribed by a doctor.

Cancellation coverage when testing positive for Covid-19 prior to the start of the trip

, or  illness or death of a family member due to COVID-19. 

Heymondo's Assistance App:

24 hour medical chat, free emergency assistance calls and incident management in the palm of your hand.
As well as all of this, you will also receive the COVID-19 certificate attached when purchasing the travel insurance with Heymondo. This document explains the COVID-19 medical assistance covered and it  is needed to access several countries. 
3- Bring All Your Documents With You
If you are coronavirus vaccinated, bring the certificate with you, some countries will ask for the COVID-19 passport vaccine. Other essential documents for traveling are: your travel insurance with COVID-19 certificate, passport, visa if needed,.. Create a list and check all the documents you might be required in the country you are visiting.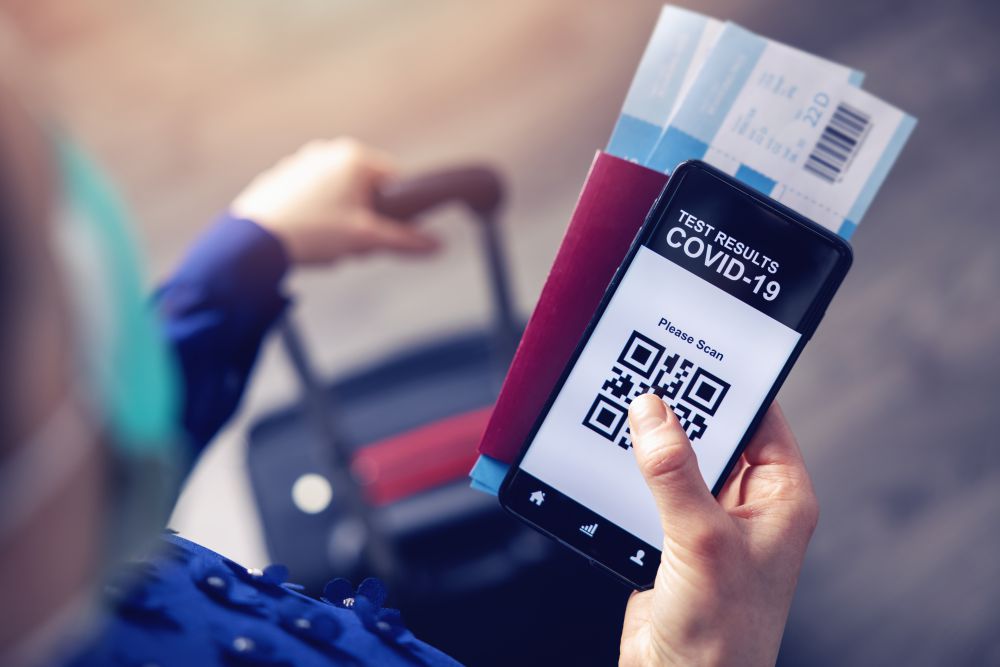 4- Bring Your Masks And Hand Sanitizer With You
These new accessories have become a must have in our daily life and also during travels. Make sure to always bring masks with you and wash your hands often with hand sanitizer. Furthermore, it is highly recommended you check the sanitary recommendations of official sources when planning your trip.  
5- Choose Alternative Transportations
Try a different kind of tourism, maybe you can rent a car, a camper van or a boat to avoid crowds and enjoy an alternative vacation with your family and friends.
6- Try Alternative Accommodations
You can rent a country house or try house swapping or camping in a tent instead of a big crowded hotel. This way you can avoid too many people in one place and also have more peace of mind.
7- Preparation Is Key
Spontaneous travels are super fun but traveling during COVID-19 requires preparation about where you want to go, what you want to do, and what you are allowed to do. Be well prepared and organized before traveling.
8- Choose Nature And Open Spaces
Whenever possible, avoid closed spaces and enjoy activities in open spaces during your trip. You will reduce the risk of  infection. Also, choosing open spaces such as nature is good for your health, to relax more and safer in COVID-19 times. You can choose the countryside, mountains, national parks or even desert beaches. 
9- Book In Advance
Make sure to plan and reserve in advance. Because of strict COVID-19 protocols and reduced space, it's better to make sure you reserve your spot, whether it's at a hotel, on a tour or on an excursion.
10- Consider Choosing a Flexible Flight
If you are traveling by plane, you might like to consider choosing a flexible flight to adapt your trip to last minute changes. Also, it could be a good option to upgrade your flight. Tou can book a more spacious seat avoiding being too close to other people.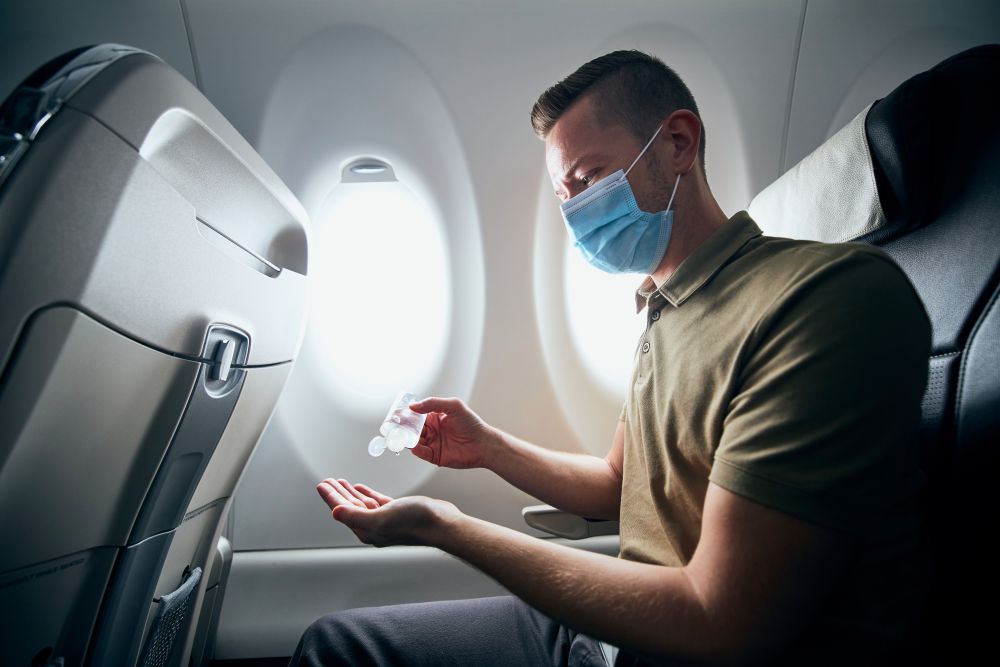 Travel Safe Again with Heymondo
We hope these recommendations are useful for you when planning your next trip. As we have just seen, it is possible to travel safely again, as long as we are responsible and follow the health recommendations of governments and relevant organizations. Do not forget to hire your international travel insurance with Covid-19 coverage worldwide.
In addition, with the Heymondo Travel Assistance App you will have a 24-hour medical chat and free emergency calls, in case you need medical assistance, which allows you to manage any incident easily and quickly.
If you are planning your next trip, share this article and inspire other travelers! 
#TravelSafeAgainWithHeymondo