Hey travelers! Today is a very special moment for us, we just hit a very important milestone in our history and we would like to share it with all of you 🙂
We are celebrating our third birthday here at Heymondo, Can you believe it? Three years of accomplishments, growth, and recovery of the unforeseeable. Helping the travel community resolve their inconveniences has been very rewarding for us and pushes us to do more every day.
For this special occasion, we want to take a moment to thank you separately, because you are our largest supporters:
The thousands of travelers who have decided to travel insured by us in the last 3 years. Thank you!
The almost 100 international travel bloggers that are part of our program. Thank you!
Our international insurance partners. Thank you!
And last but not least, a big thanks to our amazing team.
We are very proud of this beautiful community of travelers that is growing faster and faster, and that choose Heymondo as the best option to travel safely. It is a pleasure and an honor for us to be able to accompany you on all your adventures!
Find out how we will celebrate our third anniversary at the end of the article. Good luck!
Three years of data
Because it's a special occasion, we want to share with you some interesting facts that w rarely share:
Since Heymondo was born in 2019, 110.000 travelers trusted us with more than 45.000 policies sold.
Out of all these travelers, a few hundred have actually had to use the insurance: some more serious cases (from COVID-19 cases to fractures of various bones) and others less serious but also important (baggage theft, gastroenteritis …) in delicate areas, such as Bangkok or some remote Caribbean islands.
Europe, United States, Mexico, Thailand, and Indonesia lead the ranking of destinations where more people have traveled insured with Heymondo.
Our travel assistance APP has been downloaded over 35.000 times worldwide, both via Apple Store and Google Play.
 If you don't trust us, trust your fellow travelers: Heymondo has a 4.3/5 rating on Trustpilot, with over 1,340 reviews and recommendations.
Instagram giveaway to celebrate our 3rd Birthday
To celebrate the first three years of Heymondo, and to thank you all for your continued trust in us, we have organized an Instagram giveaway that will start on Tuesday, November 8th, and will end on Thursday, November 10th.
We will be giving away the ultimate travel pack:
Noise-cancelling BOSE QuietComfort®45 headphones valued at $329.00
$500 Flight gift card
$50 Heymondo Travel Insurance gift card for your next trip
The lucky winner will be drawn on Friday, November 11th at 12 pm (GMT +1) and will be announced via Instagram stories.
Don't miss out on the chance to win these awesome prizes! Follow Heymondo's International Instagram page and follow the steps to participate. Good luck to you all 🙂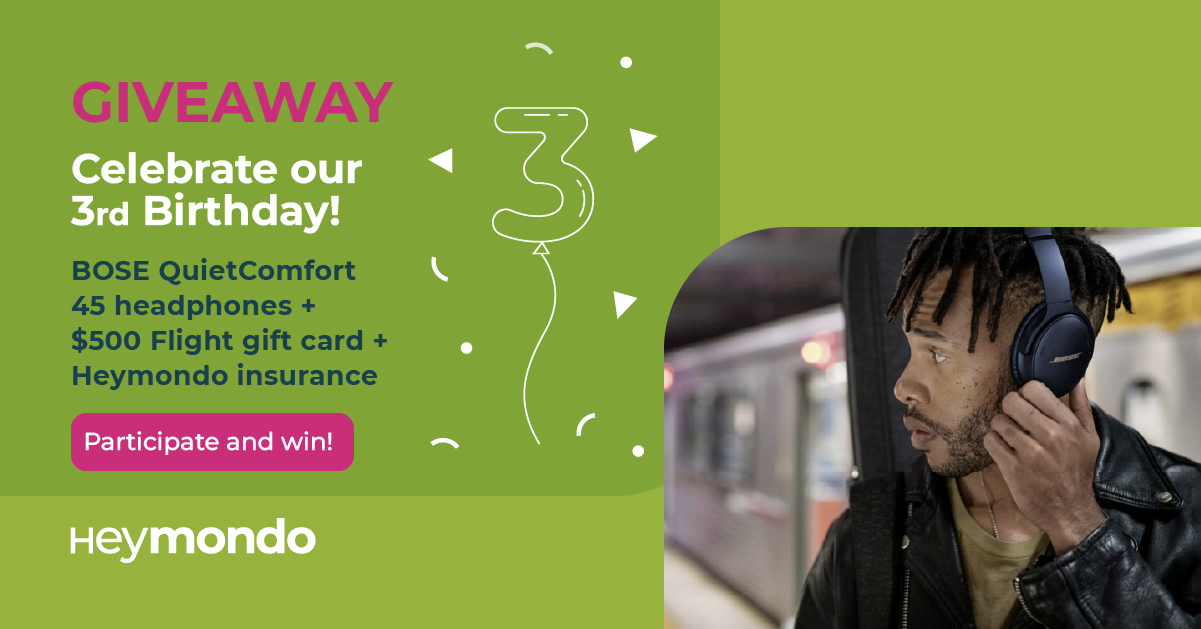 During the past three years, we have achieved a lot, and the upcoming months look very promising! Custom-built products and many more innovations will be implemented to perfectly fit the needs of our travelers.
Thank you again for your continued trust and safe travels from the Heymondo team!