A Bali digital nomad is a remote worker that normally travels to different parts of the world and works in public co-working spaces, libraries, and coffee shops. Digital nomads depend on wireless internet connections, sim cards, and devices such as smartphones and computers to work from anywhere and at any time. Being a digital nomad is beneficial because it allows you to maintain your productivity as you travel to different parts of the world and explore gorgeous surroundings. It also promotes adaptability.
Nowadays, many countries offer visas for Digital Nomads. This document serves as a guide to a temporary residence permit for individuals who work remotely in foreign countries. In most cases, this type of visa lasts for one or two years. However, depending on the country, it may last longer.
Visas for Digital Nomads make it easy for an individual to work remotely in a foreign country. But aside from the visa, you also need travel insurance if you plan to travel around the world as a Digital Nomad. This form of insurance protects you from financial risks and losses from incidents like theft and medical emergencies when traveling to different parts of the world. Travel insurance also gives you peace of mind as a traveler.
If you are interested in learning more about Digital Noma visas, we have a full guide that you will benefit from. Read on to learn more about this type of visa in Bali.
Does Bali have a Digital Nomad Visa?
Yes, Bali has a Digital Nomad Visa known as a B211a visa. This type of visa has two options:
The first option lasts

60 days and is renewable twice

for a duration of 180 days. 

The second option lasts

180 days

. However, it is a

single-entry visa

. This means that once you leave the country, you must apply for a new visa to re-enter the country. 
Currently, there is no option that lasts for 30 days. Furthermore, you cannot apply for the B112a Bali Visa if you do not meet the eligibility requirements. 
A Bali visa for digital nomads grants you access to coworking spaces and the legal digital nomad community while living in Bali as a nomad or remote worker. It also opens you up to opportunities to get immersed in the Balinese culture as a legal temporary resident. By allowing you to stay in Bali for extended periods, a visa for digital nomads enables you to explore the country in depth. Keep reading for detailed information on how to apply for a visa for digital nomads.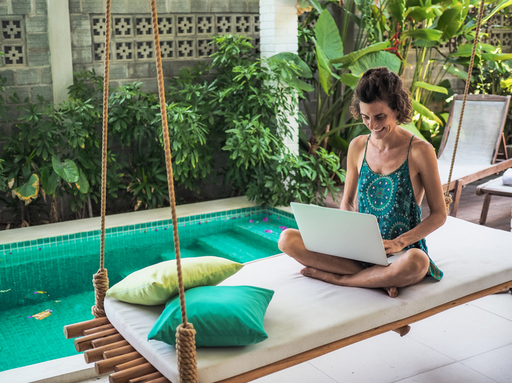 How much does this Visa cost?
Like any other type of visa, this one has an economical price. These charges are usually referred to as processing or application fees. Furthermore, all applicants are required to pay specific amounts, depending on the type and duration of the visa. The costs must be paid in full and there are no exceptions. Below are the costs for applying for B211a Visa:
A single-entry visa costs $131.23 and is valid for 60 days

The single-entry visa valid for 180 days costs $393.70

Single-entry tourist visa valid for 60 days costs $98.43
Requirements for the Bali Digital Nomad Visa
Before you apply for a Bali visa for digital nomads, there are a few requirements you must make sure you have. Additionally, there are things you must have to be eligible for the visa application. The requirements are non-negotiable. 
You need a valid passport.

Additionally, the passport needs to be valid for at least 12 months from the date you intend to enter Bali.

A passport-size photograph.

The photo must be taken within the last three months. The passport photo must be 3 by 4 or 3 by 6 cm (size). Additionally, it must be taken in front of a white background.

Proof of funds.

You must provide bank statements stating that you have at least a $2,000 minimum bank balance and sufficient flow of funds. The Bali government needs assurance that you will be able to take care of yourself financially throughout your stay in the country. This way, you do not become a burden to the government at any point. Therefore, besides your account balance, the immigration officers will also look at your overall cash flow from your bank statement.

You must have a return ticket.

The immigration office must prove that you have intentions to return to your home country. A return ticket also assures the Bali government that you do not plan to overstay the duration of your visa. 

You must provide a COVID-19 certificate.

This document serves as proof of vaccination against COVID-19. The certificate must be valid and issued by a qualified institution recognized in your country of residence.

Provide a clean criminal record from your resident country.
You must provide proof of health or travel insurance. Your insurance must include health financing and a statement of willingness to cover financial costs if you become a victim of the COVID-19 virus during your stay in Bali. Your insurance policy must also cover emergency evacuation if necessary.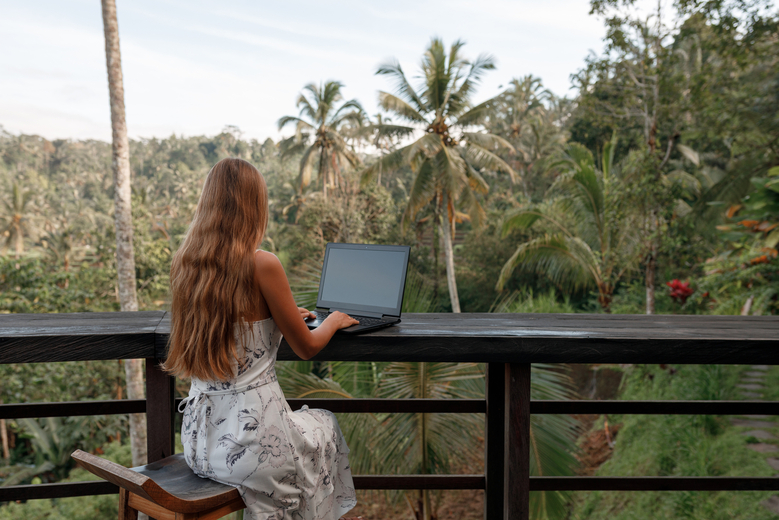 How to apply
The application process for a Bali Digital Nomad Visa does not differ from applying for an ordinary non-resident visa. However, a visa for digital nomads does have additional requirements like proof of income and employment, insurance, and proof of your ability to provide for yourself and your dependents during your stay. Note that applying for a Bali Digital Nomad Visa is more involved than applying for a traditional tourist visa. 
You can apply for a Bali Digital Nomad Visa online through the official Bali immigration website. The online application is convenient because you do not have to travel to the embassy. Below is a complete guide on how you can apply for a Bali Digital Nomad Visa:
Ensure you have all the necessary documents for the application process. You can check Bali's official immigration website for a list of necessary documents.
Begin by going to the government's official immigration website, where you will get an application form. It is worth noting that you will be required to register and create an account on the platform before you continue with the application. The application form is very comprehensive yet simple. 
You must pay the application fees, sometimes known as the processing charges. The fees differ depending on the type and duration of the visa you wish to get. You can pay for the application using mobile payment methods explained on the website. 
Finally, you must submit your complete application and wait for approval. The processing time will take between one and two weeks. 
After the approval, the immigration office will issue your Digital Nomad Visa. Once the visa is granted, you have up to 90 days to enter Bali. If you do not enter the country within this time, you must apply for another visa. It is also worth noting that your visa term begins immediately when you arrive in the country.
Note that you can only apply for a Bali Digital Nomad Visa if your home country is among those eligible for the program. As of date, there are more than 85 countries that are eligible for the Bali visa application program. If your country is not on the list, you will have to visit or directly contact the nearest Bali embassy for your visa application. Also, you must have your visa on arrival to the country. This is why you apply for it beforehand.
Do not forget your insurance
As a digital nomad, you need travel insurance to cover you if you fall sick or suffer a sudden accident in a foreign nation. This type of insurance will cover the costs of treatment, care, and transportation if you fall ill in a foreign country with no family or friends. At Heymondo, we offer  Long Stay coverage, valid for a minimum of 90 days and renewable. This insurance coverage will give you all the security you need. We also offer the Annual Multi-trip Policy for digital nomads who travel frequently. This policy covers all trips, regardless of the destination, for a year. Both policies also offer overseas medical and dental expense coverages so that you can maintain your health outside your country and live your digital nomad lifestyle with peace of mind.